What Exactly is an Embroidery Machine?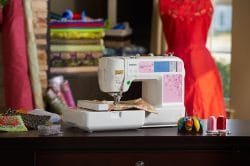 As you may already know, the art of embellishing a fabric with a particular design is embroidery. What makes it such a wonderful art is that there is no limit to the kind of designs you can create in it. An embroidery machine is a specialized machine that can create these designs on a piece of fabric, controlled either by you (or any other human user) or through a computer.
Hand vs. Machine Embroidery
Just judge the difference between hand embroidery and computerized embroidery machine through your common sense. It is hand vs. computer! Well, the former can be creative but the latter is fast; to be precise- superfast! Let us now go ahead and analyze some major differences between these two embroidery types.
Appearance of the Finished Design

There will be a noticeable difference between a pattern that has been made by hand and one that has been done with a machine. One reason for this difference is due to the bobbins that are preset only in a machine. Additionally, when you compare a pattern made by hand to that made by embroidery machines, you will find that the former is smoother since threads used in machines can withstand stitching at high speeds. It also employs threads that are of uniform thickness to add to the consistency of the overall design. One thing to note is that with machines, you can easily reproduce the entire pattern. However, doing so is not possible with hand embroidery no matter how much efforts you make.
Lifespan
Machine embroidery uses tough quality threads, which means that the designs made by these last longer and are of better quality.  The best kind of threads to be used with an embroidery machine may vary, though rayon and polyester are amongst the more popular types. As opposed to designs made by a monogramming machine, those made by hand are less durable and could wear out even sooner than the real textile.
Stitching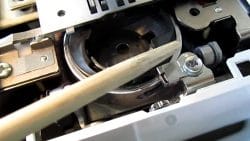 In hand embroidery, the stitching process requires hooping of a portion of the fabric, placing it on the stand or holding it with one hand, while the other rests on the lap. Then you begin with the stitching of patterns on its surface using the desired threads and a fine needle. The entire process is done by hand here, with no machine involved.
As far as home embroidery goes, the best thing about using a computerized embroidery machine is how easy and precise the entire stitching part becomes. Pre-programmed patterns are there in the machine, all a user has to do is select the desired one and the machine will do the entire stitching part on its own. This feature of an embroidery machine makes it the best choice for those who are not particularly skilled at hand embroidery.
Time
If you are going for hand embroidery, making a 4-square centimeter pattern could take you a few hours even if you do not make any errors in the process. However, with a monogramming machine, even the most intricate and complicated designs will give the best results in a very short period! All complicated and time-consuming parts, including bringing out the pattern, are done by the machine, thus minimizing any chances of errors and the need for starting again.
Various Kinds of Embroidery Machines
To get the best your money can buy, knowing different types of embroidery sewing machine and what they offer is important. Let us discuss about three major types of embroidery machines and see what each one of them offers.
Single Head, Single Needle Embroidery Machine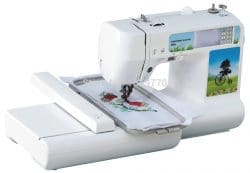 This machine comes with the traditional design- a flat bed-bottom along with a detachable embroidery unit. The main advantage of such machines is that they are quite easy to use, especially for those who are proficient with computers. This allows them to use embroidery software to arrange, customize and merge different designs.
A limitation of such embroidery machines is that it is relatively harder to use them with ready-made materials, garments, bags and other accessories. If you are trying to embroider with different threads, it will be more time-consuming since you will need to change color at every step.
Single Head, Multi-Needle Embroidery Machine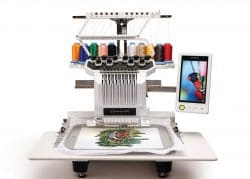 Single Head, Multi Needle machines are what you need to take your embroidery skill to the next level. They give you a range of options you can do with embroidery, usually employing anywhere between 4 and 10 needles. Every needle can be used with a different colored thread. Such an embroidery machine is the best choice to make multicolored designs faster with greater accuracy and precision than the single needle machines.
If you are not looking to spend a lot then this may not be the best pick since a multi-needle embroidery machine will be more expensive. However, overall, such machines are worth every penny that you might spend on them.
Two-in-One Embroidery and Sewing Machine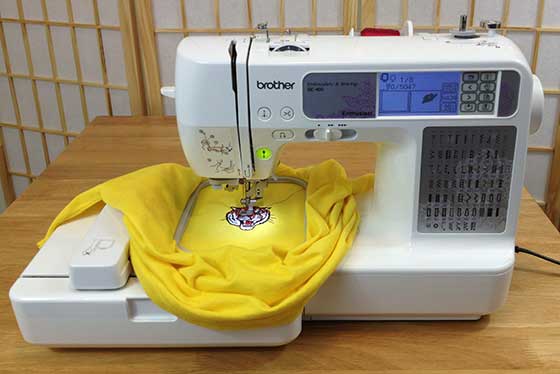 A two-in-one machine, as the name suggests, combines both embroidery and sewing functions into a single machine. This is a more cost-effective option and it allows for a greater ease of use and functionality as opposed to a typical embroidery machine. With such machines, you can sew, embroider and do a lot more with ease. The only downside here is the cost- such machines are comparatively more expensive than just embroidery or sewing machines.
What is The Best Embroidery Machine for You?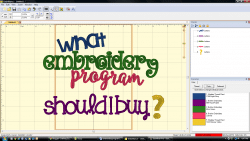 There is no way to state with absolution which is the best embroidery machine in the market. Depending upon the users' specific needs, budgets and embroidery requirements, this may vary. While more advanced models may seem to be the ideal choice, it is wise to go only for those features that you require to avoid overspending and getting a machine with unnecessary accessories and functions.
With all of that in mind, a single head, single needle machine is the most suitable choice. It offers the basic features that beginners may need for their embroidery projects. Moreover, the higher models also cover any advanced requirements. For those who wish to take embroidery and sewing to a larger scale, a two-in-one machine that combines both sewing and embroidery into a single operation would be a cost-effective option.
What to Consider While Choosing the Best Embroidery Machine for You?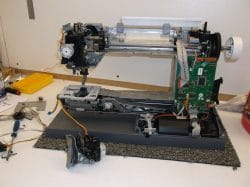 Let us go ahead and analyze point-wise as to what are the most important things to be looked at in any embroidery machine, be it hand-operated or programmable or any other type.
Why Would You Use the Machine?
This is the factor that will have the most significant role to play in making the right choice. Do you need a home embroidery machine, or are you looking to buy a commercial-grade embroidery machine for much heavier usage?
Does it Cover All Your Basic Needs?
Some features, such as automatic thread cutting, bobbin winding, pressure sensor and needle threader amongst others are important in any machine. These things will make the entire embroidery process quite convenient for you.
The Width Between the Machine's Body and the Needle
This width will affect the embroidery projects that you undertake. A smaller value of this width will limit the designs that you can accomplish through embroidery. For larger designs and using larger hoops, you will need to buy an embroidery machine that has a larger distance between its body and the needle.
Different machines have a different hoop size. There are some machines that limit this to 100×100, consequently limiting the projects you can execute. Thus, what you plan to do will affect the choice getting of the best embroidery machine.
Accessories that Can Be Added
You will require an embroider machine that can scale up from a small DIY project to a full-scale embroidery scheme. A machine that supports extra accessories will help you accomplish this.
What are The Designs it Supports
A variety of designs are preloaded into the machine. This facility also gives you the freedom to add your own designs as well as customize the ones already present. All of these broaden the horizon of what you can accomplish with this machine.
How Can Designs be Loaded?
The portal for uploading designs is important. The most common systems are using USB, a data card and floppy disks.
The warranty is one of the most important considerations to get the best embroidery machine your money can buy. You should understand and agree with all the related terms and conditions, and ensure that the manufacturer offers sufficient support to deal with the warranty.
Gain awareness about various brands through gathering information from their websites and customer testimonials in order to know what you are going to get soon.
The last and the most important factor is the embroidery machine's price. Exploring the market is okay, but you must have a budget.  So, list out the embroidery machine within your budget and then go for the comparison. I am sure that this process will help you a lot to save your precious time.
In the End
With everything you have read above, you must have now gained sufficient idea as to how you should proceed to buying an embroidery machine. Keep all these factors in mind and you will surely get the best embroidery machine as per your budget and requirements.