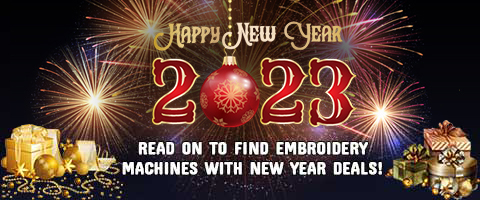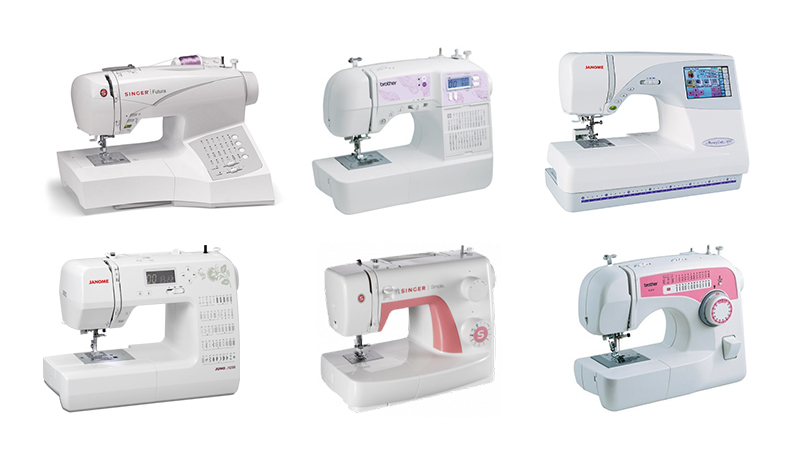 Buying the best embroidery machine for home use may seem like a simple task. But when you realize the number of different types of embroidery machines the market has to offer, it becomes nothing less than a challenge. Right from Brother to Janome and Singer, each manufacturer has something unique to offer to the embroidery lovers. To help you, we have summarized some of the best embroidery machine models presently available in the market. After reading this review, you will be able to get a better idea of what to expect from different machine models and manufacturers, and which one would best suit your embroidery needs.
Consider checking the following reviews as well depending on your needs: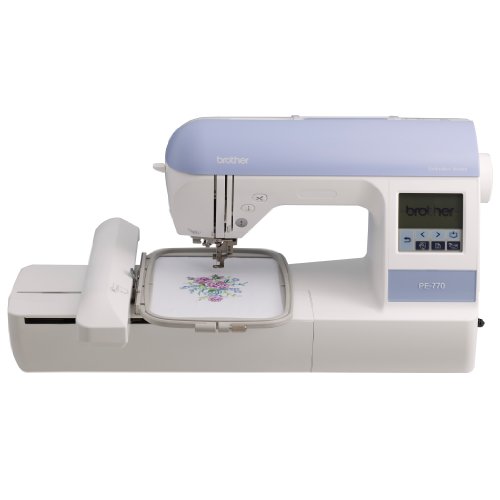 Brother PE77 is one of the most-trusted embroidery machines with features that are sure to make it a delight to use for all users. One of the best things about this embroidery machine is the large 5" x 7" embroidery field. This makes the machine ideal for stitching large designs, like items for home décor, jackets and a lot more. If you compare it to other embroidery machines, you will find that it offers a lot more in terms of in-built fonts and designs.
With over 136 built-in designs, 120 frame pattern combinations and over 6 lettering fonts, there is not a lot that a novice user has to worry about while using this machine. You can also load your own designs in it using the USB port on the machine. This USB port can also be used for uploading machine upgrades to keep the embroider up-to-date.
To make it more user-friendly, it also has an LCD back-lit touchscreen that lets you know the settings of your machine and can also be used to view different tutorials, like threading the machine, inserting the embroidery arm and a lot more. An automatic needle threader is added to further boost user convenience. It cuts through the lower and upper threads with just one touch, something that will save you a lot of time.
Along with the embroidery machine, you also get a 5″x7″ hoop, a dust cover, an embroidery arm and an accessory bag with a needle set, seam ripper, 2 screwdrivers, a cleaning brush, 3 bobbins, 3 spool caps and scissors in it. You will also get a 25-year warranty on the Brother PE770 Embroidery Machine. Overall, this is a great monogramming machine for both beginners and advanced users, providing excellent quality of work for every kind of projects.
Key Features
USB port for loading designs and machine updates
Back-lit working area
LCD touchscreen and display
5″x7″ working area
Automatic threader
Pros
Easy to use and setup
Large variety of designs preloaded in the machine
Can embroider even intricate designs with ease
Cons
Too expensive for beginners
Cleaning and maintenance could be hard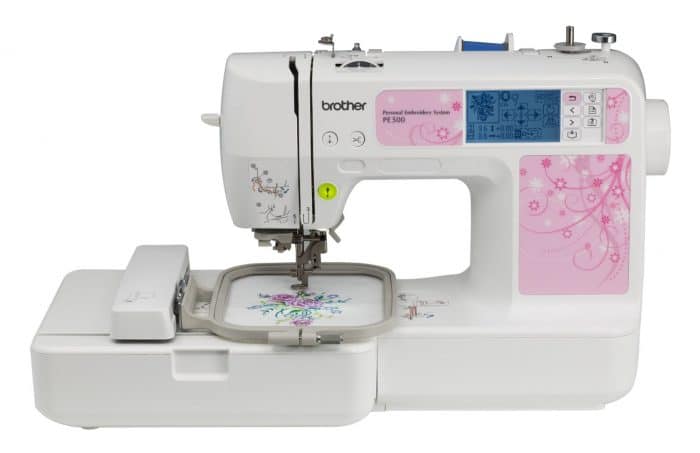 Brother PE500 is another excellent programmable embroidery machine that the brand has to offer you. It provides you with a total working area of 4"x4", which makes it easy for you to take on any kind of projects. With this machine, you get around 70 preloaded designs, 120 frame-pattern combos and 5 different font styles for monogramming and designing.  Along with these, it also lets you upload any designs you want with ease through the USB port. Some of the best features of this embroidery machine are that it lets you easily access the preloaded designs, look at tutorials and do a lot more with the back-lit LCD display.
The workspace of the PE-500 is back-lit with enough lighting to make the needle area an easy place to work. The bobbin system used in this model is quick-set drop and in, thus taking away the need of fishing for the thread. Threading an embroidery machine is undoubtedly a hard task, even with the best embroidery machine. However, it will not happen with the Brother PE500, as its automatic needle threader takes care of that for you. All you need to do for this purpose is press a button. The machine is compatible with iBroidery.com as well where you can view and get thousands of limited-edition designs with ease.
PE-500 does not need any assembly and along with the machine, you will get a stabilizer and 3 spools of embroidery thread to let you begin embroidering right out of the box. Thus, with top-of-the-line features, virtually no maintenance and an affordable price tag, there is little that Brother does not offer with this set of embroidery machines that are right for just everyone!
Key Features
4"x4" embroidery area
Back-lit working space
LCD touchscreen and display
Upload new designs and updates with ease
Automatic needle threader
Pros
Easy to use
No setup required
Can load a large number of designs
Brightly lit working area
Cons
Can only be used for embroidery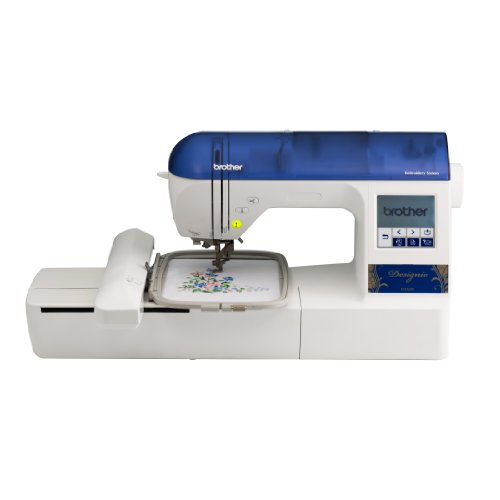 With an embroidery area of 5"x7", Designio Series DZ820E is undoubtedly a high-quality embroidery machine for you if you are looking to embroider large designs without too much of a hassle. The embroidery area is brightly lit with the help of LEDs that further make it easy to work on this machine. It has an LCD touchscreen display that along with letting you select from various designs, also gives you tutorials on inserting the embroidery arm, learning how to thread the machine and a lot more.
This machine has over 120 frame pattern combinations, 6 lettering fonts and 136 embroidery designs that are built-in. Additionally, you can add a range of designs from ibroidery.com and choose one or more from the additional 200 designs that come in the CD of the machine's starter kit. You can also import your own designs through the USB port with the help of a memory stick. Its LCD display lets you mirror-image, rotate, decrease/increase the size and do a lot more with the installed designs before stitching them. These features help both novice and advanced embroiders make the most of the machine without spending too much time learning from manuals and tutorials.
It comes with an automatic threader and thread trimmer to make the task easy for you. Along with that, this machine utilizes the Quick-Set™ drop-in top bobbin that further makes the entire embroidery task easy and hassle-free for you. In the starter kit of the machine, you get 2 additional embroidery hoops (2.5×1 inch and 4×4 inch), a CD with more than $200 worth of designs, 6 spools of embroidery threads, extra bobbins, 1 pack of fabric stabilizers and embroidery scissors made of high-quality steel. All these things come together to deliver you an embroidery machine to let you get on embroidering right away!
Key Features
5″x7" working area with LED backlight
built-in136 embroidery designs with 6 fonts and 120 combinations
You can edit uploaded designs before stitching
Automatic threader and thread trimmer
Pros
Easy to set up, load designs and use
Large working area with backlight
LCD touchscreen display
Variety of designs available
Cons
Automatic needle threader is tricky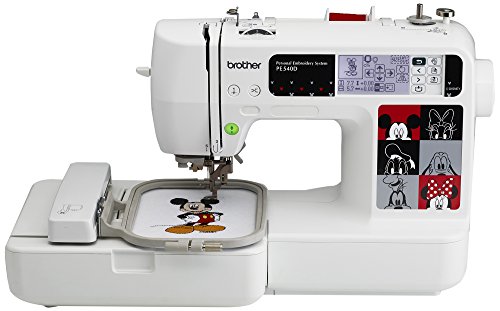 The PE540D embroidery machine by Brother gives you a 4"x4" working area, large enough for almost any project you can ever think of. It comes with over 120 frame pattern combinations preloaded in it, along with 105 embroidery designs, 5 embroidery letters and 35 designs of your favorite Disney characters as well! This machine has 1.4"x2.7" LCD touchscreen display with backlight. This can be used for editing and accessing the preloaded designs, adding new designs and viewing different tutorials.
This embroidery machine is one of the best in its category in terms of speed. With up to 400 stitches per minute, it lets you create huge amount of art in very less amount of time. It employs an advanced mechanism for needle-threading. With the press of one lever, the thread is pushed inside the eye of the needle. Users can upload their favorite designs and software with the computer connectivity feature of the machine. For browsing an even greater collection of designs, embroidery lovers can purchase from more than 5,000 designs at iBroidery.com.
There are a set of instruction diagrams on the see-through bobbin, which further adds to the user convenience. The embroidery unit is permanently attached to the machine, which eliminates any need for detaching it for storage or for any assembly needs. The three buttons above the needle, namely start/stop, automatic needle cutter and needle up/down along with the aptly placed tension-adjustment dial make using this machine highly convenient for any type of embroiders.
It supports a great range of fabrics, including natural fibers, denim, synthetic fibers, fine fabrics (like velvet and silk) and even knits. As a result, there is little that users cannot accomplish from this amazing Brother PE540D embroidery machine.
Key Features
4"x4" back-lit embroidery area
Stitching speed of up to 400 stitches per minute
Large number of preloaded designs and fonts
Seamless computer connectivity
Pros
Easy to use without any assembly
Large number of preloaded designs and more can be added
LCD touch screen and panel
Fast stitching speed
Cons
Not suitable for fur, upholstery, rubber and leather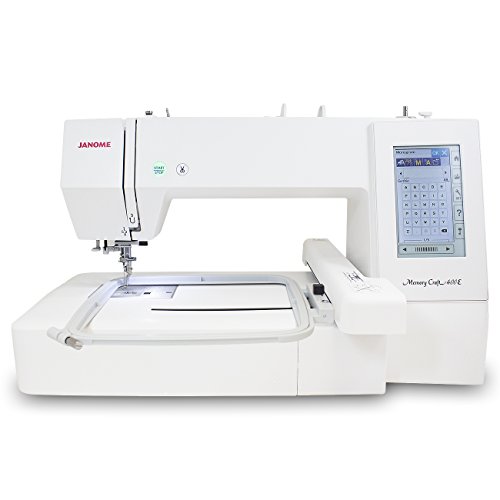 Janome is known for making some of the best embroidery machines available in the market and the memory craft 400E is surely an effort towards that. With a maximum embroidery size of 7.9"x7.9", this machine has an extra wide table that provides you with a large working area. It has 160 built-in embroidery designs along with 6 different fonts that you can use for monogramming. Along with these, loading designs in this machine is also possible using the USB port, meaning that the possibilities of what you can embroider with it are endless.
One of the best features of this embroidery machine is its embroidery speed, which is up 860 stitches/minute. It has programmable jump thread trimming, flexible stitch traveling by units of 1, 10 & 100, adjustable speed while embroidering, direct jump to a specific stitch point, adjustable hoop positioning and auto-return post thread break. All of these features coupled together with the fast stitching speed give you accuracy and precision while helping you get more results in less time. Its automatic thread cutter and advanced needle threader ensure that you spend less time in adjusting the machine and more in creating your favorite designs.
To further boost user convenience, Janome has equipped this machine with a colored LCD touchscreen. With this screen, you can edit designs using a variety of functions, like rotate, drag, drop, flip, copy, paste, zoom, grouping and a lot more. Along with the machine, you get a range of accessories, including the 7.9"x7.9" embroidery hoop, screwdriver, needles, scissors, bobbins, spool caps and an instruction manual. You can use three different hoops with this machine, but these have to be purchased separately. These hoops are RE10b 4.3"x5", SQ14b 5.5"x5.5" and RE20b 5.5"x7″ Janome Memory Craft 400E.9". With such a range of features, there is little that this embroidering wonder by Janome does not offer you, making it one of the best choices for any embroidery lover.
Key Features
9"x7.9" embroidery area
160 built-in designs and USB port to add more
Stitching speed of up to 860 stitches/minute
LCD touchscreen with design-editing functions
Automatic threader and thread cutter
Pros
Fast and accurate
Does not require any complicated setup
Necessary accessories provided with it
Cons
Using the automatic threader is not easy for beginners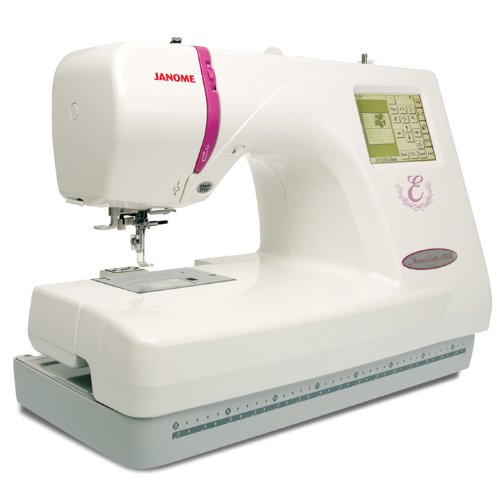 At the first look, you may think that MC350E is just like any other embroidery machine. However, when you look  closer, you will realize why it is one of the best as far as an embroidery machine is concerned. With a back-lit LCD screen, bright LED lighting and a ruler decal stamped on the machine's front, it arrives as a stunning embroidery machine that is capable of producing equally stunning designs. Using this machine, you can make the maximum embroidery size of 5.5"x7.9". While this may not be the largest in this range, but it should be more than enough to take care of most of your embroidery needs. The embroidery sewing speed of 650 stitches per minute makes it an efficient and precise machine.
There are 3 monogramming fonts and 100 built-in designs already present in this machine. You can add your own using ATA PC card and USB transfer. The memory of this machine is large enough to hold 100 designs. The supported format for embroidery designs is .jef. There is a back-lit LCD touch screen on the machine which can be used for editing your designs using a range of functions, like zoom, reduce/enlarge, turnover, rotate and a lot more. It also has the automatic thread cutter and a built-in needle threader that save you from the hassle of setting the thread continuously.
The machine also has a stitch counter and a stitch-out time indicator. There is a manual control for the thread tension, upper thread and presser foot sensors, and ball bearing precision. Everything that this machine has to offer ensures that you have a smooth and accurate embroidery experience, no matter what your skill level may be. Along with the machine, you get a standard set of accessories which include a specialized bobbin and 2 embroidery hoops- 125mm x 110mm and 200mm x 140mm.
Key Features
Maximum embroidery size of 5.5" x 7.9"
100 built-in designs
Transfer designs via ATA card and USB
Automatic needle threader
LCD touchscreen with backlight
Pros
Can store a large variety of designs
Uploading and editing are easy
Automatic threader is very useful
Cons
Embroidery area may not be sufficient for all users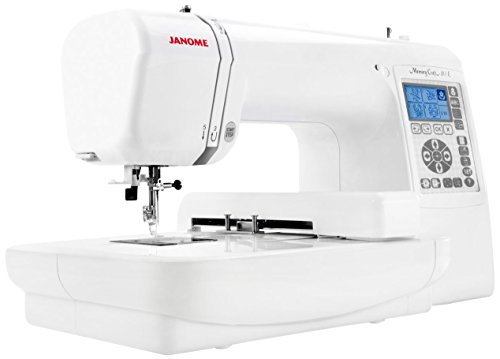 If you are looking for the best embroidery machine to add professional embroidery to your garments then the 001200E is what you need. The 5"x5" embroidery area is surely enough to help you tackle even the largest of projects. To help you get started without requiring too much work for the first time, 73 embroidery designs are built in it. In case your favorite designs are not there, you can download them from the internet and add to the machine's utility using the Janome software interface from your computer.
The machine is made with an attempt of making everything easier for the users. That's why, it has a great automatic threading feature that all users will find useful. It has a top-loading full rotary hook bobbin that lets you see how much of the thread is left with ease. There is no need to remove it for inserting a new one. The rotary metal hooks of this bobbin run quietly and require significantly less lubrication.
The machine also has an LCD screen that you can use for editing your designs before embroidering them. There is a brightness dial for the screen to let a user adjust and get the best visibility of himself. It offers a number of functions, like resize, rotate, zoom and so on. The screen is capable of displaying messages in 11 different languages. The large embroidering area along with the bed-mounted carriage arm, LCD screen, and design uploading capabilities come together to make the Janome 001200E a perfect package of embroidery and monogramming. A number of accessories come with the machine, including a bobbin, scissors, small and large spool holders, needle set, felt, spool pin and holder base, lint brush and much more. You can also use a 2×2-inch embroidery hoop with it but has to be purchased separately.
Key Features
73 designs and 3 fonts that are built-in
LCD touchscreen for editing designs
Maximum embroidery size of 5×5 inch
Automatic needle threader
Pros
High-quality design and construction
Back-lit screen with adjustable brightness
Large variety of designs
Useful accessories provided with the machine
Cons
Could be hard to use it with complex designs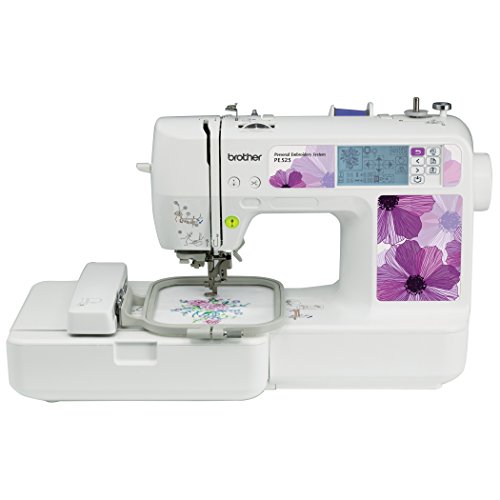 The PE525 is easily amongst the most feature rich of embroidery machines by Brother. It offers you a total embroidery area of 4"x4", which is quite sufficient for taking care of your daily embroidery needs. The machine comes with a back-lit LCD touchscreen with dimensions of 1.4" x 2.7x". The best thing about this embroidery machine is not the touchscreen, but what it is capable of. You can use it not only to access and edit the built-in or loaded designs, but also for viewing different tutorials and a lot more.
Brother has equipped this machine with one of the most-advanced needle threading mechanisms. With this system, the thread is pushed in the eye of the needle with just the press of a lever- yes, it is as simple as that! Furthermore, the machine comes with a bobbin-winding system that helps you prepare bobbins with utmost precision and speed. It also has a Quick-Set™ drop-in bobbin system that is jam-resistant. There are over 70 designs, 120 frame patterns and 5 font-styles installed in the machine. And these are not all- you can also load your own designs via the USB interface. There are over 5,000 designs you can purchase from iBroidery.com which further make it possible for you to do almost anything with this machine.
What makes Brother embroidery machines reliable to use is the level of support they offer. With this model, you get 25-years of limited warranty along with free phone and technical support throughout the period the product will exist in the market. Along with that, you will get free updates for the machine's software that can be easily installed by connecting it to a computer. Thus, all these great features surely come together to make it one of the best embroidery machines that Brother has to offer in this range.
Key Features
4"x4" embroidery area
Back-lit 1.4"x2.7" LCD screen
Automatic needle threading mechanism
Quick-Set™ drop-in top bobbin
Pros
Large embroidery area
Bobbin is prepared quickly
Large variety of designs to choose
Seamless computer connectivity
Cons
Setting the tension is tricky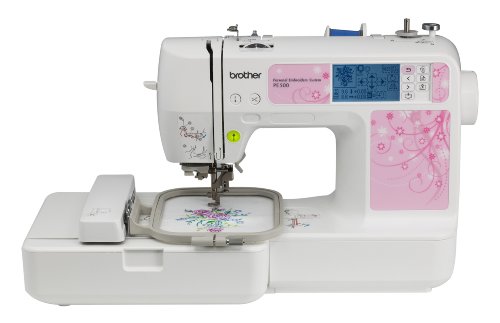 A new embroidery machine may not be the best choice for someone who does not have a lot of money. However, Brother is there to help you out even in such a case. So the brand brings to you the RPE500 Factory Remanufactured Embroidery machine. You will get this machine at a much lesser price but with all the excellent features that the PE500 has to offer. It gives you 4"x4" of area for embroidery which will be enough for almost any project that you may wish to undertake. It comes with 12 frame pattern combinations, 5 font styles for lettering/monogramming and 70 designs built in it. Along with these, you can also import designs through your computer or download them from iBroidery.com.
The RPE500 has a back-lit LCD touch screen which comes with a range of features that let you access as well as edit the designs as per your preference. You can also use this screen to view tutorials and do a lot more with your machine. Threading the RPE500 is made easy with the automatic needle threader- all you need to do is press a button and the task will be done in no time! The upper and bobbin thread sensors further add to the precision and speed of the machine. It also has the Quick-Set™ bobbin system that prepares the bobbin quickly.
To ensure that this Brother embroidery machine always gives you the best performance, you can update the software used in it by connecting to your computer. With this machine, you get an embroidery foot, arm, and an accessory bag. The accessory bag includes a seam ripper, cleaning brush, needle set, 3 spool cups, 2 screwdrivers, 3 bobbins, a pair of scissors and a USB cable. Weighing 18.1 lbs, the machine is not that hard to carry around and move, which further add to user convenience.
Key Features
Large variety of designs and combinations preloaded
Upload designs and updates with ease
400 stitches per minute
Rotate patterns by 1, 10 or 90 degrees
Pros
Large number of preloaded designs
Easy bobbin and thread setup
Easy-to-use LCD touchscreen
Useful accessories included
Cons
Monogramming feature could have been better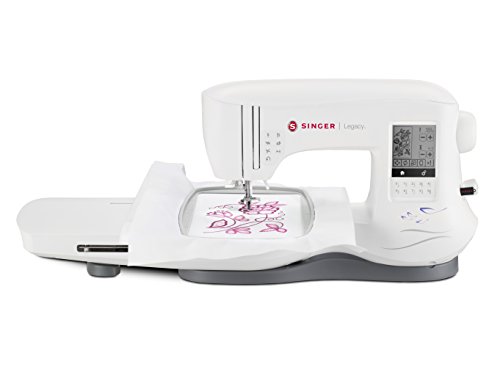 The SE300 is undoubtedly one of the best embroidery machines from Singer. With an extra-large embroidery area of 10 ¼"x 6", you can use it for embroidering almost any kind of design. The total work area makes managing any type of projects and hoops an easy task. To help you adjust the embroidery and sewing settings without too much of a hassle, this machine is equipped with a large LCD touchscreen. The heavy-duty metal frame of the Singer SE300 is there to ensure that you have a skip-free sewing experience with amazing results every time!
One of the best features you get from this embroidery machine is its automatic needle threader. Right from the spool to the needle's eye, threading the machine will not take you more than 6 seconds, making it a time-saving process. The automatic thread tension helps keep the stitches balanced and even. 200 designs along with 6 different alphabet options are loaded in the machine. To add more designs of your own or those you have downloaded from the internet, you can use the USB port that this machine offers.
With this machine, you also get over 250 built-in stitches. This includes 10 OneTouch Basic Stitches, 7 Stretch Stitches, 8 Basic Stitches, 23 Elongation Stitches, 18 Satin Stitches, 30 Heirloom Stitches and 22 Quilting Stitches. In addition to all these great features, you also get some other features, including fast embroidery and sewing speeds, upper-thread sensor, bobbin winding when you are embroidering and a lot more. Singer also gives you a 25-year warranty with this amazing embroidery machine, thus giving you the assurance of the best results and embroidery experience every time you use it!
Key Features
Start/Stop buttons
LED lights for the working area
Upload designs and software with ease
Automatic threader and sensors
Fast sewing speed
Pros
Sturdy and durable construction
25-year warranty
Fast and accurate stitching
LCD touchscreen
Cons
Heavy for some users
Out-of-the-box setup is tricky
With all the above information, you will now have a fair idea of what different types of embroidery machines have to offer. You should not go by any one factor- weight the pros and cons of every machine as per your requirements, and see which of these fits best in your budget, needs, and home. When you take all of this into account, you will surely be able to make an informed decision in the form of the best embroidery machine for all your needs!
ADD_THIS_TEXT