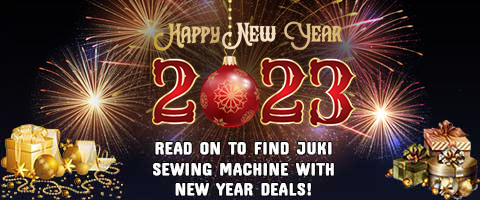 The best Juki sewing machine is the ideal sewing equipment for everyone- be it professional or a home user. Juki has been around since 1947 and has established itself as the leader in quality sewing machines. But with so many types to choose from, finding the ideal one from the many Juki sewing machines in the market is not an easy task. To help you with just that, we have compiled reviews of the best sewing machines from Juki. While some of these machines came out just this year or 2019, a few of those have been the best-selling models in their segment for a few years.
Based on your preference, you can purchase sewing and embroidery machines from these brands as well:
Let us know start by looking at the best Juki sewing machines in the market- what they offer, their pros, and other features.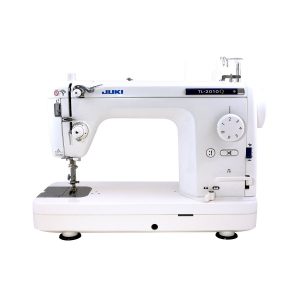 The TL 2010Q from Juki is a single-needle machine that you can use for straight stitching as well as quilting. This machine can also be used for dressmaking, tailoring, and on your home décor items. The throat area of this sewing machine is 8.5×5.9 inches. The auxiliary table included with this machine is 590x277mm. White LED lighting for the sewing area helps you work with ease.
This heavy-duty machine is made using aluminum-die casting. This helps you handle even the largest of projects with ease. It has a slider for controlling the speed and an industrial-grade sub tension mechanism. All this helps you to utilize the machine for precision sewing. The automatic thread trimmer trims the bobbin threads and the needle at once by the press of a button. The Presser has foot-pressure adjustment as per the fabric you are working on.
Pros
Sewing speed up to 1500 stitches/minute
Large sewing area
LED-illuminated sewing area
Pressure adjustable foot-presser
Speed control mechanism
Cons
The user manual is not helpful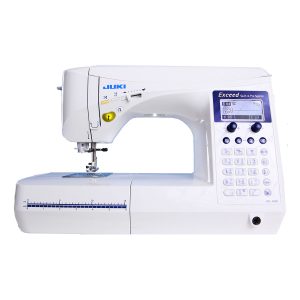 The Juki HZL-F600 is one of the best heavy-duty sewing machines. With a 900 stitches-per-minute sewing speed, there is little that you cannot do with it. It has 13 automatic buttonhole types to choose from. The machine lets you select from a range of patterns by just one-touch. The quick-thread bobbin case allows you to get started on stitching within seconds.
It is part of the Exceed sewing machine series by Juki, which comes with advanced thread-trim functions. You just have to rock your foot on the controller and the thread cuts quickly and with precision. Adjusting the thread tension is automatic but you can also manually control the same as required. It has a powerful feeding mechanism with a 7-point system.
Pros
One-touch design selection
Electronic buttonhole
Foot pressure adjustable
15-class bobbin
Thread tension manual and automatic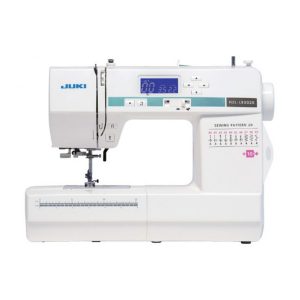 This computerized sewing machine comes with a host of functions from the most basic to advanced features. This makes it a great budget pick. There are 20 different stitch patterns built into it. Along with these, there is an automatic needle threader as well. The automatic needle threader allows you to thread the needle accurately and quickly by just pushing a lever. The LCD screen lets you select patterns, adjust width and length with ease. There is a 7-point feed dog for sewing all fabric types and piecing them together.
The 1-Step Buttonhole feature lets you sew a buttonhole automatically as per the size of the buttons. To sew overseas, you just need to press a button on the presser foot which aligns it parallel with the throat plate. To get a precise-stop, simply hold the start/stop button and the machine will stitch at a super-slow speed. Release the button where you want to stop stitching to get the exact end.
Pros
LCD screen for pattern and length selections
Automatic needle threading
Precision stitch stop
1-step creation of a buttonhole
Stitch chart drawer
Cons
Stitch speed only up to 700 stitches per minute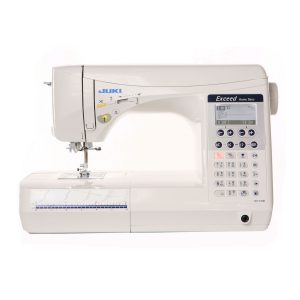 With a sewing speed up to 900 stitches per minute, the Juki HZL F300 is easily the best Juki sewing machine for home. It has a maximum stitch length of 5mm. The machine comes with 16 electronic buttonholes suitable for all fabrics. The machine offers you a one-touch selection from several patterns. This includes blanket and applique stitching types as well. You can use the quick-thread bobbin to save on a lot of hassle and time.
The quick threading system powered by its auto-needle threader lets you get started with stitching in no time. You can either use the auto-tension settings for the thread or increase/decrease it manually. This sewing machine has a 7-point surgical steel feed-dog mechanism. You can use it for even the heaviest of projects with great results.
Pros
Various electronic buttonholes
One-touch thread pattern selection
Auto-needle threader
LCD screen
Automatic and manual thread tension settings
Cons
Essentials like free-motion foot are not included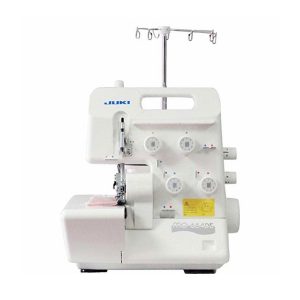 For beginners, the MO 665 is the best Juki sewing machine to get started with. The machine comes with a color-coded guide for threading. It has simplified tension adjustment with 1-rotation dials. Threading of the looper is also quick and easy. You simply put the thread in the slot, snap in the looper and you are done. It has a multipurpose foot presser that lets you overlock stitches, add elastic, tape, sequins, and ribbon on the fabric.
It has a seam guide built-in tat that allows for precision surging. Its knife mechanism provides you easy and consistent cutting for all types of fabrics. There is additional lighting on the machine to properly illuminate the needle areas and the fabric. Changing the stitch length or overlocking techniques are can be easily done with its dial.
Pros
Illuminated working area
Easy to change stitch lengths
Heavy-duty knife for fabric cutting
Easy chain stitching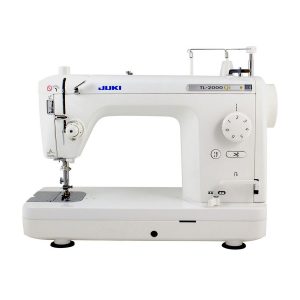 The best Juki sewing machine for quilting is the TL-2000Qi. This industrial grade sewing machine comes with a thread-tension scale to allow for precise tension settings based on the fabric and thread. Its thread trimming technology lets you cut the thread precisely through the foot control. The sewing machine has a needle up/down button too. When you stop with the sewing, the needle will stop in the down position allowing for free-motion work.
For threading the needle, simply use the push-lever. Bobbin replacement is also simplified with the enlarged case. You can raise and lower the feed dog in this sewing machine with just a switch. During quilting, the drop feed lets you sew those curved stitches easily and with high precision.
Pros
Thread tension scale for accuracy
Needle up-down button
Speed control mechanism
Feed dog control switch
LED lighting on the working area
Cons
Quilting foot needs to be purchased separately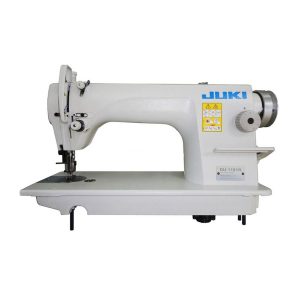 With a maximum sewing speed that allows you to go to 5,500 stitches in a minute, the Juki DDL 8700 is easily the best Juki sewing machine for industrial use. It has is powered by a 110V industrial motor. The maximum stitch length with this model is 5mm and it has a 30.7 mm needle bar stroke. The feed-dog mechanism is 4-row. It also has an auto-lubricating rotary hook.
Despite its advanced functionality, the machine is easy to operate. The presser foot has a 13mm lift. Its throat plate has marker grooves that guide you along with the seam allowance. Along with this, it has a stitch dial that can be operated by just a light touch. All these things come together to make the operator's job easy while boosting productivity.
Pros
Easy to use
High stitching speed
Height of foot presser at 13 mm
Self-lubricating rotary
Cons
Not portable due to heavyweight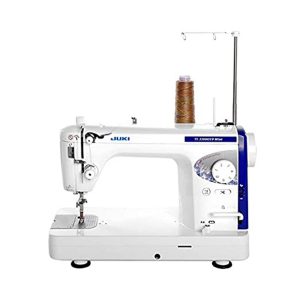 For those searching for the best Juki sewing machine to handle canvas and other heavy-duty projects, the TL-2200QVP is a perfect choice. This long-arm sewing machine provides you a working area of 18×10 inches. It has a large capacity rotary hook with high-speed rotation. The bobbin case latch and its enlarged case allow you to easily remove as well as replace it. It also has a needle up/down button to adjust as required.
The large LCD lets you maintain control of the machine and adjust as required. There are 8 ball-bearings along with the frame so that you get a smooth and even quilting experience. The machine has ergonomic handles to provide maximum comfort. There are 4 stitch modes to suit every type of job. The auto-thread trimmer simplifies and quickens the process of trimming the bobbin and needle threads at the push of a button.
Pros
Large working area
Multiple stitching modes
Stitch regulator built-in
Auto-thread trimmer for bobbin and needle
Ergonomic handle
Cons
No extra lighting for working area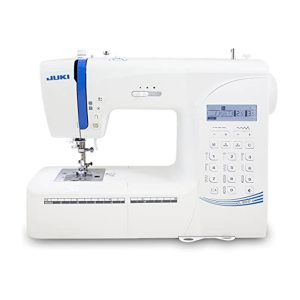 The Juki HZL-80HP comes with all the standard features you would expect in the best Juki sewing machine- automatic needle threader, start and stop button, reinforcement and reverse stitches, and many others. You can also sew half-stitch using this sewing machine. The machine has 10 stitch patterns for you to choose from. Depending on the button size, it will automatically sew the perfect buttonhole for it.
The machine has a presser foot to allow you to get a comfortable feed while sewing through even the thickest of fabrics. The current setting is always visible so that you can change as needed. It is capable of sewing patterns and letters. You get several accessories with the machine including the zipper and standard presser feet, spool caps, brush/seam ripper, buttonhole foot, etc.
Pros
Easy to sew through tough fabrics
10 stitch patterns
Automatic needle threader
Auto-buttonhole maker
Multiple accessories included
Cons
The working area is not illuminated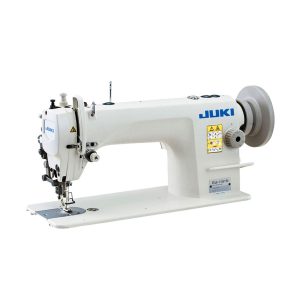 The Du-1181 is a powerful sewing machine by Juki with a top & bottom feed system. The machine has low noise and vibration to provide an operator with a comfortable environment to work in. It is the motor and auto-lubricating systems that leave little need for maintenance. The maximum stitch length is 9mm. Its presser foot goes as high as 15 mm allowing you to do tape-attaching, piping and other processes that require a high lift
You can adjust the stitch pitch in reverse and normal directions. The standard bobbin with this machine is a double-capacity hook that provides more efficiency while sewing. The feed dog height and incline are also adjustable for better operability.
Pros
Low noise and vibration
Auto-lubricating systems
Max stitch length is 9mm
Presser foot has a high lift
Large working area
Cons
Winding bobbin could have been easier
Juki Sewing Machine Buying Guide
The variety of Juki sewing machines ensures that there is something for everyone. But how do you find the best sewing machine for your needs? What are the factors that you must consider while shopping for one? Questions like these are exactly what we have tried to answer in the buying guide ahead. Before we move on to that- you may be wondering why you should go for a Juki sewing machine and not any other?
Why Juki Sewing Machines?
Juki has been manufacturing some of the best sewing machines since 1947. The brand provides unmatched reliability, quality, and durability for all its sewing machines. It is the leading brand for industrial-grade sewing machines in the market. Apart from that, it has a wide range of sewing machines for industrial as well as home use.
You could be looking for an upgrade or planning to buy your first sewing machine. In any such case, Juki is sure to have something that will meet all your expectations. As we talk about the features that you must look at, you will find that the collection of machines by Juki provides you the best in each of those aspects.
Size
The size is the first consideration. Depending on whether you are a home user or require a sewing machine for professional use, the ideal size would differ. For home users, a smaller sewing machine is the better choice. They are easy to handle and store, are lightweight, and also portable. With a smaller sewing machine, you can also upgrade later as required.
For professional users or those who require an industrial sewing machine, the size will increase depending on the power and working area. Expect machines above 40-50lbs and significantly larger dimensions for such requirements.
Weight
While you may think that a larger machine means more weight- this is not always the case. You must check the weight separately as it is an important indicator of the machine's quality. A lightweight machine may be made of mostly plastic parts. This makes it portable. However, too light a machine means you will get a lot of vibration while sewing- so you may want to avoid that. Heavier machines are more stable and offer less vibration/noise.
Length of stitch
The stitch length is among the most important factors for a good stitching result. Shorter stitches result in a tighter seam and longer stitches get you a loose one. The longest stitch is what you use for machine gathering and basting. Depending on what your project type is and the fabrics you plan to be working on, the maximum stitch length may vary. While most Juki machines have a stitch length of 5-6mm, certain models go as high as 9mm. Generally, most home users keep the stitch length at 2.5mm.
Number of stitches
A machine with several built-in stitching patterns will help you to do a lot of tasks quickly and with little effort. Activities like quilting and creating quick decorative designs on a costume can easily be taken care of with such pre-set patterns. Thus, depending on how frequently you plan to take up such tasks, look for a Juki sewing machine that offers preloaded stitching patterns. This is of equal importance for both beginners and advanced sewing experts.
Speed
Speed matters- even when you are looking for a sewing machine. More speed means quick work. For professional users, this also means more profits. While most sewing machines for home users offer a speed under 1,000 stitches per minute, industrial-grade machines go as high as 5,500 stitches in a minute. Juki machines have a sewing speed for every need- what you need depends on the nature of your sewing projects.
Auto-Thread Trimmer
Thread-trimming is a common activity during stitching. You must choose a sewing machine that has automatic thread trimming. Cutting off threads from a stitched garment can be a time-consuming process if done manually. Almost all the Juki sewing machines come with auto-thread trimmer. For industrial users, this means no man-hours are spent on people cutting off threads from finished garments.
Motor
The heavier the sewing machine motor, the stronger it will be. A stronger motor means it is easier for you to work with heavier fabrics. Some of the industrial-grade sewing machines from Juki make use of servo motors to make it easy for you to get through any type of fabric.
Noise and Vibrations
If you are looking for a sewing machine for industrial or professional use, noise/vibration must be considered. You will want a sewing machine that produces minimal vibrations and noise. This allows the operator to have a peaceful and non-distracting working area. Apart from the weight and sturdiness of the construction, check if the sewing machine has any additional features to take care of that.
Operational Ease: Presser feet, power switch, speed control, adjusting the tension
There are several features that you can consider to make it easy to operate the sewing machine. Some of these include:
Presser Feet: While this is present in most Juki machines, check how many are sold with it. A multi-purpose foot is sufficient for basic sewing. You will need a buttonhole and zipper foot for the respective functions. An adjustable presser foot helps to control the tightness by which the machine will hold the fabric. Similarly, there are several other types to choose from.
Power Switch: This is required for safety purposes.
Speed Control: This controls the speed at which the fabric goes through the sewing machine. This lets you sew at a steady tempo and avoid stopping-starting multiple times.
Tension Adjustment: Too tight a fabric puckers the fabric and loses thread leads to loopy stitches. A machine that has automatic and manual adjustment lets you choose the best tension on the thread as required.
Auto-Buttonholer: An automatic buttonholer allows you to create a buttonhole in just a single step. There is no need to manipulate a dial or turn the fabric. Many Juki machines also have several types of buttonhole settings so that you can make one as per your specifications.
Apart from these features, the controls and ergonomic of the machine are also important considerations. The machine should not growl or stall with multiple layers or thicker fabrics. Its controls must be easily reachable while operating the machine. A sewing machine with an ergonomic design makes it easy for you to use it for longer periods without any discomfort. This is even more important in the case of industrial-grade or sewing machines for professional use. Check for button placement, working area, the position of buttons, etc as well to see how easy it would be to operate the machine for long hours.
Maintenance, care, and warranty
The level of maintenance that the sewing machine requires is another important consideration. Most Juki sewing machines are self-lubricating, which means that you do not have to manually lubricate any of their parts. If that is not the case, do check for how frequently and what parts of the machine would require lubrication. There are special lubricants designed exactly for that purpose.
Do check how much warranty you get with the machine. Most Juki sewing machines for home-use come with a limited 2-year warranty. Certain industrial-grade machines and higher models may come with a limited 5-year warranty as well. This warranty does not cover any wear/tear of parts such as the needles, LEDs, bobbin, needle threaders, knives, belts, and other such parts. Any defects that arise due to improper usage of the machine may also not be covered under warranty.
Thus, you now know what you must look for as you go out to shop for the best Juki sewing machine. These were but only 10 of the top sewing machines that Juki has to offer. With this knowledge, finding a sewing machine that can efficiently take care of all your stitching/sewing projects and provide you great results should now be an easy task. So what are you waiting for? Get the best of Juki's sewing machine and get on it today!