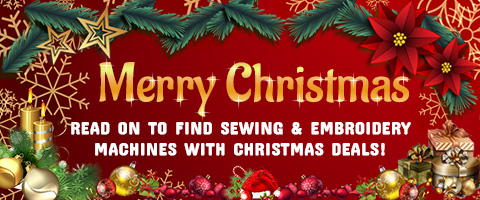 Having been a sewing, embroidery, and tailoring hobbyist since childhood and professionally in adulthood, I have had many ups and downs with sewing and embroider machines. I understand the frustration when a product is disappointing, or the search for a good one leads only to things out of your price range. I believe our focus as tailors should BE the sewing, not the logistics of equipment and it shouldn't be stressing or time-consuming to find the right equipment. This craft is our passion and our livelihood as tailoring artists; and I don't know about you, but I want to waste as little time as possible NOT creating my designs, and efficiently replace or upgrade when needed so I can get back to the art that brought me here.
Sewing and embroidery machines have been around for decades now. With the huge advancements occurred in computerized machinery this decade, many top-notch sewing and embroidery machines are now available for commercial and private usage. Whether you are a hobbyist or a professional, finding the best machine to perform all your stitching needs is important. If this sounds like you, we, at Design My Costume, are here to help.
Why Should You Trust Us?
You can be a budding hobbyist or an experienced commercial embroidery and tailoring company, but with the huge list of options available, it can be difficult to choose the best machine at the best price to meet the needs for your designs. A new sewing and embroidery machine is a big investment to make, not a $50 item from your local department store. As we know your needs are various and depend on your budget, experience, preferred brands, and the availability of features, we're here to help you.
At Design My Costume, we've taken the guesswork and time sink out of that search for the best sewing and embroidery machines for your needs; and compiled a list right here for your review. Now you could do all the researching yourself, just like we did; but do you really want to sink 50 or 60 hours into online research, weeks and countless dollars personally testing a lot of machines, and then go search out hundreds of people that have bought and used these machines to see what they think? There's no need for all that hassle to find the perfect machine, we did it for you. We don't work for the brands or get paid to give fake ratings to promote them, nor are we trying to sell the products. We use these machines ourselves to put the best embroidery and stitching on our designs.
What Is a Sewing and Embroidery Machine?
To start with, you may be wondering what exactly a sewing and embroidery machine is, what it does, and their types. It would be insulting to pretend you don't know what a sewing machine is, though you may not know all the types and functions available. But what does an embroidery machine do? An embroidery machine is a machine that, using many similar concepts as a sewing machine, can replicate and improve upon hand embroidery and detailed quilting. Embroidery is a decorative stitching technique, usually using multiple colors and stitch patterns, to create a nice design or image on your fabric. There are machines made just for quilting, but to tack on that expense doesn't make much sense when your embroidery machine can also do that as well. If you look through your closet you will probably find some examples of embroidery, even if it's just a monogram on a towel or handkerchief.
For more information about sewing-only machines, check out our Sewing Machine page with our Top 10 Best Sewing Machines for Beginners. If you would like to know more about Embroidery-only machines you could browse to our Embroidery Machines page where you can find our Top 10 Best Embroidery Machines list.
Do You Need a Combination Machine?
Now we also have embroidery machines labeled as "sewing combo" machines. These machines can do both and you may then wonder if you even need a sewing and embroidery machine combination, or if a machine that only performs one of these tasks will suffice. To answer that question you have to ask yourself if you plan to use both functions in the future, just sewing, or just embroidery. The reason why I bring this up is that investing in an embroidery machine now, and then a sewing machine later can end up costing you more money than buying one that does both. It is also a bit more constraining of your work-space to have two separate machines. If all you think you'll ever need is a sewing machine, then by all means go buy yourself a good sewing machine and enjoy it. If you want to do a lot of embroidery but somehow think you'll never need to do regular machine sewing, then a machine that only does embroidery is right for you. If you're here online reading this now, I have a sneaking suspicion neither is the case and you need the best sewing and embroidery machine for you.
Key Features to Look for in a Sewing and Embroidery Machine:
Hoop Capability
How big of a design do you want to be able to make? A large hoop can always hold smaller designs (but not always small pieces of fabric) but a small hoop can never hold a bigger design. Ask yourself this question, and then pay attention to the size of the hoop in your desired machine. Some machines have optional additional hoops that can further expand your capabilities.
Built-in Stitches
How fancy do I want to get? Machines can range in stitch options from as little as 24 to as many as 250, making a large range to choose from for your needs. These stitches may determine whether or not you can utilize some embroidery designs you like, or they may be specialty stitches for free-hand embroidery.
Built-in Designs
After you get your new machine, do you want to be able to create fun and interesting items right away? Or, do you want to search around for templates to add to your newly bought machine? I always think it's better to get more in your initial sale, than to have to be constantly buying more parts. Embroidery machines can have nearly no designs that come with them, or, like in our list of the best sewing and embroidery machines, they may have 250 designs or more straight out of the box.
Computer Connectivity
A great way to get more, newer, and specialized designs like company logos onto your new machine is the option of computer connectivity. If you can simply download more embroidery patterns, or even create more or your own using a program on your computer, you can save a lot of time and money chasing down designs when you need them.
Built-in Memory
Anyone that is computer savvy understands how this can help. An embroidery machine is a computerized piece of equipment, and like our own brains, they can only remember so many things at once. What this means for your machine is just how many new designs and templates can you add before you have to start deleting them. Many of these additional designs aren't free. You paid for them, or you spent hours creating them, and you don't want to delete them in order to add others you need. Not all machines have this memory capability to start with, so try not to get too hung up on how big that memory is.
Ability of Editing
So, you got your new machine and you found this great design you wish to work with, but maybe it's just a tad bit too small, or too big, or too colorful, or you think it needs some words added to it, or a nice border around it. Well my friend, this is where editing comes in. Not all sewing and embroidery machines allow you to edit a design template before you begin stitching, which means all too often you may run into instances of something that could've been great being just a little on the mediocre side. Why be good when you can be great? The smallest changes can make huge differences in the impact of your designs.
Multi-hoop Capability
How big and elaborate of designs you wish to make is one question we've already asked, but what about how many projects do you want to work on at a time? If you're in the middle of a project or just about to begin a project after getting your fabric in your hoop ready to go, and your father or an important tailoring customer comes in asking you to put a quick monogram on their new handkerchief, do you really want to keep them waiingt for hours, undo what you've already begun on your project, or just go without? If you could use more than just the hoop that came with your machine you could have multiple hoops ready to be filled for last minute projects without interrupting your ongoing work.
There are many other features that can be available on a sewing and embroidery machine.
If you would like to see more information on our Top 10 Best Sewing and Embroidery Machines, including other tailoring features we don't talk about here like manufacturer's warranty, design CD, free telephone tech support, bobbin-winding and needle-threading features, fonts, actual pricing, and much more, keep reading to find out how to view the full report.
Consider checking the following reviews as well depending on your needs:
How We Tested and Rated the Machines
We enlisted a number of volunteers to assist in testing multiple facets of these machines under practical working conditions before making a list of our ten favorites. Though none of these products are perfect, they are the best we've found.
If you'd like to see all the factors we rated for every machine, I invite you to Like us on any of the social media platforms linked and you will immediately be taken to our full online report on the best sewing and embroidery machines.
A community of testers spent close to two months using these products to see how well they rated with the operation guides on and off. We measure the performance of our tested machines. We analyzed their capacity, maintenance, computer connectivity, built in designs, lettering fonts, hoop capability, sewing ability and some other most important features. After comparing these we chose these products as the best. Whether you are a home hobbyist or a commercial operation selling to stores or online, our comprehensive list of feature-rich embroidery machines includes something for you.
After four years of this online business, and considering a good 20 machines or more…testing out most of them ourselves to learn which the best and most powerful are…we've come up with a Top Ten list that to help everyone shopping for the best sewing and embroidery machine discover what will be best for them. Our pick is the overall winner for available features, top-rated customer reviews, and of course price. Keep in mind your needs as you read through our list and you will be sure to find the perfect machine for your tailoring and embroidery needs, commercial or private.
Our Top 10 Best Sewing and Embroidery Machine List
We have analyzed the most important features of each product we have listed as well as some others.
Our research report is open for our readers to view online to assist in choosing the best product.
To become an insider and get all the details simply join us by Liking any of our social media pages before viewing the full report.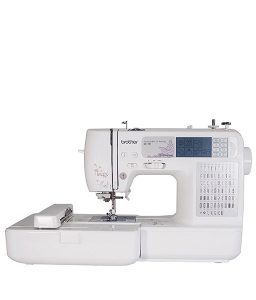 Brother SE400 Sewing & Embroidery Machine
Get It On Amazon
Why this product is considered by us as the best sewing and embroidery machine out there and wins Our Pick starts with the most obvious reason: the price. With the lowest price of the entire list but without a lack of features, this Brother brand machine easily wins for those on a budget, or anyone.
To begin with, this product can import thousands of designs from iBroidery.com and other sites via its USB port and possesses the ability to update and stay current. Both of these features are very rare in this price range. While lower than some, this product includes 67 unique stitches, 70 built-in designs, and 5 fonts which is still very good particularly for the cost.
From our research at Design My Costume, we have found that this product holds the most impressive range of useful and desirable features. Regarding rating frequency it received its first 10 ratings in 12 days, 2nd 10 ratings in 20 days and 3rd ten ratings in 17 days making this product a big seller. This machine has the maximum cover area of any of the machines in our list.
The easy-to-see back-lit touch screen LCD display and one-touch automatic thread cutter both make this machine even easier and more convenient to use for tailoring as well as being a fantastic budget buy.
Brother SE400 Combination Computerized Sewing and 4×4 Embroidery Machine Review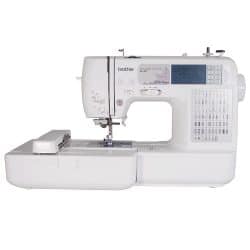 We really enjoyed using this machine, it's not too complicated, it has lots of great features and it's easy to use. Plus it's cheap!
Built-In Stitches and Designs:
There are 67 stitches built in, easily enough for most sewing applications. A nice choice of practical and in, so you might not be reaching for the USB any time soon. They were all good quality too. And of course, the 5 fonts are really useful for monograms etc.
Access to iBroidery.com :
Unparalleled in its class with access to iBroidery.com designs as well as other online sources make this find very impressive. Being able to download your own designs means the potential for creativity is only limited by you, not the machine.
Self-Threading Needle:
The frustration, the bloody fingers, the squinting. All gone with the self-threading needle. It is easy and intuitive to use, you can't do without it.
LCD Screen:
The clear display and well laid-out interface make changing the settings and getting the machine running just how you like it incredibly easy.
Ease of Use:
This machine gets the balance between lots of features and simplicity just right. It offers plenty of capabilities but isn't too complicated to use. The action is nice, it threads smoothly and has a good motion even at high speed.
Warranty:
I'm still amazed that at this price and with all these features, the manufacturer can still afford to both supply free telephone tech support and a massive 25 year warranty. That's a very long time to expect a machine bought with a tight budget to last, but the manufacturer is confident it will do just that or they wouldn't warrant it for so long.
Price:
The sensational price on this machine along with a huge array of features, some not offered by ANY other machine in its price range, make this an amazing find and clearly Our Pick.
Pros
A wealth of great features, as good as any product tested
The lowest price on our list
A huge capacity for design options between built-in motifs, iBroidery, and its amazing memory.
25-year manufacturer's warranty and telephone support
Cons
Not the most stitches or designs built-in at this price range
Small embroidery hoop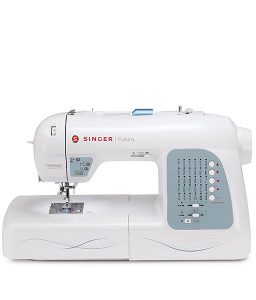 SINGER Futura XL-400 Sewing & Embroidery Machine
Get It On Amazon
Of all the 40 features we tested for our list, this machine rated Best for Beginners due to its key features.
The SwiftSmart threading system along with Drop & Sew bobbin make this the easiest set-up up so beginners can get moving very quickly and easily to start creating their tailoring designs. It won't be a short wait before looking for more designs on this machine either.
With a whopping 125 designs built-in , 30 built-in stitches, 5 fonts, and 2 fully automatic buttonholes, the SINGER brand has made sure you won't run out of new and interesting things to do for a very long time.
Like our Budget Pick, this machine falls into a lower price range than many machines on our list, but not the lowest range. The rating frequency reflects a bit slower rate of sale with its first 10 ratings taking 2 months, second 10 ratings in 2 more months, and third 10 ratings in 30 days. With a massive 10-by-6 inch embroidery hoop and multihooping capability, this machine still found startling ways to outperform our top pick in some ways, despite overall coming in 3rd.
This well-rounded machine with a myriad of features to make it very quick and easy to start using, and a pretty good array of designs to allow users to spend plenty of time with the machine before seeking more options as well as the good upper low-end pricing make this product the best sewing and embroidery machine for beginners.
SINGER Futura XL-400 Sewing and Embroidery Machine Review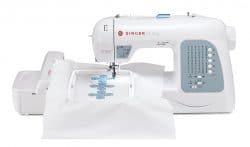 Let me start by saying how amazing this machine's embroidery capacity is for its price. Between the 10×6 inch hoop and the multihooping capability, this machine boasts a whopping 12×20 inch maximum design size. Coming in at nearly double the cost of the Brother SE400 but less than half of the Brother SE1800, this machine is a nice low to middle priced product. It can be hooked up directly to your computer with a USB cable where you can do some minor editing of designs before sending them directly to embroider.
What this machine doesn't do, however, is satisfy its consumers. Nearly one in three buyers on online retailer sites return a negative review for this machine despite some very interesting features and it ties for third lowest average rating of our entire Top 10 List. Regardless of its reviews, this machine is still the third fastest seller of our list and a close fourth for most sales. The positive reasons for buying this machine just plain outrank the negative reviews. Machines with the sheer size capability this one has typically cost three to five times as much, if not more, and that, to many, makes the risk of equipment failure worth taking. The ease of use and computer connectivity further improve value and lessen the risk.
With a limited warranty, ranging from 1 year to 25 years depending on the portion of the machine that dysfunctions, I still feel there's plenty of time to sort out if you got a good machine or a bad. The reviews seem to be mostly bad luck and it shouldn't take long to see if you're one of the unlucky ones. The SINGER brand has traditionally produced an exceedingly quality product so there's little to worry about. If that's the case, simply use that warranty to get a new one and enjoy the fantastic deal.
Pros
10×6 inch embroidery capability plus multihooping for big tailoring projects
ability to hook to your computer directly
large selection of built-in stitches and designs plus 2 automatic buttonholes
SwiftSmart threading and Drop & Sew bobbin
Cons
no connection to iBroidery
a lot of negative reviews by consumers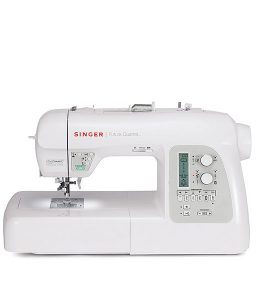 SINGER 4-in-1 Futura
Get It On Amazon
If you look at our full research report, you can see that this product has some of the most important and advanced features among all we analyzed, making it a perfect fit for commercial embroiderers as well as our Advanced Pick.
Though it is slightly expensive it still costs less than our Top Pick. With 6 Stay Bright LED lights, 215 included stitches and 125 designs built-in, an amazing 20 different lettering fonts, automatic threading, winding, and cutting it out-performs most machines in the typical features list. In addition to that it works as FOUR different machines in one package. Many in our list perform Sewing and Embroidery, some can also quilt, but this amazing machine can also serge.
The large capacity hoop along with multihooping capabilities make for a 12×18 inch max design size. This isn't the biggest possible on our list, but it is very close. Many machines do not offer multihooping or even sell with a decently sized hoop to start with.
The biggest advantage this machine has over all the rest for the Advanced User, is the inclusion of its Autopunch Embroidery Software. This software allows you to convert nearly any picture to an embroidery design using your computer. It also allows you to edit those designs in many ways.
The requirements to run this software are pretty reasonable at 1GHz processor, 1GB RAM, 500MB hard-drive space, a CD-ROM drive, USB port, and a color monitor using a Windows Operating System. A fifteen year-old computer would easily have these requirements so it would be no hardship to use this wonderful software.
Our Pick for the Advanced User received ratings at the rate of 10 in 16 months, second 10 in 5 months, and third 10 in only 45 days. This showing illustrates the recognition for a quality feature-filled product from this brand with the increasing speed of sales.
SINGER 4-in-1 Quartet Sewing, Embroidery, Quilting and Serging Machine Review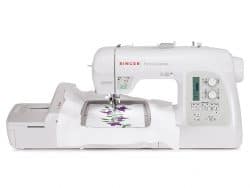 For the advanced user on a moderate budget, this machine just won the game. Without going into the super high-priced models out there otherwise necessary to get the programming features available on this product, you can take at an upper moderate price range. Embroidery, sewing, quilting and serging all in one machine without paying as much as a high-end computer just takes this reviewer's breath away.
Many of the advanced features of this machine aren't really needed by your average user, but a serious or professional craftsman could make their life a whole lot easier with this product. Creating embroidery designs with the software out of just about ANY thing you can think of, simply by putting the image onto your computer and letting the software convert it could make some businesses very good customers. This eliminates a time-consuming process or a machine three times the price needed before to perform this task.
The included stitches, designs, and huge selection of fonts just add to the magic. There are very few limitations on the designs you can make or use due to the large embroidery hoop, multihooping, and generous maximum design size. This isn't the biggest available but it sure come's close. Add back in the Autopunch Software and it's a slam-dunk. For the machine embroiderer that does a lot of work, especially a lot of embroidery AND sewing AND quilting AND serging work, there's no better alternative at this price. So, this is the best sewing and embroidery machine in its range.
Pros
Embroidery, Sewing, Quilting, and even Serging capabilities
6×10 inch capacity with multihooping, up to 12×18 inch max design size
Lower price than our Top Pick
Autopunch Embroidery Software
Cons
Sell price is still very high compared to most
Other 7 Products We Reviewed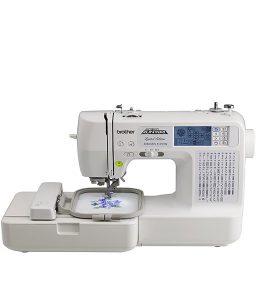 Brother LB6800PRW Embroidery & Sewing Machine
Get It On Amzon
I like this machine for its portability and flexibility, but it isn't my favorite for getting everything done. When I'm on the go, it will do nicely but given better options and the budget to accommodate them there are a few better out there. For the price, it's great and has some stuff that others don't.
The embroidery size isn't very generous out of the box, but larger hoops can be bought separately as needed. The rolling bag is very well made and is a great accessory for this machine making it so good for travel. Some other reviewers even say that is the only difference from the same brand's SE400, our Budget Pick.
If you want a flexible unit and will be frequently moving around to do your sewing on-site, this machine will do the job well. I enjoyed the ease of using the interface screen and the large number of design possibilities and sources. When I buy an embroidery machine, that's kind of the biggest part.
The quality of this product is very good for its cost so there's no worrying about breakdown. If I do have a problem, I know I can call the phone support and use the awesome warranty. Other than the flimsiness of the threader, I have no qualms about this machine lasting for a very long time, making beautiful creations for years to come.
Pros
Very highly rated
LCD touchscreen
comes with nice rolling bag
expandable memory
Cons
Tiny 4×4 embroidery size
some reviews say threader breaks easily
Get it on Amazon Before Stocks are out!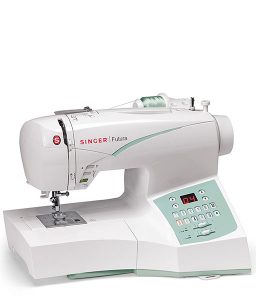 SINGER XL-580 Futura Embroidery & Sewing Machine
Get It On Amazon
Have you ever been approached to do logo embroidery for a small company and wondered the best way to get the pattern? Well this machine offers one way. The AutoPunch software allows conversion of computer images into embroidery patterns for this machine. You have to hook them together to make it work, but that's simple with a laptop.
I love the selection of features, stitches and designs on this machine, but I don't love the price tag. The optionally available hoops make for great flexibility in designs and workload, and if sewing is a big part of your home or business, the enormous selection of stitches will be quite useful. It also has a good number of built-in motifs for embroidery so you don't have to go looking right away.
This is a great machine if cost isn't a concern and I feel the flexibility in designs and hoops make it a beautiful product. The price isn't horrendous or anything, it's a nice round mid-range price, but similar machines can be had for half. You definitely won't regret bringing this home if that's your choice, but there are better options at this price and better prices for these options.
If you like the looks of Brother's Project Runway machine or their SE400, you should enjoy this one as well. If money isn't really a concern there should be no issues whatsoever. Although it does also come with some useful software, I don't feel the software is worth the huge price difference. Still it can be considered one of the best sewing and embroidery machines available these days.
Pros
AutoPunch software to convert clipart to designs with computer connectivity
Optional Hoops available
200 stitches 120 designs 5 fonts
Cons
Double the price of next product up
2nd lowest rated machine in list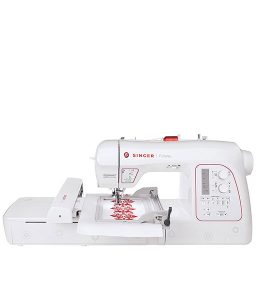 SINGER XL-580 Futura Embroidery & Sewing Machine
Get It On Amzon
A unique feature of this machine is the 50 "Endless" embroidery designs and the hoop needed to use them. This allows you to create never-ending borders without re-positioning a hoop or trying to match up patterns. I love this particular feature, and would happily own this machine just for that purpose.
This machine suffers a distinct lack of features, but the features it does have are great. With tons of designs, automated tasks, design software that does not ever require your computer and your machine to be connected to get all the benefits of computerized design, I don't feel you'd be quickly bored.
It is extremely convenient to utilize the various software and internet tools available for this. All the designs from your software are loaded onto a small USB fob that you then plug into the USB port on your sewing and embroidery machine. This is a great fact as it's not really a great idea to sew in the same space as you keep your computer due to the lint particles in the air. Those particles can damage your computer over time.
SINGER thought outside the box on this one, and took into consideration things that other manufacturers have never thought to. A sewing machine is not the only piece of equipment its owner values and needs in good working order, and it can affect the performance of electronics in its environment simply due to the nature of its operation. Dust and lint are big enemies of electronics and SINGER has finally taken note f it to make it the best sewing and embroidery machine out there.
Pros
215 stitches 250 designs
SwiftSmart threading and Drop & Sew bobbin
design software for computer on USB fob. Doesn't require connection to machine
50 "Endless" designs and hoops included
Cons
only 12 features
low rating
highest price of all
Disney, Disney, Disney. The one word that tells all you need to know about. By far my favorite aspect to this machine. My favorite set of factory installed designs of them all because it is so unique.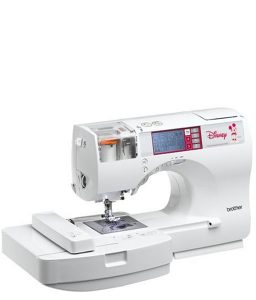 Brother SE270D Sewing & Embroidery Machine
Get It On Amazon
I don't know about you, but I often run into the problem of my eyes being too big for my stomach, as in I see a big embroidery design I love, only my machine can't handle it. I don't have to worry about that here with the enormous capacity out of the box. When big is what I want, I don't necessarily need tons of goodies to go with it, just the size and basic function so this works.
It's a shame the other reviewers haven't found this machine more exciting. The big selling point is of course the Disney part, but Disney alone does not make an embroidery machine. I have to admit, I agree with them. Disney is great, but, an investment like this needs to do what it's bought to do.
It does have nice low price but a fairly low number of stitches and designs, unless you count the 27 exclusive Disney embroidery designs. With a huge hoop but not rated very well, and very few features, this machine had to be low on the list. The good features were just too good to be left out though.
Pros
7×10.8 inch embroidery capability
built-in memory and expansion slot
The biggest feature for this machine is the 27 built-in Disney embroidery designs unavailable on any other machine in our list, providing you something unique to sell in your work.
Cons
Low rating
Fewest features of entire list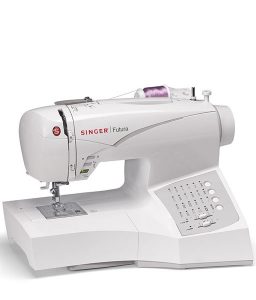 SINGER CE-150 Futura Sewing & Embroidery Machine
Get It On Amazon
I enjoyed the simplicity of this machine. When I buy an embroidery machine I don't necessarily need too many sewing stitches, I'm looking for embroidery. This one has few built-in stitches, but a nice low price and plenty of other goodies to make it worth looking at. The fact it has 5 times as many embroidery designs as stitches is a little odd, but nice if embroidery is your main goal.
Other reviewers don't seem to appreciate this machine too much, and I can understand why due to the inflexibility of the computer interface. If I buy a machine today, and it requires hook-up to a computer, I kind of expect it to be able to USE a computer from the last five years. This one won't do that. SINGER has really dropped the ball in this respect.
The fact this machine MUST be hooked to a computer is indeed its biggest downfall. If this wasn't the case, the lack of software update would mean very little. However, I expect to make a purchase that can be utilized. Now, not with a time machine to the past. It wouldn't be difficult to update this and repair the flaw. Keep an eye out at SINGER for this to happen, then jump on it.
If you have an older computer or at least one with an older operating system available, this is a great machine. I greatly enjoy the many included embroidery motifs and of course the price. The optional hoops add flexibility and the nice long warranty provides stress-free use. I don't know about you but stress-free is always a bonus when I'm shopping.
Pros
low price
24 stitches 120 designs
optional hoops
25 year warranty
Cons
included software and ability to update machine require Windows 7 or old. Neither will work with windows 8, 8.1, or 10 and there are no plans to fix.
Embroidery feature REQUIRES being hooked to computer to run
lowest rating by far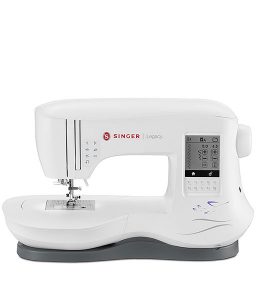 SINGER SE300 Legacy Sewing & Embroidery Machine
Get It On Amazon
What can I say about this machine except wow! Every feature it has is simply top of the line. Huge number of patterns included, large included hoop, fantastic warranty, and a modern interface. It functions beautifully and performs flawlessly. I only wish it had…more.
The SE300 has very good customer ratings and I fully agree with them. I can understand that with all the goodies it has to offer, but the cost is a little off-putting. Value is a key factor when considering a machine for me, and the price-point just doesn't fit into that very well. Absolutely no complaints about the machine itself though.
If SINGER could find it in them to lower their cost just a little, bring this machine away from the 4 figure mark, I would feel entirely differently and would be telling everyone I know to go buy one. I greatly enjoyed the design choices and work-space size, and no one can scoff at the warranty, but I think the pricing was a little ambitious.
It has a mediocre number of functions but a very nice number of built-in stitches and designs, a good sized embroidery hoop and a wonderfully long warranty. Unfortunately the price tag reflects more of the benefits and none of the deficits of this machine and the company sells fewer as a result.
Pros
tied for 2nd highest rating in list
250 stitches 200 designs
10×6 inch hoop
LCD touchscreen
25 year warranty
Cons
same price as our Advanced User pick (for only 16 functions it's a bit expensive)
Check Customer Reviews on Amazon!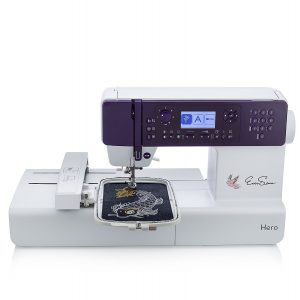 EverSewn Hero -400-Stitch
Get It On Amazon
At around the low-mid range of prices for a computerized sewing and embroidery machine, this was still worth including in our list. Our research report (take a look, it's free!) tells us that it has a smaller number of positive features than most on our list, but that doesn't make it a bad sewing and embroidery machine. For under $570 you can pick up a really capable, well made machine that will tackle a very wide range of sewing and embroidery tasks.
First of all, it's solid and well built, especially for a lower priced machine. It's not massive, which lends a degree of portability to it that could appeal to many. On the other hand, the work area isn't as big as many would like, limiting some options. It is still a capable and versatile machine, however, and with over 400 stitches built-in, including ones for decoration, alphabet stitching and all your usual range of utility stitches, it will do a huge amount. Nobody should feel limited by the stitching side of this machine.
There are 40 built-in embroidery designs, all of them nice, and a USB port. Sadly, this doesn't give the option of downloading your own designs to the machine. This could be limiting to many who want the capability to embroider their own unique designs. For the 40 built-in designs, they can go up to 11cm by 17cm, a fair size.
A clear LCD screen makes choosing options easy and intuitive, contributing to the general feel of this being an easy machine to use. There are 8 presser feet for the people who need just the right one to sew properly. We understand, it's a very personal thing.
Pros
Relatively affordable
Solid construction
Over 400 stitches available
40 embroidery designs built-in
USB connection
Easy to use
Automatic needle threader
Fairly large workspace
Includes 8 presser feet
Cons
Limited by the number of embroidery designs available
Not as large work space as some
List of other product we tested
Care and Maintenance
Now that you've found the best sewing and embroidery machine for you, you'll want to ensure its smooth operation and long life. Here we've compiled some useful tips for keeping your new machine in the best working order as long as possible.
First and foremost, you should always store your embroidery and sewing machine with a dust-cover at a comfortable temperature and away from moisture. This will ensure that dust doesn't collect in the tight spaces within mechanisms that could cause jamming and thread or needle breakage. Keeping it covered and in the appropriate environment will also prevent moisture from oxidizing the metal parts, shortening your new machine's life.
You should also use only new, high-quality thread to reduce interior lint buildup and lessen the risk of your threads snapping in the middle of a project. Regularly unplugging the machine and dusting inside the bobbin case with a soft brush will also prolong your sewing and embroidery machine's life by minimizing lint buildup which can snap needles, break threads, and cause knots to form. Be sure to regularly oil the bobbin-case with a couple small drops sewing machine oil, then lightly run a thin fabric strip or scrap through to remove excess oil. As machines can vary, you should check the manual to your specific machine for detailed instructions before you start.
One other item of note for care and maintenance of your machine, is that it is always a good idea to keep extra needles around; even if it is the best sewing and embroidery machine. Improper maintenance of course can increase the rate of breakage, but embroidery machines do tend to bust needles much more often than expected if you are used to regular sewing machines. If you do break a needle, be sure to remove any pieces from the machine's moving parts to prevent damage. Needle tips can easily fall into the bobbin area and wreak havoc.
Wrapping it up
There's no doubt embroidery and sewing machines are capable of producing remarkable results, but in order to get one you will be happy with, you should be willing to invest the right amount in it. This includes your time and thought put into choosing a machine to fit your needs and budget, which I hope we've succeeded in helping with today. The tips discussed above can help you find the right embroidery and sewing machine for you. Making the right choice now should yield an enjoyable and rewarding time stitching with your machine
ADD_THIS_TEXT