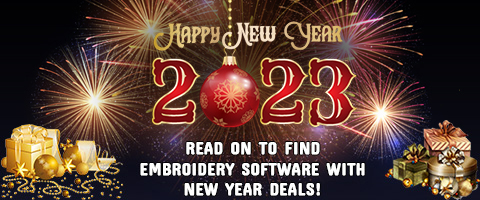 Without the best embroidery software, you are not likely to get great results no matter how good your embroidery machine maybe. With a wide range of embroidery software products to choose from, finding the ideal one is not an easy task. To help you with just that, we have brought together reviews and features of the top 10 best software packages for embroidery. Apart from that, we will also help you with what features a user must look at while searching for embroidery machine software.
Consider checking the following reviews as well depending on your needs:
The Embrilliance Essentials is overall the best embroidery software in the market as it covers all the basic features that you could ask for. This software lets you merge, recalculate stitches to remove overlaps, print a template, colorize, and add letters among many other things. You can mee designs in various formats including as .zip archives. You can add embroidered lettering using a circle, multi-line, and monogram modes. You can use this software to make large letters and add a spiral text.
There are several pre-designed elements and stock shapes included in the software. You can start fresh or make use of the preloaded applique design. It also makes it easy to change colors in any design- you can change it to your preferred thread brand within a few clicks. The compatibility list for machine embroidery files for this model is large- it works with.ART, CND, CSD, VIP, and several other file formats Also, you can use it to write in several file types as well. For Mac users, there is a functionality to write on floppy disks and USB devices too.
Pros
Compatible with both Windows and Mac PCs
Works across several embroidery file formats
Easy to add and change colors in a design
Several pre-existing shapes and designs
Diverse text format features
Cons
The steep learning curve takes time to master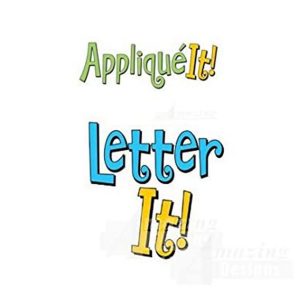 Letter It is embroidery software that gives you the capability to say whatever you want in style. You can use this to create text in 1 or multiple lines in any of the numerous fonts. There are 35 different fonts with this software. It has various layouts to choose from including Circle, Vertical, and Path texts. If you want to get a larger font size, then you simply have to change fill stitches for that.
This embroidery software works only with Windows Operating System. You can view using Stitch Points, Grid, and even a Realistic Preview. There are 19 thread charts included with the software. The drawbar stitch simulator gives you an accurate idea of how your design would stitch out. It also has color stops, color reverse, and color advance options. You can also merge lettering along with any embroidery design with the help of this software.
Pros
Multiple font types available
Large font sizes can also be created
Various thread charts are preset
Drawbar stitch simulator helps before printing the design
Cons
Does not work with Mac OS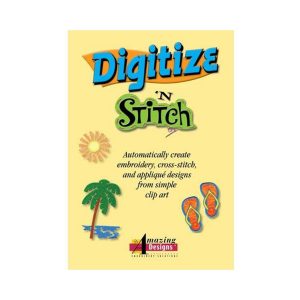 For those who are just starting, Amazing Design's Digitize N Stitch can be one of the best embroidery software. It comes with a 30-day free trial as well. This software works only with Windows PCs and requires that you have MS Paint on it, which is generally there by default. One of its best features is that it is very perceptive, which helps in identifying subtle colors in a graphic that would otherwise go unnoticed.
With this tool, you can either use the preset applique on a design or create a mix of multiple appliques for your design. This software also works with multiple designs at once so that you can cut and mix their elements. It has a detailed help section and wizards that take you through the steps of design creation. You can also convert any digital artwork and images into designs of different types. This embroidery software can either be used standalone or together with the Edit N Stitch platform if you need more capabilities.
Pros
Can convert digital images to embroidery designs
Works with multiple designs at a time
Multiple output formats
Helpful tutorials and step by step guides
Easy to use
Cons
Works only with Windows PCs that have MS Paint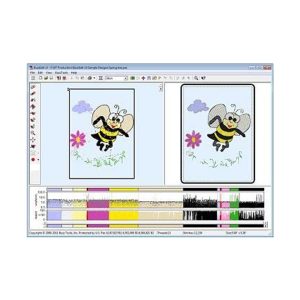 For those who want to specifically work in embroidery stitch editing and borders, the BuzzEdit v3 is among the best embroidery software out there. Its Continuous Border Wizard enables you to create continuous borders that have the perfect alignment consistently. This versatile software works with all the best sewing machines in the market. Its output formats are compatible with Singer, Brother, and all other brands of sewing machines. Adding, deleting, and replacing any stitches is made easy with its editing functionalities. This is different than their BuzzWord Embroidery Lettering software.
You can enlarge as well as shrink designs to the desired size using this. Changing colors is also a matter of just a few clicks with BuzzEdit v3. A special must be made of its print worksheet function. Using this, the selection of colors and threads is made easy. There is also a Wreath Wizard that you can use for the coordination of wreaths, label designs, and sorting of colors to save time. You can use any standard file format with this embroidery software.
Pros
Can be used with all file formats
Output compatible with all major sewing machine brands
Wreath wizard helps save time and effort
A print worksheet that makes thread & color selection easy
Design resizing
Cons
Works only on Windows PCs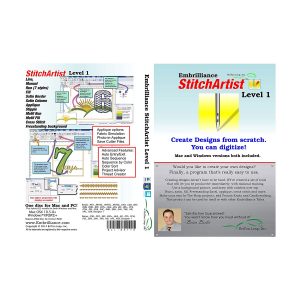 If you are looking for the best embroidery software in a budget, then the Level 1 Embrilliance Stitch Artist may be the right choice for you. It is different than Brilliance Essentials. This software comes with limited stitch types and properties that you can use to learn the craft without involving in any complex steps. It is ideal for completing projects such as applique designs, stitch designs, simple ships, the unification of different components, backgrounds, etc.
However- do not let its simplicity create any doubts about the capability of the tool. This is a user-friendly software designed for those starting with embroidering as a hobby. There is a single-mode that is used for drawing, editing, resizing, setting stitches, etc. The user guide provides enough detail to get a user familiarized with embroidering software. As you learn the tool, you can either stick to it if it meets your needs or upgrades to higher levels for more advanced features. This makes it easy to get more capabilities without having to switch platforms.
Pros
Easy to learn
All basic functionalities in a single-mode
Instant stitch generation
Custom text tools included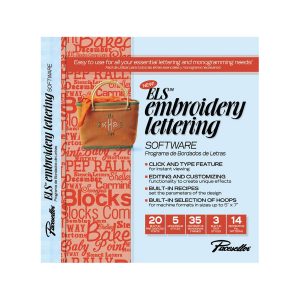 If you need an embroidery lettering software, then the Brother ELS Embroidery Lettering Software is where our search ends. The sheer variety of options that it has made it the best embroidery software for monogramming. You get 20 pre-digitized fonts along with 5 styles for monogramming. Along with that, there are 3 text styles, 40 frames, and 14 more decorative filling styles pre-configured into it.
It has a 'Click & Type' feature that you can use for instant previews of your design. There is a large selection of hoops for various machine formats in sizes that go up to 5"x7".
This is a genuine Brother accessory so you can be assured of getting excellent support. With this Brother embroidery software, there is little that you cannot do as far as monogramming goes. The software is only compatible with Windows PCs and requires you to connect to the internet for activating its license.
Pros
20 fonts preinstalled
Various monogram and text styles included
Various customizable options for creating effects
Compatible across multiple machine formats
Various color palettes included
Cons
Cannot download monograms online and use with it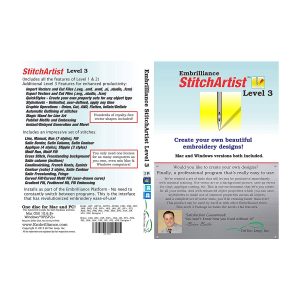 For Mac users who need an embroidery digitizing software, the Embrilliance Stitch Artist Level 3 has everything they could ask for. It comes with an advanced set of tools such as carving lines, eyelet tools, graphical operators like Union, Flatten, Cut, and Reconstruct, among others. This is not a photo-to-stitch tool or an auto digitizing platform. The results of this tool are more subjective.
It is for advanced users who want to create their designs as a hobby or for professional users. It also includes all features of the Stitch Artist Level 1 and 2 software. Any content that is part of the software can be further expanded by publishing Embossed effects as well as motifs. To start with this tool, upload a background image- something that you want to embroider on. You can then work on it by creating 'objects. Objects here are the shapes that would be created on the surface. The software has instant stitch generation and you do not need to change the mode for coloring, moving, editing, or adjusting any of its properties.
Pros
Feature-rich for all applications
Level 1 and Level 2 features also included
No need to switch between modes for different functions
Compatible across several output types
Easy to learn for all skill levels
Cons
Internal help documentation could be more descriptive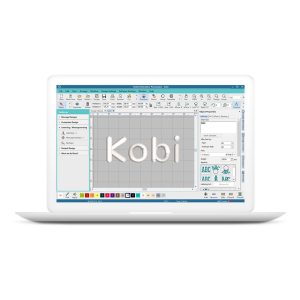 For home use, the Wilcom Hatch Embroidery Personalizer comes with a host of features that will meet all needs. It comes with 85 templates for monogramming, 148 motifs and 281 fills among other readymade elements. This embroidery software works with all major embroidery machine formats. It also has batch conversion capabilities that save time.
Its object-based approach to embroidery helps to accurately resize any design. The calibration of stitches required after resizing is also highly accurate to give you the best results. You can work with different fabrics without any issues. Simply choose the fabric you need to work on and the software takes care of adjustment of the underlay and pulling density and compensation to provide a perfect stitch.
Pros
Variety of preset elements
Easy to resize designs
Quick batch conversion across various file formats
Accurate design resize feature
Can be used on Mac PCs with 'Parallel' installed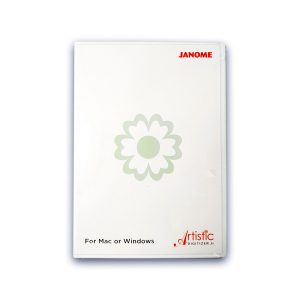 The Janome Artistic Designer makes use of its patented 'Paint Stitch' technique. This converts any image into an embroidery design. This is one of the few tools that provide photo-realistic results using a series of algorithms. The results from this tool are ideal for gifts, frames and to otherwise capture special moments. You can enhance the dimension and depth of any project through stitching down on any yarn or thread.
The software is easy to use and packed with 60 tutorials and how-to videos. These cover everything ranging from basic steps to more complex features. It also lets you intertwine different monograms with each other for a unique design. You can also download the various projects on their website to get started with. The software is compatible with both Windows and Mac PCs.
Pros
Patented image to embroidery design algorithm
Large selection of fonts and monogramming designs
Compatible with both Mac and Windows
Tutorials included in the tool
Easy to use
Brother PE Design Embroidery Software is ideal for professionals. You will need some experience with embroidery software before working with this. It has over 35 fonts built-in. You can use this to convert any scanned-image to an embroidery design in a matter of minutes. It also has an embroidery card reader-writer that lets you write any of your preferred design on the embroidery card.
The editing menu in this software includes basic features like move, copy-paste, resize, etc. You can use it to reorder the thread color sewing pattern, adjust the density and the stitching angles. There is an option to choose from Fill Stitch or Satin Stitch.
Pros
A large collection of built-in fonts
Several stitch customizations options
Export/import embroidery designs
Convert any image to embroidery design
Realistic design preview
Embroidery Software Buying Guide
Automatic embroidery machines have made it possible for us to embroider even the most complex of designs with little time and effort. Digitizing software is what enables the creation of a digital stitch format file from the artwork. The entire process is known as Embroidery Punching or Digitizing. The digital file thus created is used by the embroidery machine to create the design on your preferred product.
No matter how advanced an embroidery machine you have, you will not be able to get the designs that you want without the best embroidery software. Even the best of sewing and embroidery machines ranging from Singer to Brother and many others work only when you use the right embroidery software. Finding one is easier said than done, especially with so many to choose from. To help you with just that, we have compiled a list of the features that you must look at while shopping for the top embroidery software for your needs.
Operating System
The most basic requirement is that your choice of embroidery software must work on your PC's operating system. Your choices are comparatively less if you have a laptop/PC that runs on Mac OS. There is still several good software that you can get on it- do not worry about that. Even with Windows OS, you will need to check to ensure that the software works with the specific Windows version that your PC runs on.
What type of software do you need?
The next basic feature to check is the type of embroidery software you need. Based on what type of embroidery you want to try; you would need one that is focused on monogramming or converting images to embroidery designs. A few common embroidery software types, what they are mostly used for, and their features are discussed ahead.
Editing Software
If you need embroidery editing software, then you will need something that has features such as:
Resizing designs
Recalculating stitches
Conversion of thread bands
Merging designs
Coloring designs
Add or remove individual colors in a design
This is not an exhaustive list of features. Depending on what you plan to do with a design, there could be more things to look out for.
Also, when it comes to embroidery editing, you need a software that can convert a scanned/digital image into an embroidery design. Not every software has this feature- so look for one that specifically mentions this. This is like digitizing a design- but it is just one part of it. If that is what you are looking for, then you need an embroidery digitizing software, which is what we have covered next.
Digiting Software
Digitizing software enables you to create designs and be more creative. They can take any clipart, vector drawings, or any other type of image and produce an embroidery design for it. It can also convert the fonts in your PC in the form of letter embroidery. Further, you can use a digitizing software to convert any regular design into a cross-stitch.
There are many embroideries digitizing software in the market, similar to the ones we reviewed earlier.
Cataloging and Thumbnailers
This software collects different embroidery designs into a single place and stacks them as thumbnail images. They are generally part of most embroidery software packages and are used for cataloging your designs.
Supported Functions
Depending on what type of embroidery you wish to do, you will have to see the functions supported by the embroidery machine software. For monogramming, you need something that supports multiple fonts, text styles, and lets you add additional styles from the internet. For creating your custom design or editing them, you need a tool that can resize and edit as per your requirements. If you are looking for creating simpler designs and patterns, then you can accordingly see software that has basic functionalities and are easy to use.
Output Formats
The embroidery machine that you use should be able to read the output files of your embroidery software. Further, any existing designs that you have must also be compatible. This will allow you to work on them and edit, resize and use them as required.
Free v/s Paid
Depending on the number of features you require and the complexity of your projects, you can go for free or paid software. A free embroidery software would generally contain all basic functions like start/stop, color change, editing preset styles, and so on. However- as they are free, do not expect to get advanced functionalities like converting images to embroidery design or a library of preset fonts and styles.
A paid software, on the other hand, will come with a host of advanced embroidery features. These are designed for monogramming, embroidery editing, converting images to embroidery designs, and many other functions. You can get the software to fit every price range and budget.
If this is your first purchase for a software embroidery, you can choose one that offers a free trial, like Embrilliance Essentials. This gives you the option to try out the software before making a purchase and evaluate if it has the capabilities you require.
Learning Curve and Help Resources
With every new embroidery software, there will be some effort required to learn about its features and capabilities. As you research your available choices, see if the software has some helpful resources and tutorials available. While most software will have Youtube videos that detail these things, there should be a comprehensive guide from the developer as well. You can also watch videos on the manufacturer's website if available to learn more.
Also, check out the Amazon product reviews and comments to see what other people have to say about it and how popular it is. An active user community will help you to learn many other things and make the most out of its capabilities.
Thus, with these features considered, you should be able to find the best embroidery software for all your needs. This list of the top 10 best selling software and things to look for are all you need to start on your journey of creating amazing embroidery designs.