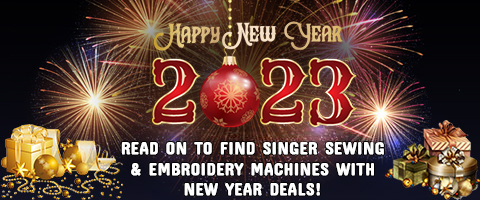 Singer sewing and embroidery machines have a deserved reputation for quality, precision and reliability. They've been making high-quality sewing machines for well over 100 years and their timeless designs are regarded as some of the most stylish creations of the 19th and 20th centuries. You'll see the old cast iron ones still going for good money because they're excellent machines. But that's the old Singer machines, what about the new ones? Singer has maintained their reputation and improved upon it: they're at the cutting edge of sewing machine technology and lead the way with their advances. We've assembled a guide to which Singer sewing and embroidery machine could be best for you. Our top ten rated Singer sewing and embroidery machine reviews will hopefully give you a clear idea of what the advantages and disadvantages of each machine are, as well as a good overview of the Singer sewing and embroidery machine range.
Whether you're looking for a monogram, quilting, embroidery, fast and precise sewing, cheap machines or home sewing machines, you'll find what you need here.
But Why Should You Trust Us?
We've been reviewing for about 4 years on this site, so we think we've got a good handle on sewing machines. All our team are passionate about what we do, they get very excited when word comes from on high to go forth and gather new products. Especially so for Singer, we've all used them and a chance to really get to grips with them is a treat. We compare a lot of different data on the products we review, it takes a lot of work but it's worth it because we get really precise comparisons. Keep reading, you'll see this is the place for Singer sewing machine reviews.
For this article, we've looked at about 20 different Singer sewing and embroidery machines and tested most of them. After roughly 55 hours of internet research, a week doing thorough and in-depth testing with our devoted testing community and personal testing, we've come up with the following top 10 Singer sewing and embroidery machine guide.
We don't have any particular affiliation with Singer, we're just reviewing their products for you. By reading our page you make it possible for us to make more of these fine reviews. It's what we do, we like to be unbiased, unpretentious and fair, we hope you find what follows to be just that.
A Short History of The Singer Sewing Machine
Isaac Singer basically started it all: he invented the world's first practical sewing machine. There had been attempts before but they had all suffered from one shortcoming or another. The first proper Singer was patented in 1851 and for the next 167 years, Singer has been at the forefront of the innovative sewing machine and production technology. If you've ever used a sewing machine, you've used technology invented by Singer. One of the first truly mass-produced products, the Singer sewing and embroidery machine has a fascinating history of patent battles, ruthless business techniques and sometimes downright unfair behaviour.
It couldn't be said that Isaac Merritt Singer was a nice guy, but he left an indelible mark on American business and the world of sewing alike. Embroiled in the Sewing Machine War, he emerged dominant after a dirty fight to establish patent control and market dominance.
Amongst the innovations of the Singer company are the first zig-zag sewer and the worlds first electronic sewing machine. While Singer has diversified since a corporate takeover in 1988, they still manage to be at the top of the pack when it comes to high quality and reliable sewing and embroidery machines. It is a trend they are likely to continue into the future.
Different types of Singer Machines
Making the right choice when buying an embroidery sewing machine is of utmost importance. Singer makes a huge range of machines, so here's a quick low down of the major types:
Singer Mechanical Sewing Machine
The classic Singer, this relies on the person operating to provide the power. Preferred by some for the control, it's still a good way to sew.
Singer Electrical Sewing Machine
The standard Singer you'll find today, most of the machines they sell are electrical at least in part. A wide range of capabilities is possible with the Singer electrical sewing machines.
Singer Embroidery Machine
Singer embroidery machines range from simple monogramming to powerful embroiderers capable of complex and large designs.
Singer Sewing and Embroidery Combo
Sewing and embroidery in one, these Singers are versatile and extremely useful.
Singer Sergers
Sergers, or overlockers, are essential for garment production, Singer makes some of the best.
What to Look for in a Good Singer Sewing and Embroidery Machine?
Singer machines are all good, of course, but knowing what to look for in a Singer sewing and embroidery machine is really useful. Try looking for the variety of the stitches and designs the machine has built in, also whether it has expandable memory or can have new designs and stitches loaded in.
How many different types of buttonhole can it produce? Can you load in more? How about the speed control capacity? Can it connect to the computer to upload and download designs?
The accessories are important, does it come with the ones you want? Can you get them if it doesn't? Physical characteristics: is it light or heavy, have a carrying handle, big footprint or small? How easy is it to use? Do you like complicated or simple machines? And finally, does it have automatic features you can rely on?
Who are Singer Sewing and Embroidery Machines For?
Singer makes a sewing and embroidery machine for everyone. There is a large range to choose from, from the cheap, entry-level models with limited capabilities, to the high end, all singing all dancing models. Beginners will find themselves well catered for, there are plenty in the affordable range that can do a great deal of the sewing and embroidery you could ask for, while still being well made and reliable.
For the intermediate and more experienced crowd, there are more advanced versions with a wider range of capabilities and functions. These are more expensive but are well worth the price. And for the seasoned pros and business workers, there are the top end ones designed for intensive, complicated work in shops and studios. The most expensive of the Singer range, you get what you pay for.
There are lightweight versions that would suit travellers and children well, they have handles and small footprints, which makes lugging them to and from class, or from job to job easier.
Advantages of Using Singer Sewing Machines
Singer sewing and embroidery machines are excellent tools, first and foremost. They aren't toys and if you know how to use them properly, they'll be extremely useful. Being able to repair your clothes can save you a huge amount of money in replacements or paying to have them repaired. Often it's a very simple repair you just wouldn't have been able to do without a sewing machine.
If you're a fashionista, you can stay on top of the fashion curve with your own Singer; you see it on the catwalk and you can make it the same day. That's worth having a machine for.
Make your own clothes! It's fun, creative and much cheaper than buying them in a shop. Make them for your friends and family too. They'll be really pleased to have hand-tailored clothes that fit them so snugly and look so great.
Make alterations and changes to your clothes. Be original and creative, free yourself with a Singer and get making your own fashion statements. You could even start to sell them. Making your own clothes can be lucrative if you're good, it's a fascinating job as well. Why not give it a go.
Based on your preference, you can purchase sewing and embroidery machines from these brands as well:
How we Picked and Tested
Our selection process started when we got the word to look at Singer sewing and embroidery machines. We assembled the team, our lovely lot of volunteers and staff who dedicate themselves to finding all the products we review and collecting all the information they can about them, and we set them loose. When they all trundled back with the Singers in tow, we had about 20 to whittle down to 10. After some arguing and lots of testing, we managed it. After 4 years of this, we still argue, but it does get us better reviews.
We spent close to two months doing community testing on these products, seeing how well they performed in different conditions and with different fabrics and threads. We were thorough. None was perfect but lots were pretty good.
There is an intensive comparison process we use to measure the performance of our tested products. For the Singers, we analysed their appearance, size, weight, manufacturing quality, usability, adjustability, performance and more. After comparing all these we chose the following products.
We have carefully researched, used lots of the products and consulted lots of users. This makes us confident that the Singer sewing and embroidery machines detailed below are generally the best you could get on the market.
Our Top Ten Product List:
We have analyzed 65 of the most important features of each product we have selected. Our research report is open for you lucky readers if you want it. It's free to read, we just ask that you like any of our social media pages first. We hope you find all that data useful!
Before we get to the review of the Singer 7258 100-Stitch, let's take a little time to find out why we made it our Top Pick: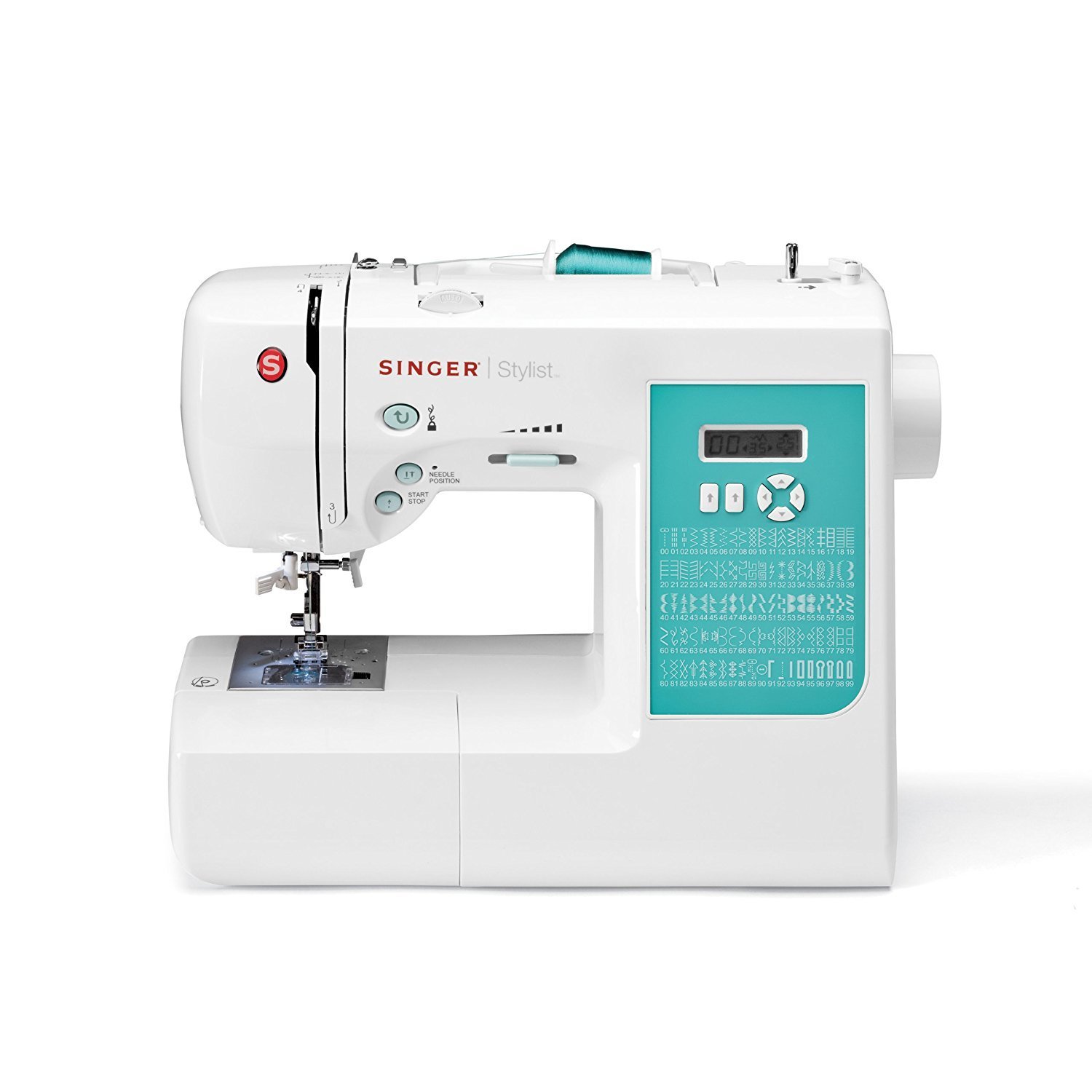 SINGER 7258 Computerized Sewing Machine
Get It On Amazon
In our analysis of the 65 most important features of Singer sewing machines, we found that while this machine does not contain the maximum number of positive features, it has a unique combination of features we felt made it the Top Pick.
This versatile, value-packed sewing machine comes with a large selection of stitches for many different ways of sewing, such as fashionable clothes, quilts, crafting, at home and for decoration. There are 100 built in, including 9 basic stitches, 8 stretch stitches, a whopping 76 decorative ones and 7 automatic buttonholes. 13 needle positions are possible.
Even though it has so many positive features, it is still in the affordable price range, on sale for less than $170.
Comparing the ratings frequency for each of the products for the 30 most recent ratings on Amazon, we found this product received a high rate of positive reviews. In the first 11 days, it got its first 10, 10 more in the next week and the last 10 in the following 9 days.
Our Top Pick also allows you to select the stitch you want with just ones press of a button. Settings for width, length and tension are configured automatically and are adjustable with changeable stitch lengths and widths. All these factors made the Singer 7258 our Top Pick.
Detailed Review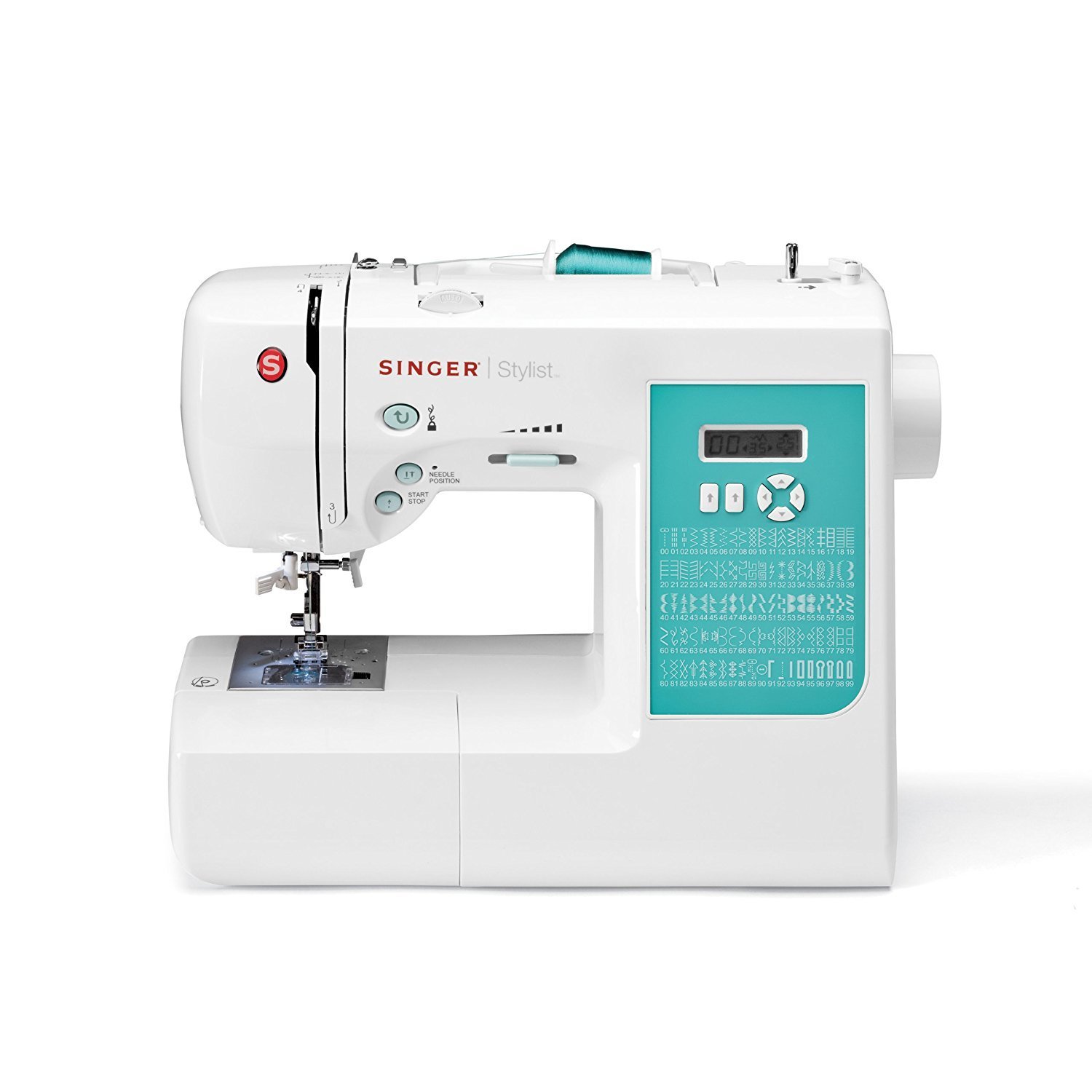 This is what we think Singer does best: simple but powerful machines. It doesn't look like the highest end machine out there, and it's not, but under that simple façade is a very versatile sewing machine.
First of all, when we took it out of the box, we noticed it had a fair weight to it, not too heavy but not light enough that it would fall over easily. This isn't a tiny machine either, with a good amount of space to arrange the fabric you're working on under the clear light.
Then we tested the different functions. It took us some time to go through the 100 stitches that come installed on this machine, the 9 basic ones were just that, basic but good; the 8 stretches the same, the 76 decorative stitches were all surprisingly good, we could find fault with very few of them, and even then it was an aesthetic dislike, not a practical one. The automatic buttonholing worked really well on all 7 of its settings.
Functionally, this machine performs very well indeed, especially considering it's on sale for less than $170. With a max stitch rate of 750 stitches per minute, it isn't the fastest, nor the slowest machine on this list. It's easily speedy enough for all but the fastest of sewers. The automatic needle threader is so useful, we can't bear to be without one these days. This one worked well that we were satisfied with.
To select the different stitches, it only takes the push of a button. This simplicity and capability really pushed this machine right up our comparison list. Have a look at our research for more data we used to decide.
Like all Singers, this machine comes with a 25-year limited warranty and given how well this machine is made, it should last much longer than that.
Pros
Cheap
Highly rated
Great for home sewing
Versatile
100 built-in stitches
Simple selection of stitches
Computerized
750 stitches a minute
On sale for less than $170
Automatic needle threading
Perfect home sewer
25-year warranty
Cons
No computer connectivity
No carrying handle
Verdict:
An affordable, versatile sewing machine from Singer with the standard high quality and great design we've come to expect from them. Lots of built-in stitches, a high stitch speed and ease of use all make this our Top Pick.
From our research report, you can see that this is another fantastic Singer sewing machine, just not quite having as many positive features as our Top Pick. The combination of positive and effective features is an excellent, however, and makes it stand out from the rest of the competition.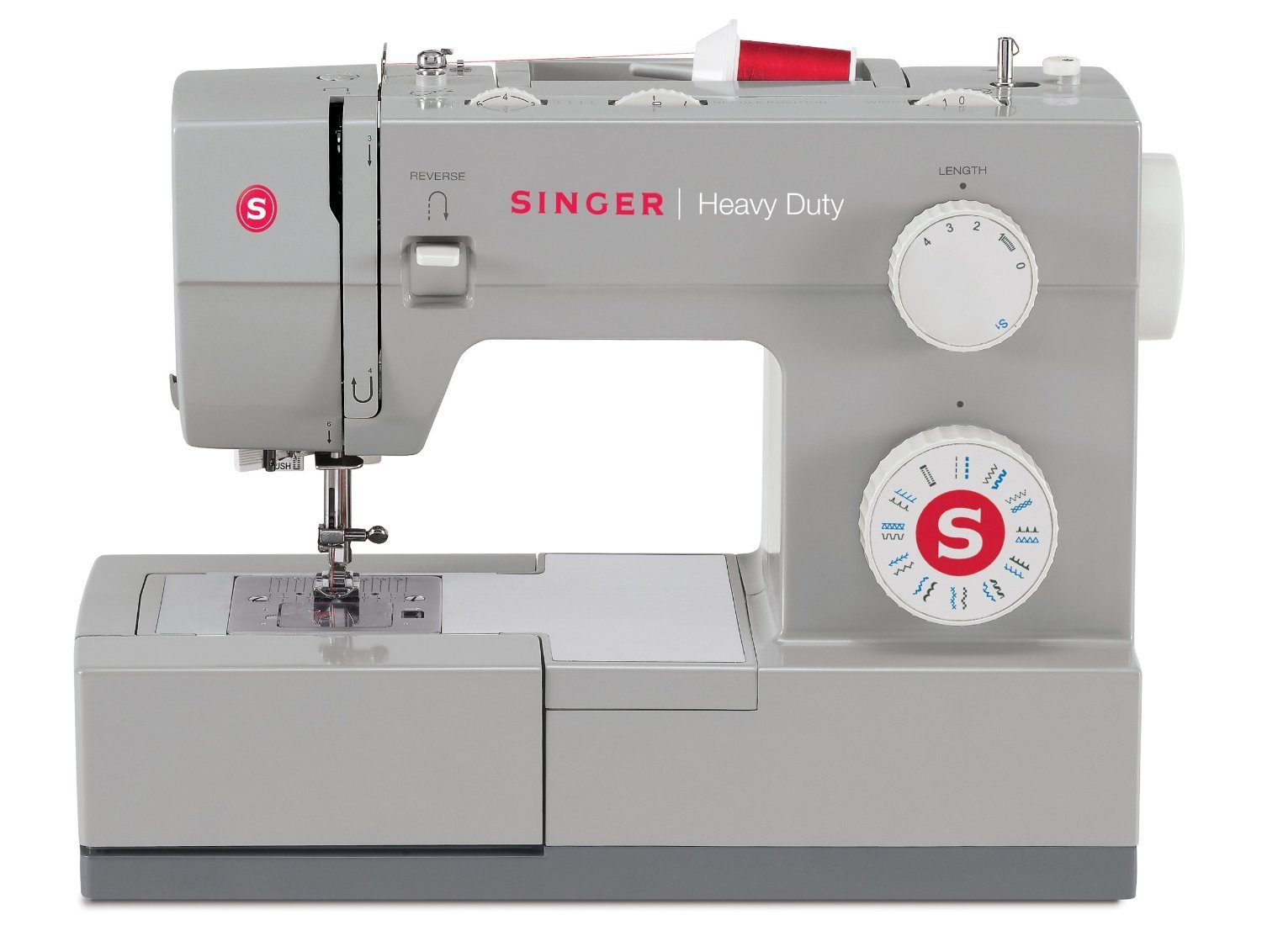 SINGER 4423 Sewing Machine
Get It On Amazon
This sewing machine also lets you sew a variety of projects like our Top Pick, such as home décor, quilting, crafts and much more with the basic, stretch, decorative and buttonhole stitches available. Its frequency of getting positive ratings on Amazon is better than our Top Pick: it got the best frequency of all the other products here. It received 10 positive ratings in 3 days, 10 more in 3 days and the final 10 in 2 days. As it is slightly pricier than our Top Pick and doesn't have as many built-in stitches, it missed out on the top slot.
Detailed Review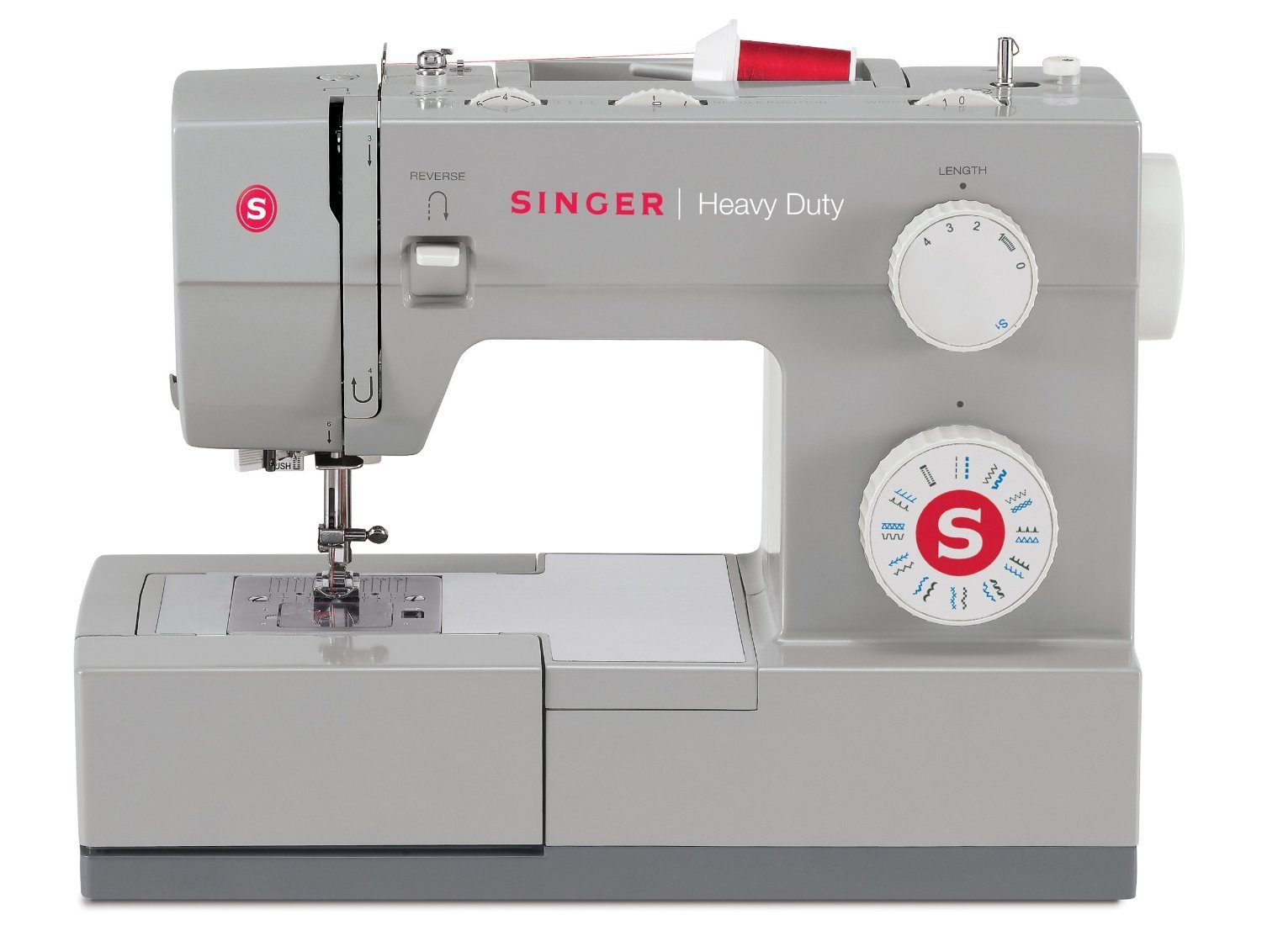 Our runner-up is a bruiser of a Singer sewing machine. It's no-nonsense and pretty brilliant. The Heavy Duty 4423 is exactly that, heavy duty. Made from tough grey plastic, with simple dials and mechanical workings, it is a very dependable and extremely solid machine you can be confident will not only sew even the most difficult to sew things, but last a lifetime of dings and bangs as well. Clearly designed with the anticipation of hard use in mind, it's a survivor born and bred.
There are 23 built-in stitches, including 12 decorative ones built in, enough for most people, and each is very well executed. For the price, on sale at under $120, this is a good range, especially when you consider the sheer quality of construction.
Highly rated on Amazon, there are more than 2,500 people who have taken the time to review the Heavy Duty 4423, the vast majority of whom gave it 5*s. That's pretty good. We don't go on just reviews here but it is good to see that other people are backing up what we've found.
This thing fires out stitches at an impressive 1,100 a minute, which of course is fully adjustable. This is a really good feature for quilting when you want to let the machine run. There's a really powerful motor in there, it punched through any thickness of seam we could throw at it.
The frame of the Heavy Duty is heavy duty stainless steel, meaning this isn't the lightest machine out there. But it's not meant to be, it's meant to be tough. There's a reason this is the best-selling Singer machine in their range.
With a 25-year warranty, the Heavy Duty will be doing its duty for a long time to come.
Pros
Heavy duty
Cheap
Powerful stitching
23 built-in stitches
Simple
1,100 stitches a minute
Highly rated
Singer's best selling machine
25-year warranty
Cons
Not as many stitches as some
Very plain look
Verdict:
Only missing out on our top slot because of the lack of different stitches, this Heavy Duty Singer is remarkably well built, solid and extremely powerful. It'll stitch anything, it seems to say to you.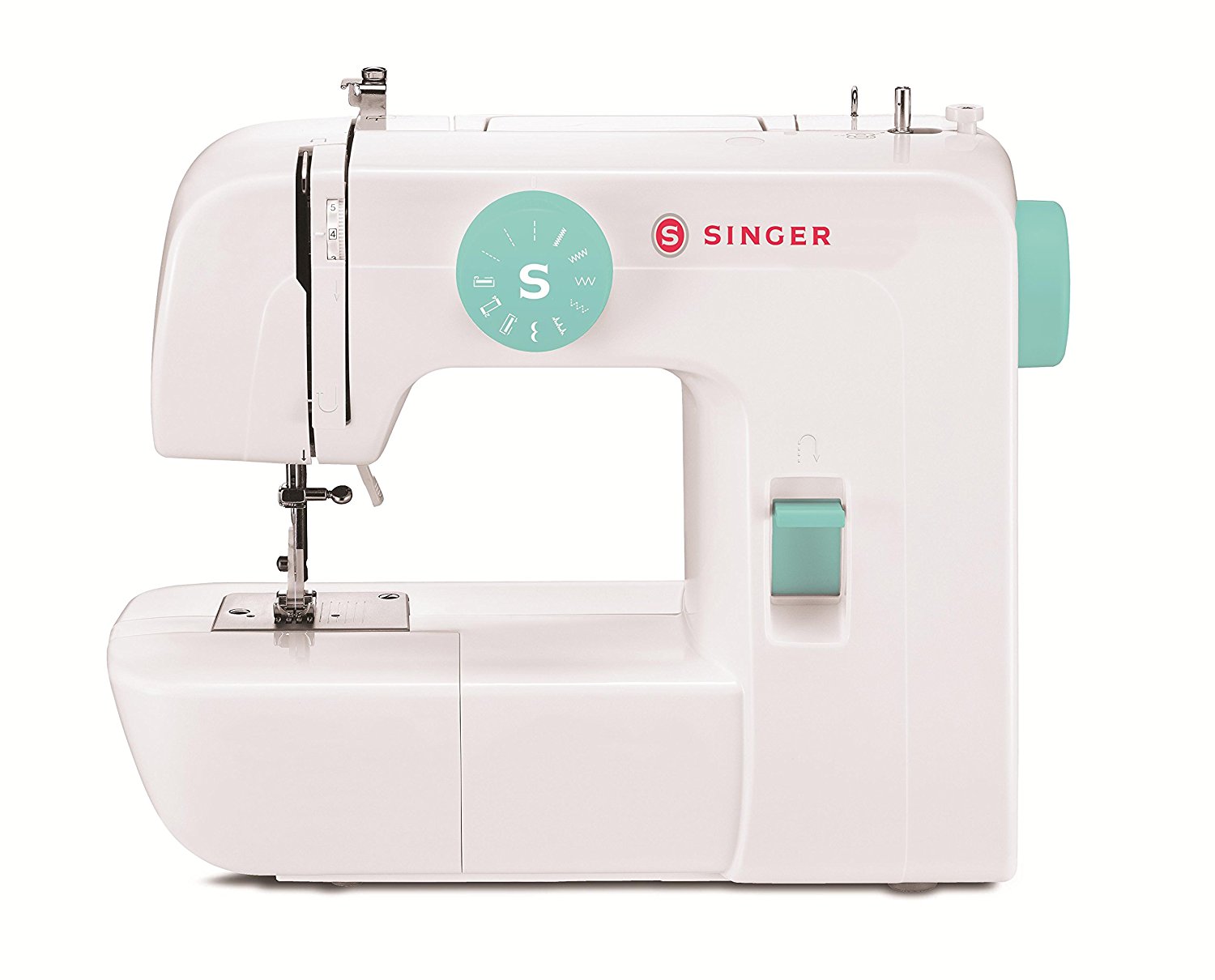 SINGER 1234 Portable Sewing Machine
Get It On Amazon
One of the most effective Singer sewing machines we tested at this very low price, in fact, it is the lowest priced of any of our products here. The 6 built-in stitches have pre-set lengths and width setting, making stitch selection a breeze. Its automatic needle threading system is the biggest time saver in sewing, it's one of the essentials on a modern machine. The high speed of 1,100 stitches per minute let you bring your creative ideas to life quickly.
The Amazon ratings frequency is good having received the first 10 positive reviews in 11 days, 10 more in 2 weeks, and the last 10 in 26 days. As well as being the best budget pick, this is perfect for beginners.
Detailed Review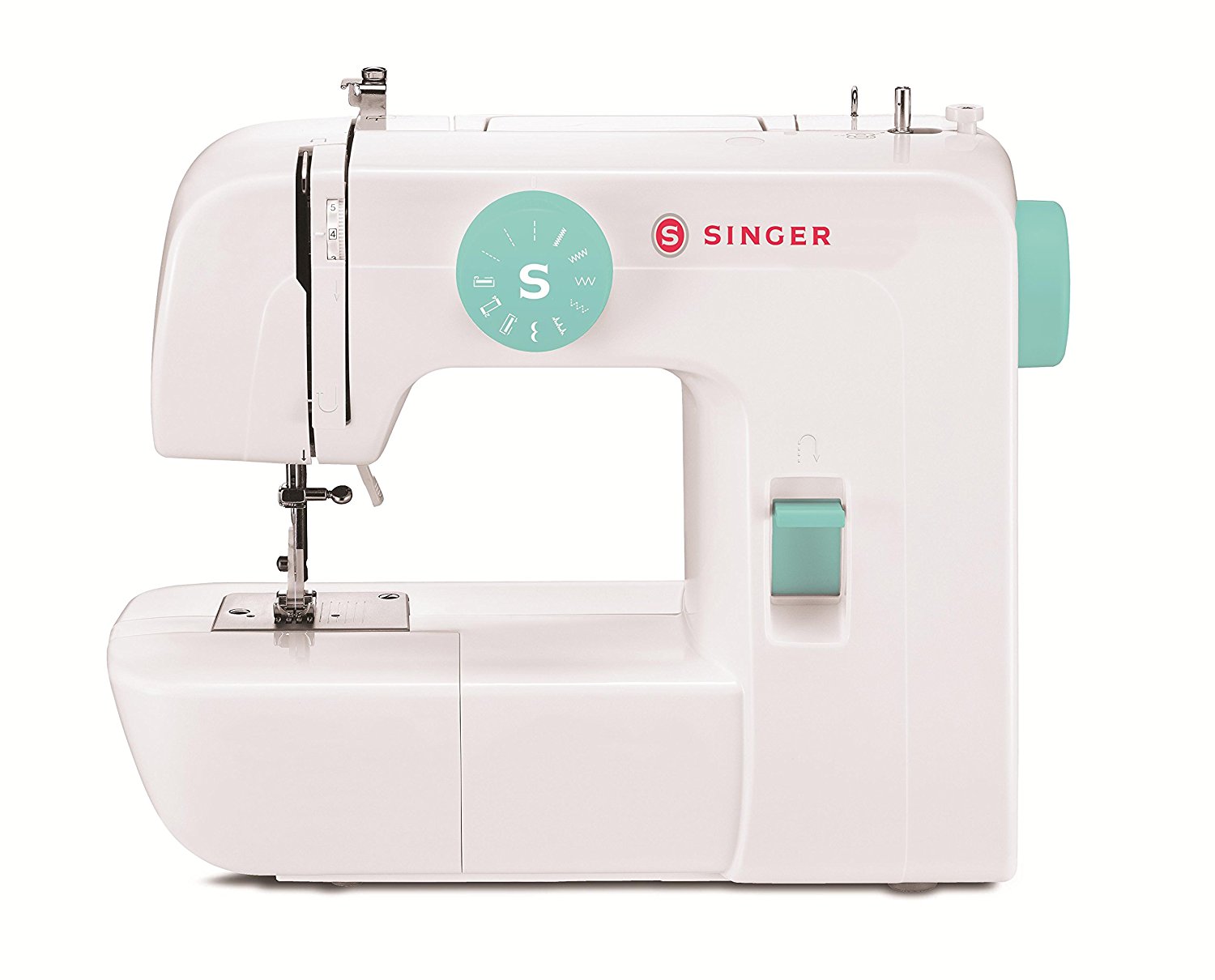 What a great, simple little machine. We thought this was our best Budget Pick not only because it was cheap, on sale for less than $75, but because it had a lot of the features you'd want from a Singer machine at that low price. You probably know, buying a cheap sewing machine is worth it if you do it right.
First of all, it's well built. Solid, plain and with a nice space to manoeuvre your fabrics while you're stitching, this cute little machine is a dinky but by no means tacky sewing machine. It's a serious sewer, having 6 built in stitches and a 4 step buttonholer. The motor is powerful enough to punch through a lot of fabric and the stitch speed is pretty good.
We picked this as our Budget pick and recommend it as a first sewing machine for a beginner. A child or adult starting out into the wonderful world of fabrics needs a good machine to start on that won't set them or their parents back too much money. The Singer 1234 is light (7 pounds) and cheap, it'll suit a young girl or boy's first machine perfectly as it can do a wide range of different sewing tasks with ease. What you don't want is for the beginner to be struggling against the machine, nothing is more likely to turn them off. This won't do that.
The construction quality is excellent, having a sturdy metal frame and a tough plastic case. It should take a few falls and bashes, as is inevitable with kids, and keep on stitching. They're easily repaired, there are lots of places that will do it for you. Our research report has plenty more data available for you to make your decisions.
There's a 25-year limited warranty that will reassure any owners or givers of gifts, this will keep that little sewer on the right track for years to come, becoming a good friend in the process.
Pros
Portable
Cheap
Lightweight
Easy to use
Simple
25-year warranty
Perfect for beginners
Cons
Too simple for some
Not many built-in stitches
Verdict:
We love this little Budget pick, it's small, lightweight, simple and easy to use: perfect for a beginner and good enough to keep them going for a long time. A 25-year warranty should reassure you.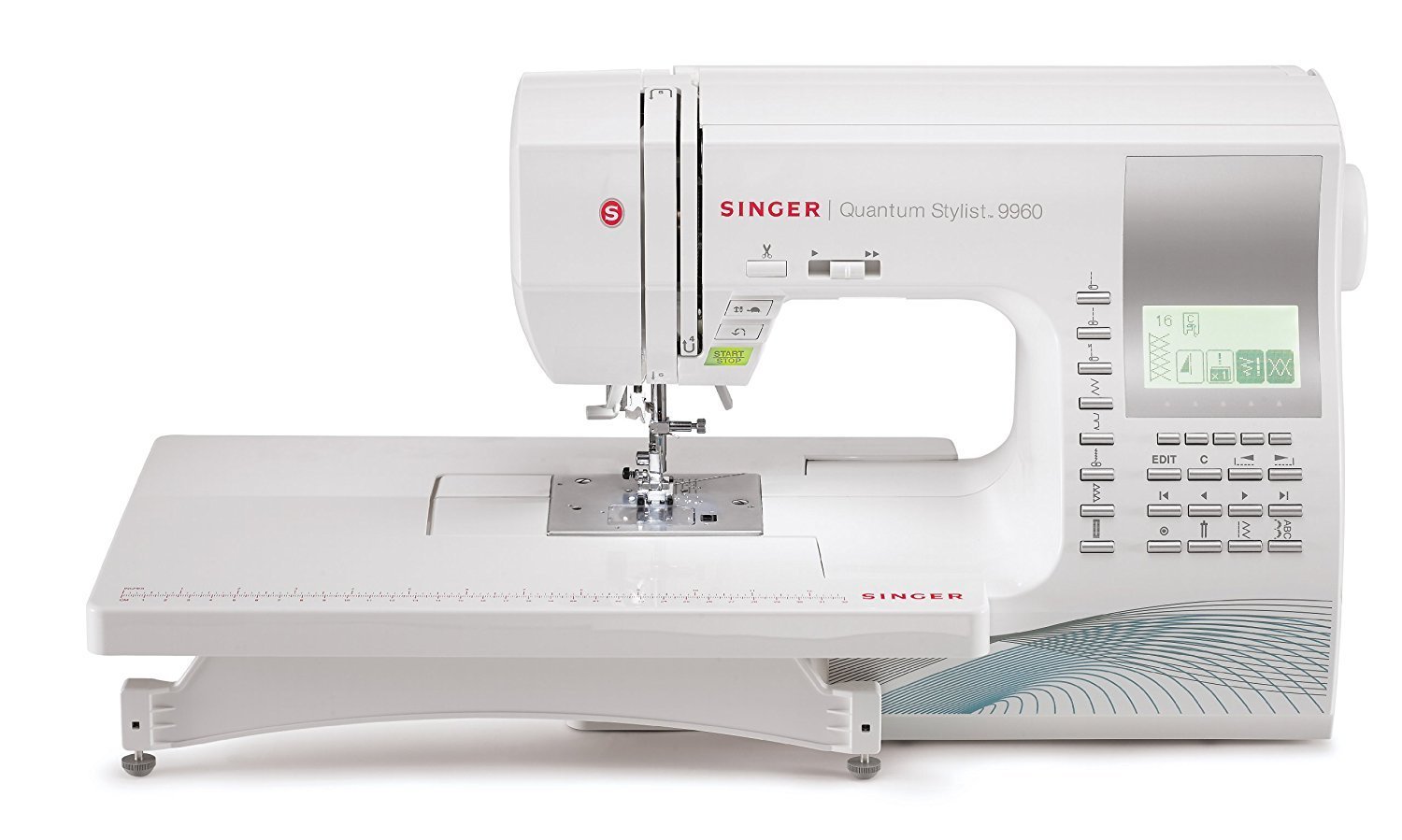 SINGER Quantum Stylist 9960 Computerized Portable Sewing Machine
Get It On Amazon
By taking a look at our research report you'll notice this computerized Singer has the highest number of built-in stitches (600) and a lot of advanced features. Ever so slightly more expensive than most of the Singers we've looked at here, this product has several excellent features such as 5 alphanumeric fonts and 13 1-Step Buttonholes and a buttonhole under the plate.
It also has mirror imaging for reversing your designs and a stitch elongation feature, giving you even more opportunities to get creative. This Singer also has a top sewing rate of 850 stitches per minute.
Its frequency of getting verified rating on Amazon is very positive. It received the first 10 ratings in 7 days, 2nd 10 ratings in 6 days and 3rd 10 ratings in 10 days. This is the only machine among all our listed product which has an autopilot feature.
Detailed Review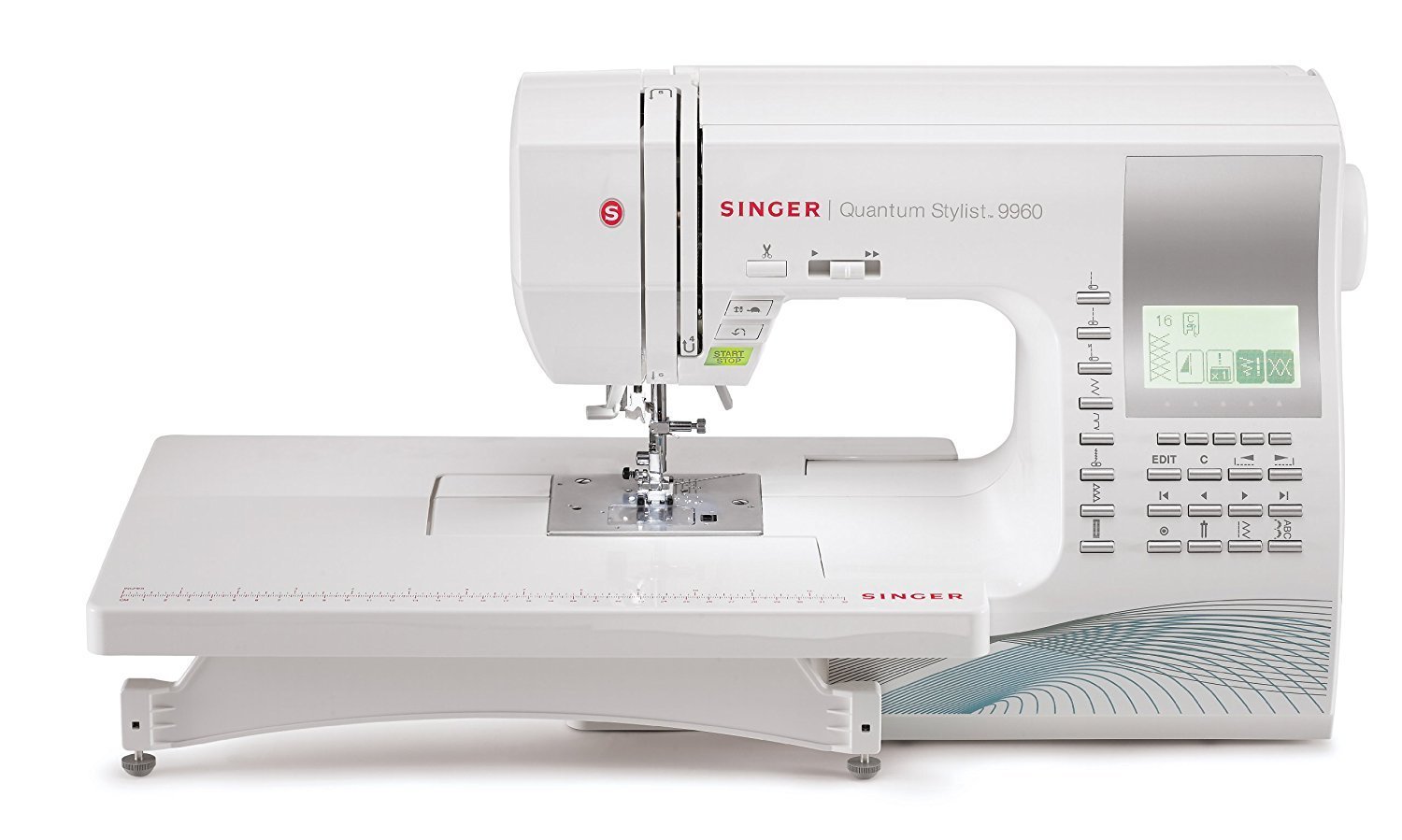 The Singer Quantum Stylist 9960 is a behemoth of a personal sewing machine. It really, really impressed us. Which we were hoping it would, given that it can be found on sale for just under $345, making it one of the most expensive sewing machines we reviewed for this list.
For that amount of money, you'd expect to get a serious amount of capabilities, and you'd not be disappointed with the Quantum Stylist 9960. It has fully 600 (!) stitches built in, giving even the most talented and experienced sewer out there a run for their money. It could do anything we could think of, and clearly a lot more besides. It covers all the bases: basic stitches to home décor and crafting, plus there's a selection of fonts you can choose from.
The autopilot mode is especially impressive, just unplug the foot pedal, hit start and it just goes. This is a remarkable piece of technology that is actually very practical. Most sewers will want to control their own speed, but for some tasks, it makes good sense to use the autopilot.
There are 13 buttonholes built in, more than nearly any we've tried, and they're all good. The max speed of the Quantum Stylist 9960 is 850 stitches, easily enough for just about anyone. There is a huge area for working under the needle, meaning you can do the most detailed and delicate work, as well as quilting with confidence. The 2 LEDs are very bright and cover the extension table completely.
Well rated on Amazon, it got a majority of 5* ratings and a lot of very positive reviews, only a few gripes with the occasional faulty model was reported. We agree with this, it's a very good machine indeed.
Pros
600 stitches built in
850 stitches a minute
Great build quality
Simple design
Cons
Could be too complex for some
Expensive
Verdict:
An extremely sophisticated computerized sewing machine that comes loaded with every stitch you could ever want, a large extension table, bright lights and a very simple display that makes choosing the 600 stitches a breeze.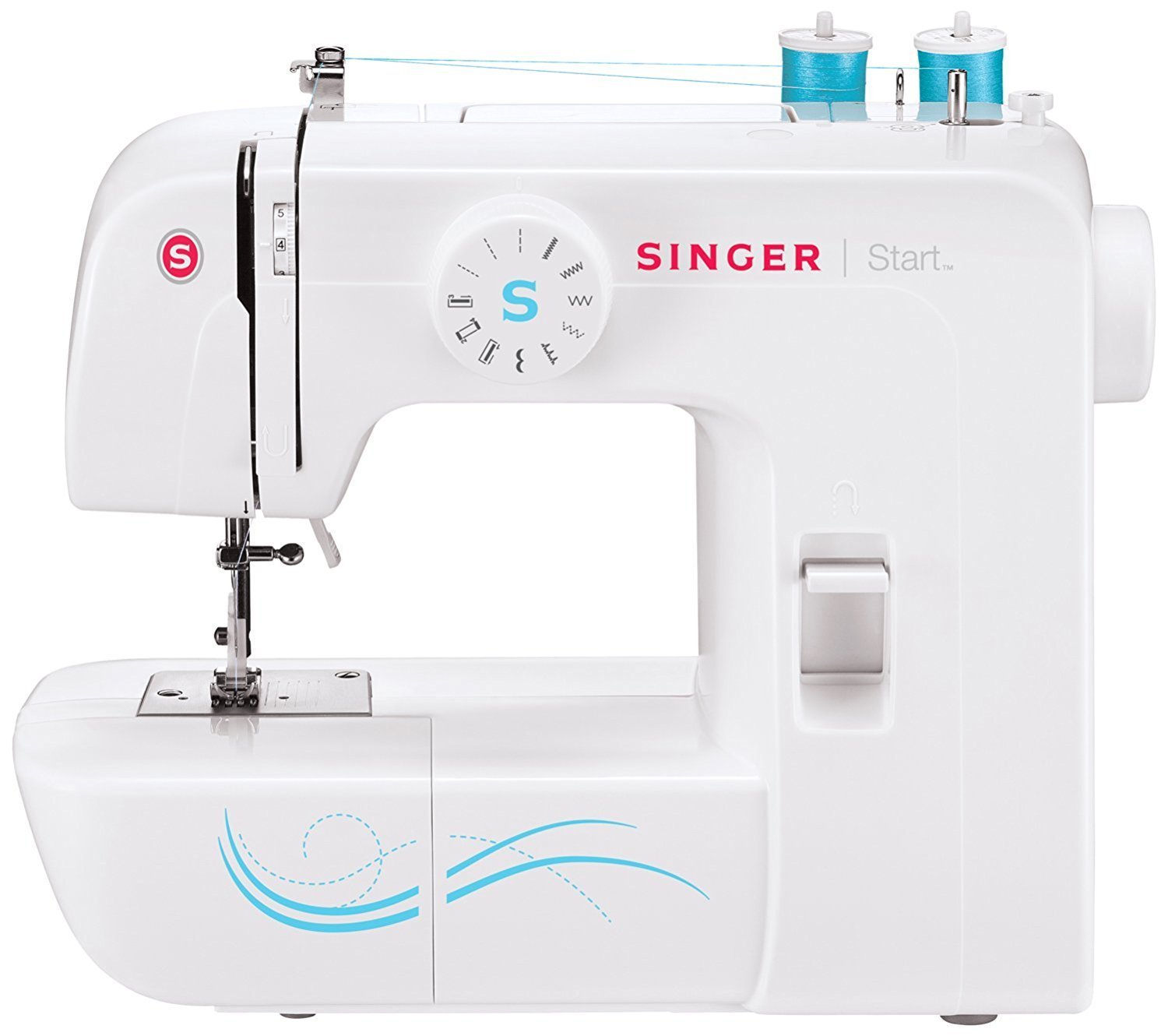 SINGER | Start 1304 Sewing Machine
Get It On Amazon
Our research report tells us that this is the most lightweight sewing machine of all our tested products. This Free Arm sewing machine has loads of excellent features like the Easy Stitch Selection, an automatic bobbin winding (extremely useful) system, built in reverse system for going over your stitches easily, hassle-free threading, changeable tension settings, and a presser foot lifter.
This sewing machine is also basic, simple, and easy-to-use with 6 pre-installed stitches including a built-in 4 step Buttonhole, all with pre-set stitch widths and stitch lengths. This lightweight sewing machine weighs 7 pounds, perfect for sewing in confined spaces or lugging to and from sewing class.
Detailed Review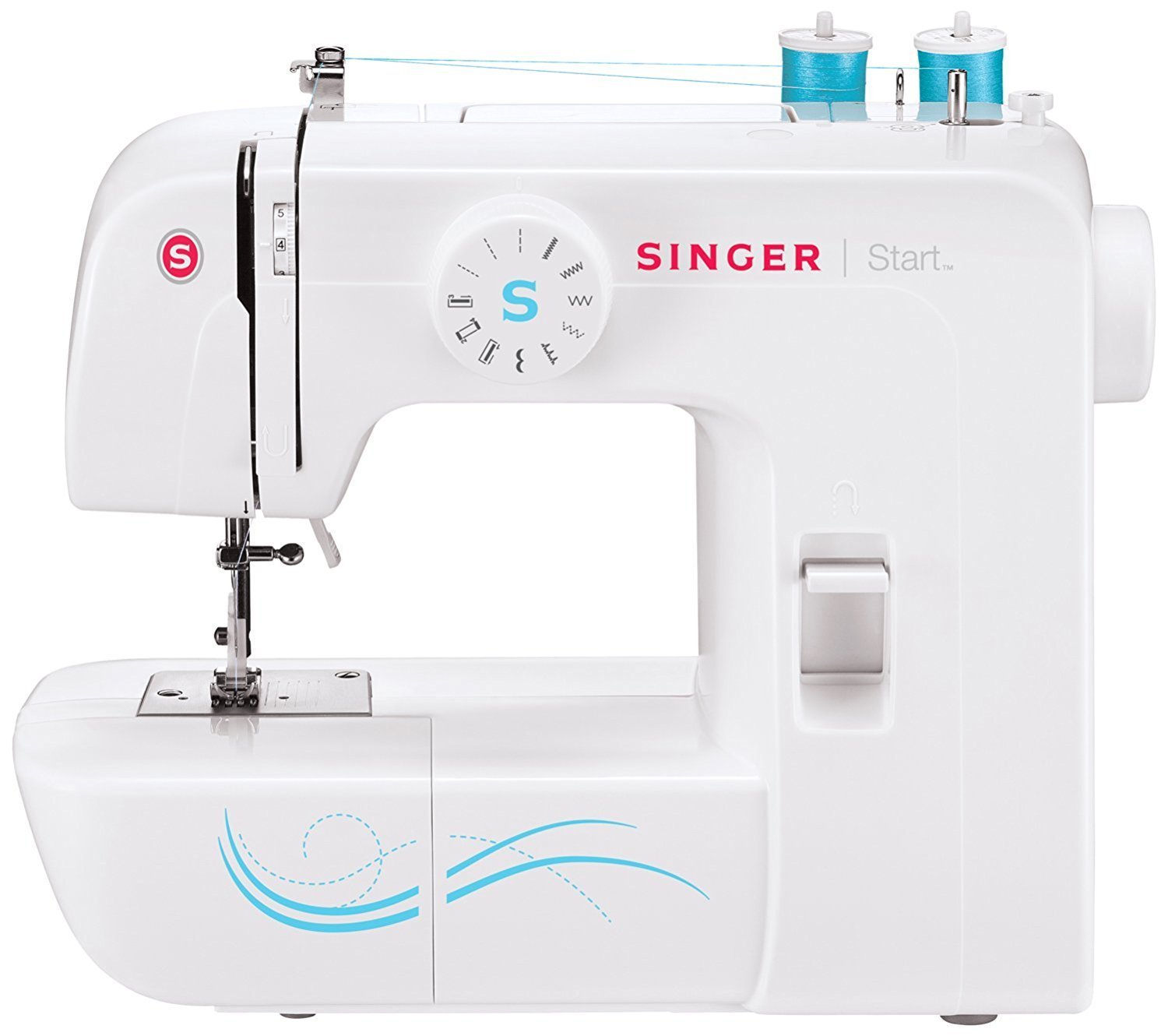 Portability is a really useful thing in a sewing machine, whether you're a student, child, traveller for work or just need to be able to move it easily, having a lightweight and easy to move machine can be a real asset.
And that's what we've got here with the Singer Start 1304. This little marvel weighs in at 7 pounds and handles really easily. We tried taking it places and not only was it easy to get there, but it still worked when it arrived. Small and tough is a perfect combination for our portable pick. You'll surely get this factor once you know what to consider when buying a sewing machine.
It's not the most hugely versatile machine in the world, having 6 built-in stitches and one 4 step buttonhole, but that would be to miss the point of the machine. It's not meant to be versatile, it's meant to be cheap, tough and portable, which it is.
On sale for under $80, this is a steal of a portable Singer, it's got a good sewing capability and a smooth action. Very well made too, it doesn't have any strange rattles or hums and works quite quietly. There is a storage compartment that can be removed for all the accessories, a neat touch if you don't want to take them all with you.
This machine comes well rated, lots of people are enjoying it around the world, why not take our Portable Pick and join them?
This machine has a 25-year warranty, an incredible fact considering the sale price. You can rest assured that if you don't smash it to bits, it'll keep on working for a long time, and when it needs a bit of tender loving care, Singer will sort you out.
Pros
Cheap
Small
Lightweight
Portable
6 built-in stitches
Foot controller
750 stitches per minute
Cons
Not much versatility
Small footprint
Small work area
Verdict:
Our Portable Pick is a tiny marvel of engineering: it's solid, small, lightweight and dependable. It'll do perfectly for someone on the move a lot, such as a student or professional.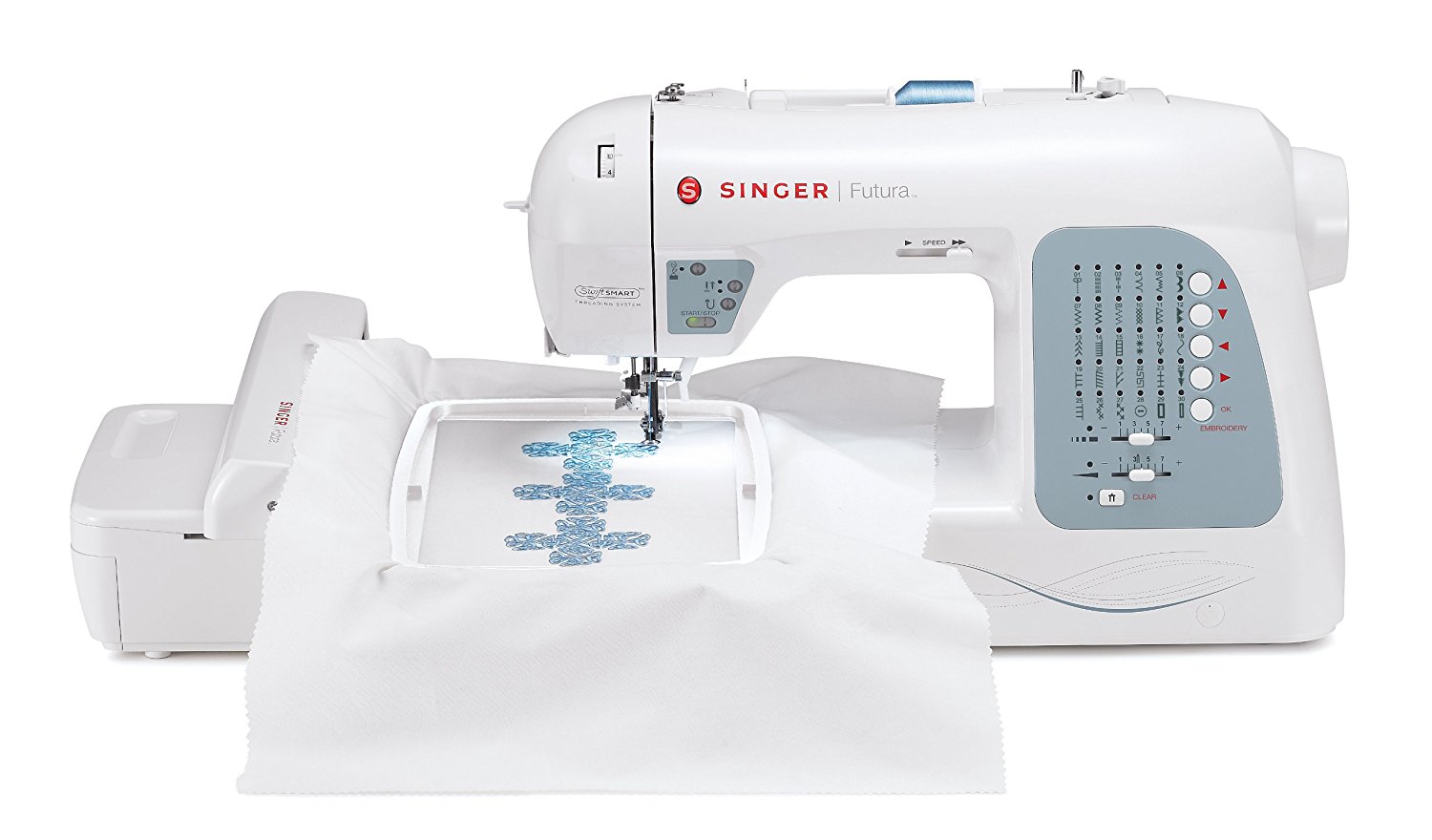 SINGER Futura XL400 Portable Sewing & Embroidery Machine
Get It On Amzon
Take a look at our research report, it's clear that this is the best Singer Futura sewing machine combo. This combo machine has 30 popular built-in sewing stitches with two fully automatic one-step buttonholes and also boasts 125 built-in embroidery designs with five fonts and outline lettering.
Its computerized embroidery system lets you select designs and customize your embroidery on your computer screen to combine multiple designs into one. You can add lettering to personalize your embroidery as well as monogram. Its 6 Staybright LED lights fill the sewing surface with light, making it easier to view your work and reducing eye strain.
Detailed Review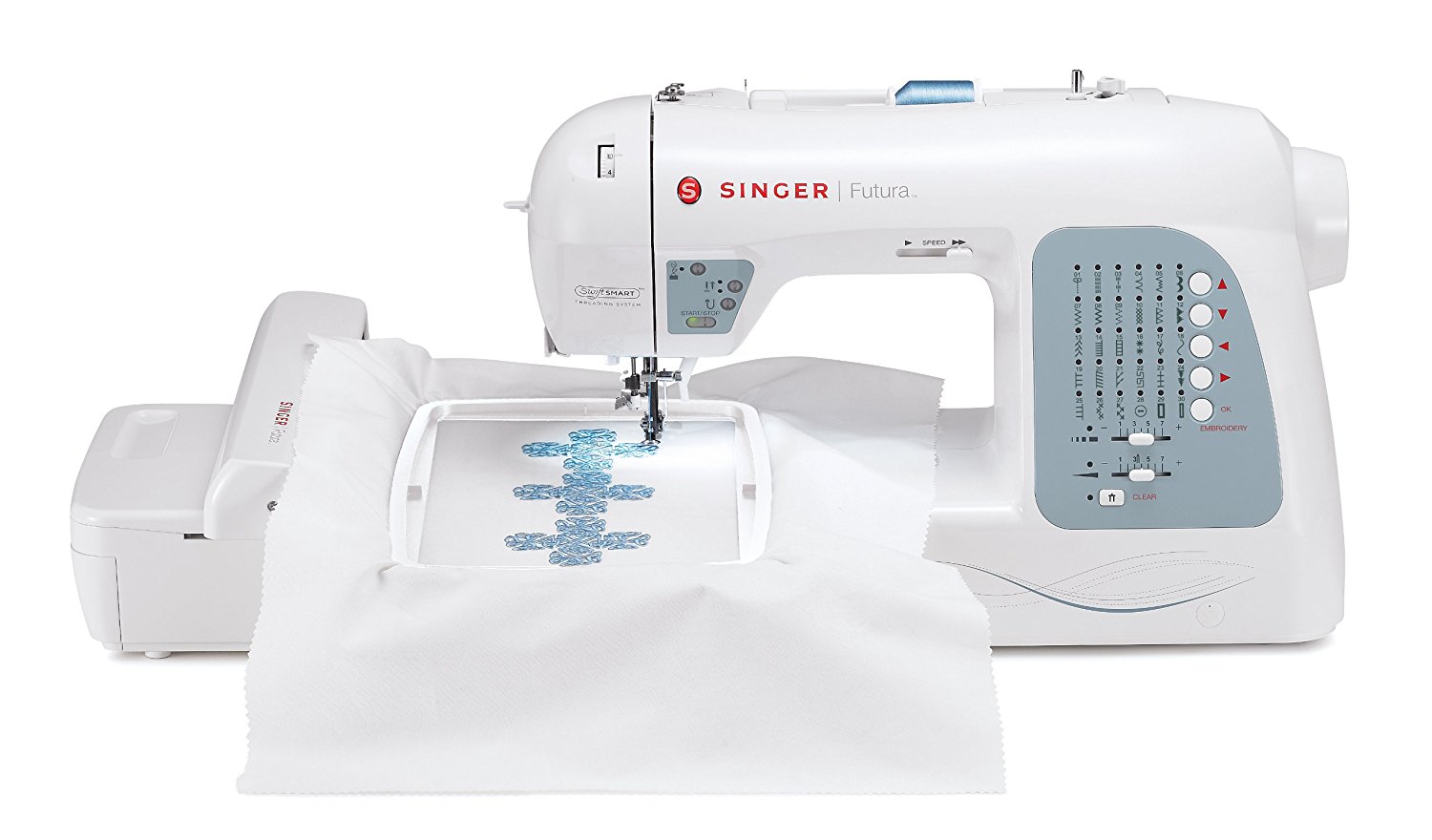 An embroidery and sewing machine is a potent combination. Unfortunately, some machines that do both don't do either well. Not so the Singer Futura XL-400. This is one seriously impressive Singer Embroidery and Sewing machine.
It comes already loaded with 125 embroidery designs, these are all very nice and customizable but it's the ability to load more on that's the real selling point. It supports a wide range of different formats for your designs, and you can edit them to your heart's delight on your computer, download them onto the Singer and get rolling. Monogram, embroider and stitch with the LX-400.
As a straight sewing machine it works very well, it has 30 built-in stitches and 2 fully automated 2 step buttonholes. The work area is very brightly lit by the 6 Staybright LEDs and quilting is especially easy as the plate is so large.
On sale for less than $500, this is not in the affordable range of Singer sewing and embroidery machine but it is definitely worth the extra cash for that added element of versatility the embroidery and monogram brings.
The embroidery is high quality, it can be loaded up with lots of different colors and set off, it'll make your designs real. Check out our research report, it'll help you make your decision as to which is the best for you.
This is a complicated device, maybe too complicated for some, and the lack of a large display screen could turn off some customers. As it is, it works well for us, and embroidery and monogram designs are always better seen and edited on a computer.
The construction is solid and the design clear, it's an easy machine to use once you've got the hang of the controls. Well worth reading the manual before you begin, there's a lot to take in.
Pros
Sews and embroiders
Bright working area
Large working area
Well made
Less than $500
High-quality embroidery
Upload your own designs
Cons
Too expensive for some
Not well rated on Amazon
No large display screen
Verdict:
A large and powerful Singer sewing and embroidery machine, it's the best combo machine on our list because it has a large work area, bright LEDs, is updatable with your new designs and is easy to use.
List of 4 Other Products We Reviewed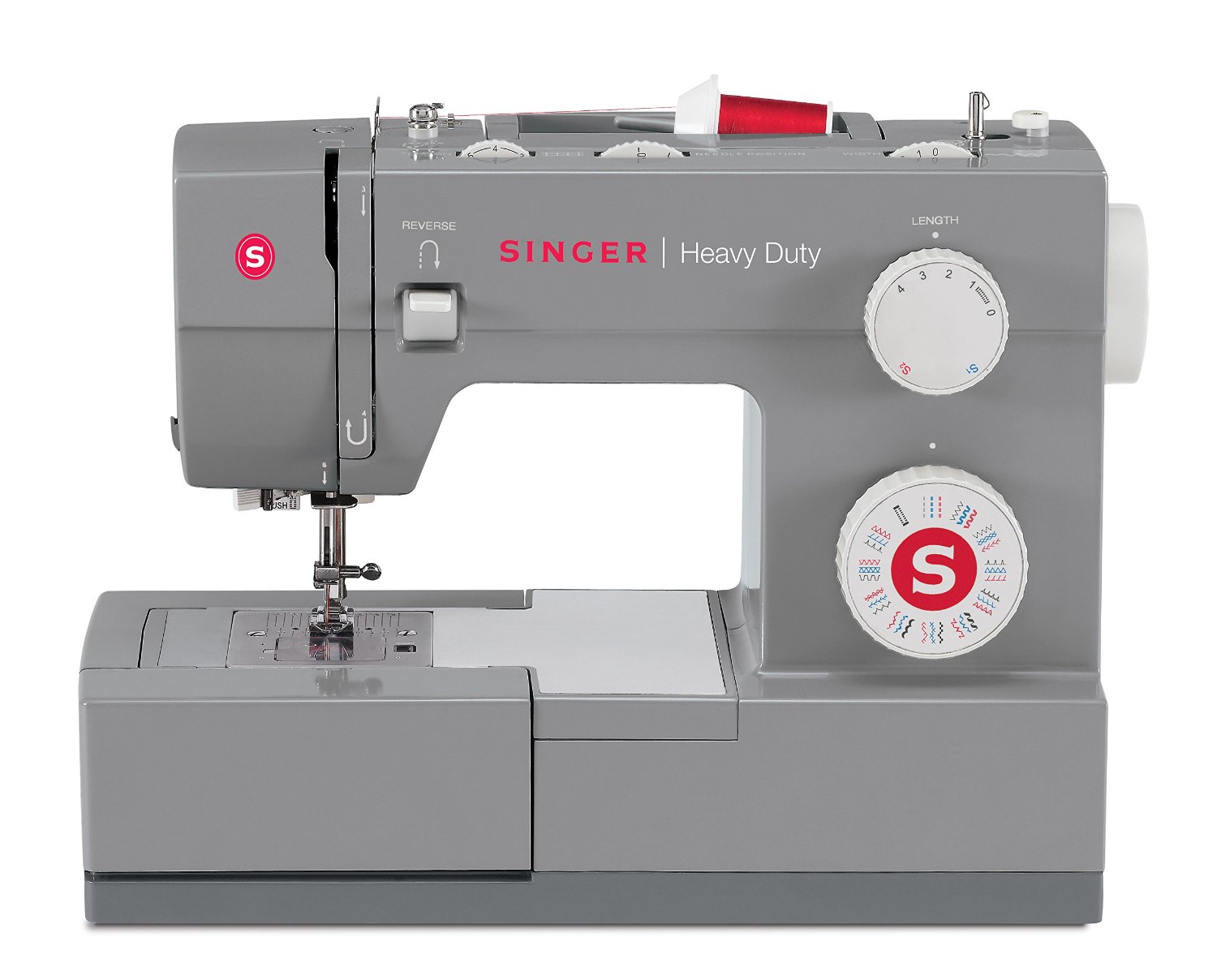 SINGER 4432 Sewing Machine
Get It On Amazon
The Singer Heavy Duty range is fantastic, they're simple, no-nonsense sewing machines that look like they could survive World War III. They probably could, come to think of it. I bet there are some survivalists out there who pick this as their choice of sewing machine to return civilisation to the world when the smoke clears.
It's not a pretty machine, the Singer Sewing 4432 Heavy Duty Extra High Speed, but for what it lacks in good looks, it makes up for in power, speed and sheer attitude. The metal frame is solid, making this not exactly the lightest machine we've reviewed, and the stainless steel bedplate means that you can punch through just about any fabric with this Heavy Duty Singer.
The Extra Speed bit is very impressive indeed, giving the user a full 1,100 stitches per minute, even in the most adverse of conditions. This will sew so many things it's unreasonable. The motor is extremely powerful, driving that needle through everything we could find to test it with. Not one to get your finger in the way of. You can make the best use of it if you know how to select needles for your machine.
There is a reverse switch, which really should be on all sewing machines in our opinion, that allows the user to reverse over stitches and reinforce them. This is a machine for the tough sewing jobs of the world. It's also capable of very fine detail and precise sewing, so it's not all just power and speed. Take a look at our research, it's got much more data on the Heavy Duty you will appreciate.
You can pick one of these up for less than $155, it's a real steal, alongside its 25 year warranty it'll make a stunning companion for many years to come. It feels so solid that it will last much longer than the 25 years!
Pros
Heavy duty
1,100 stitches per minute
Powerful motor
25-year warranty
Fairly cheap
Cons
Not a pretty machine
Not many built-in stitches
Too simple for some
Verdict:
One hell of a sewing machine, this will sew just about anything to anything else. Its powerful motor and very high maximum speed mean it is very, very versatile and built for serious sewing.
Check Customer Reviews on Amazon!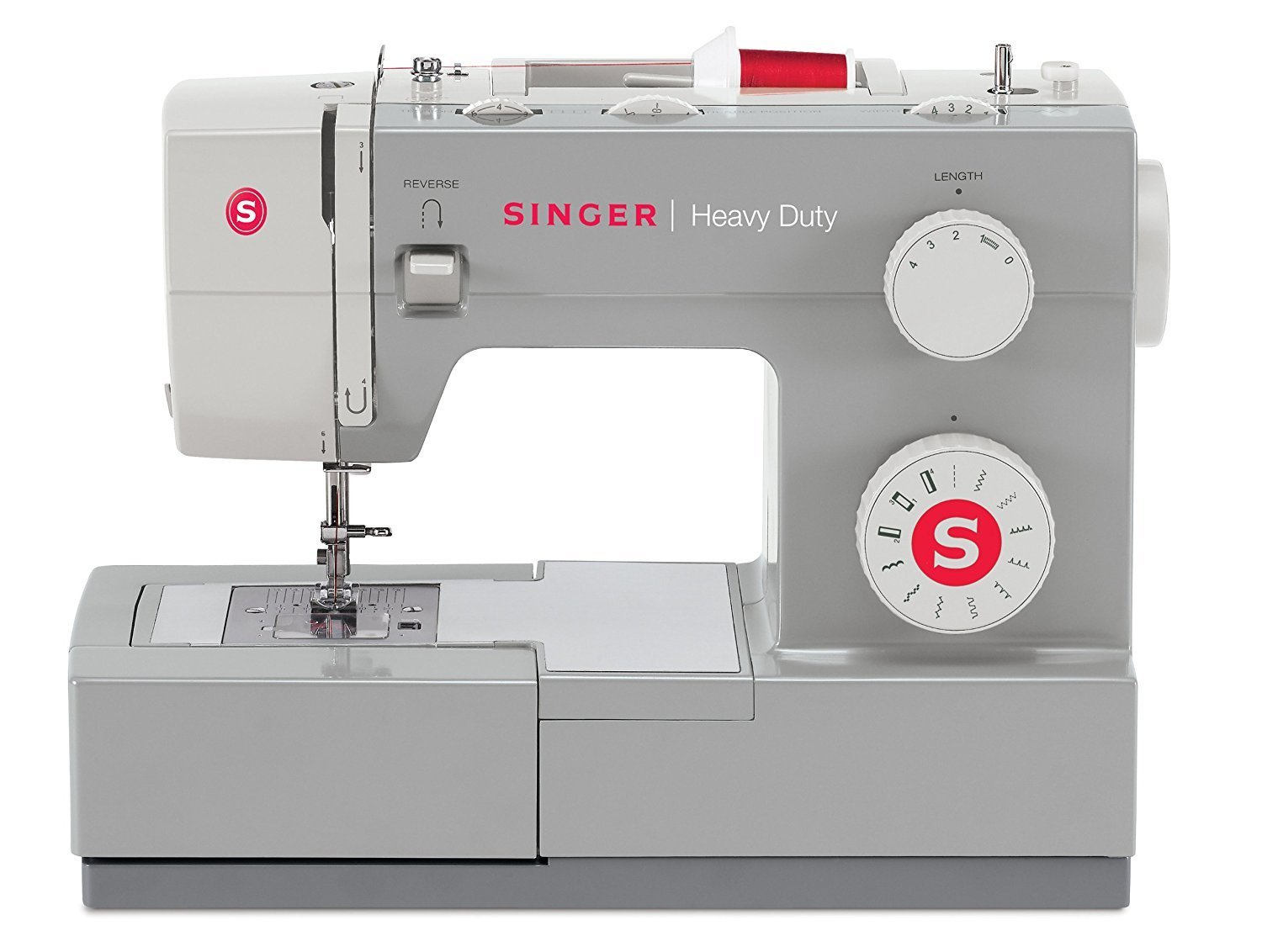 SINGER 4411 Heavy Duty Sewing Machine
Get It On Amazon
For less than $120, you won't get a better Singer sewing machine. Period. This is a powerful, fast and well-built machine that doesn't sing or dance, it just gets on with the brutally efficient task of sewing.
That's what we like from a sewing machine: power and speed, as well as finesse. You can do lots of very detailed work here on the large workspace, well lit by the onboard LEDs and with ample room for quilting.
The speed is ridiculous, it does 1,100 stitches a minute at full speed, too much for us here at our offices, but it's fully controllable so it's OK. Having that option of intense speed is useful to some we're sure, but it scared us a little if we're honest. We'll leave that to the pros. Change the pressure with the adjustable foot control, very useful for the heavy duty stuff.
Talking of pros, this is an extremely dependable machine we can definitely see some really serious sewers and garment makers using in their studios. It's that good, and for the sale price it seems silly they would choose this one, but many do. It's got 11 built-in stitches and a buttonhole built in, which is enough for many applications and should do fine for most people.
The key to this Heavy Duty is that it is simple. It doesn't boast about doing anything it can't, it doesn't have any features that half work. Everything here is well engineered over years of refinements and well built. Considering how cheap it is as well, it's a cut above a lot of the competition.
Take a look at our research report, it'll show you all the data you need to be making the best choice.
Pros
Fast
Cheap
Powerful
Solidly built
Simple
Cons
Too simple for some
Not many built-in stitches
Verdict:
Another superb Heavy Duty from Singer, this will have you stitching at high speed and doing curtains and heavy pleats in no time. Powerful, versatile, fast and really easy to use, it's the clear choice at the price.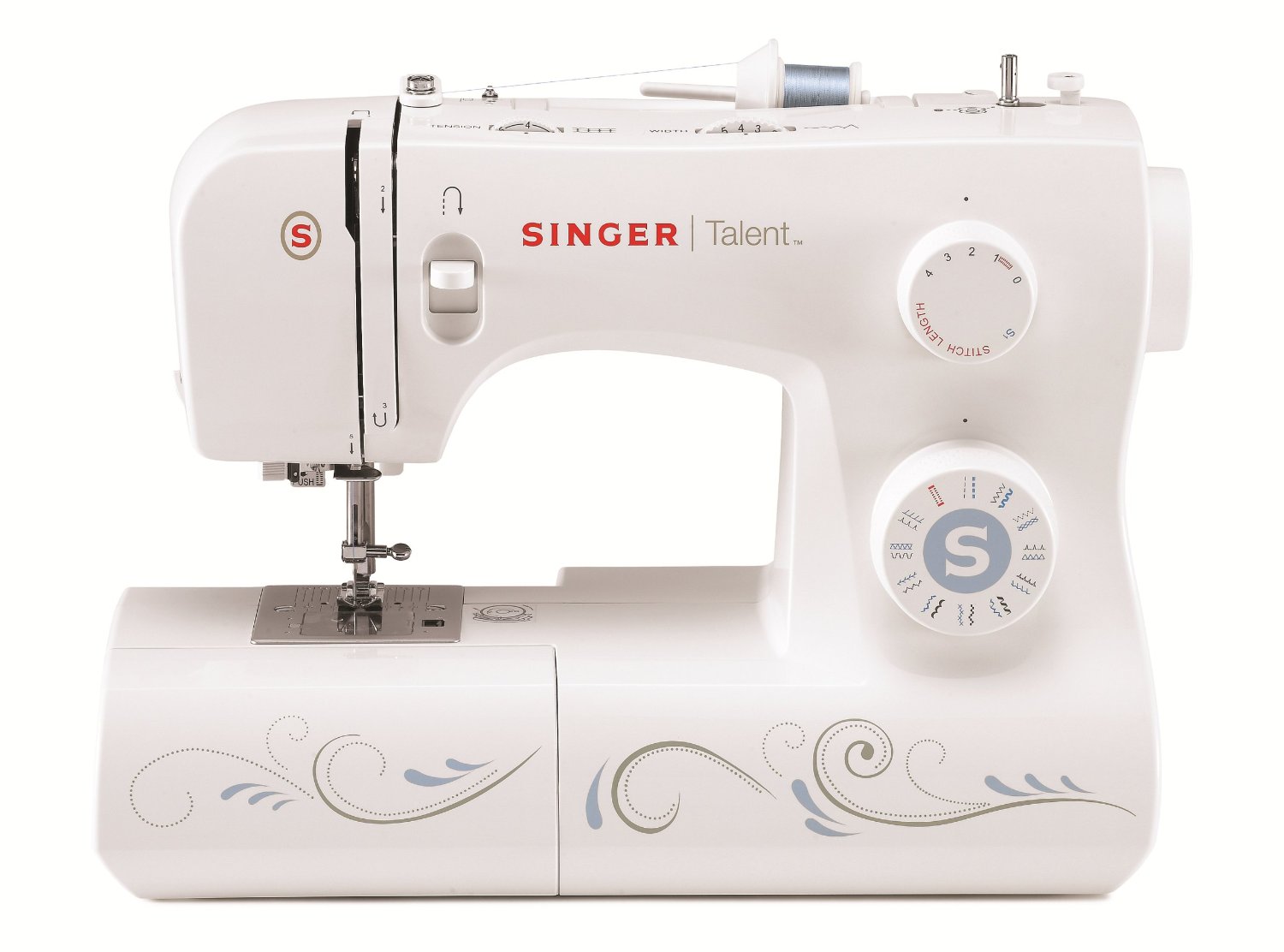 SINGER 3323S Portable Sewing Machine
Get It On Amazon
This little portable gem is a great choice for a child or traveller due to its lightweight and ergonomic design. It only weighs 13 pounds and has a good sized working space for such a small machine.
It's got 23 built-in stitches and a one-step buttonhole, which is pretty good for a portable machine. This gives the user, especially a child, lots of potential to work with. Someone just beginning with sewing will want to move the machine around a lot, take it to friends houses or to school, and so it being lightweight is brilliant. That there are enough stitches to keep them experimenting and creating for a really long time makes this a fantastic investment. It'll take them past the beginner stage and well into the future without slowing them down at all.
On sale for less than $125, it's an affordable choice for a parent or relative, you can invest in your child's possible career and future enjoyment without having to shell out too much. Once they're passionate about it and want to continue into the future, get something more capable, but for now, this is a fantastic choice. Take a peek at our research report for more help with making your choice.
It comes with the standards: automatic needle threader and adjustable stitch widths and lengths, as well as a top drop-in bobbin. All these will reduce the frustration for the beginner enormously. They shouldn't have to struggle with their first machine.
The Singer is well made and solid, it won't fall apart on your budding designer, Singer back up their high-quality construction with a 25-year warranty, so you can rest assured that the $125 you've spent will pay itself off again and again over the years.
Pros
Portable
Lightweight
Easy to use
23 built-in stitches
Great for travel
Light enough for a child
Cheap
Cons
Too small for some
Not enough features for many
Verdict:
A portable Singer perfect for a child or traveller, we'd recommend this to a parent buying a first sewing machine for their child, it has plenty of potential for them as they grow and improve in the future.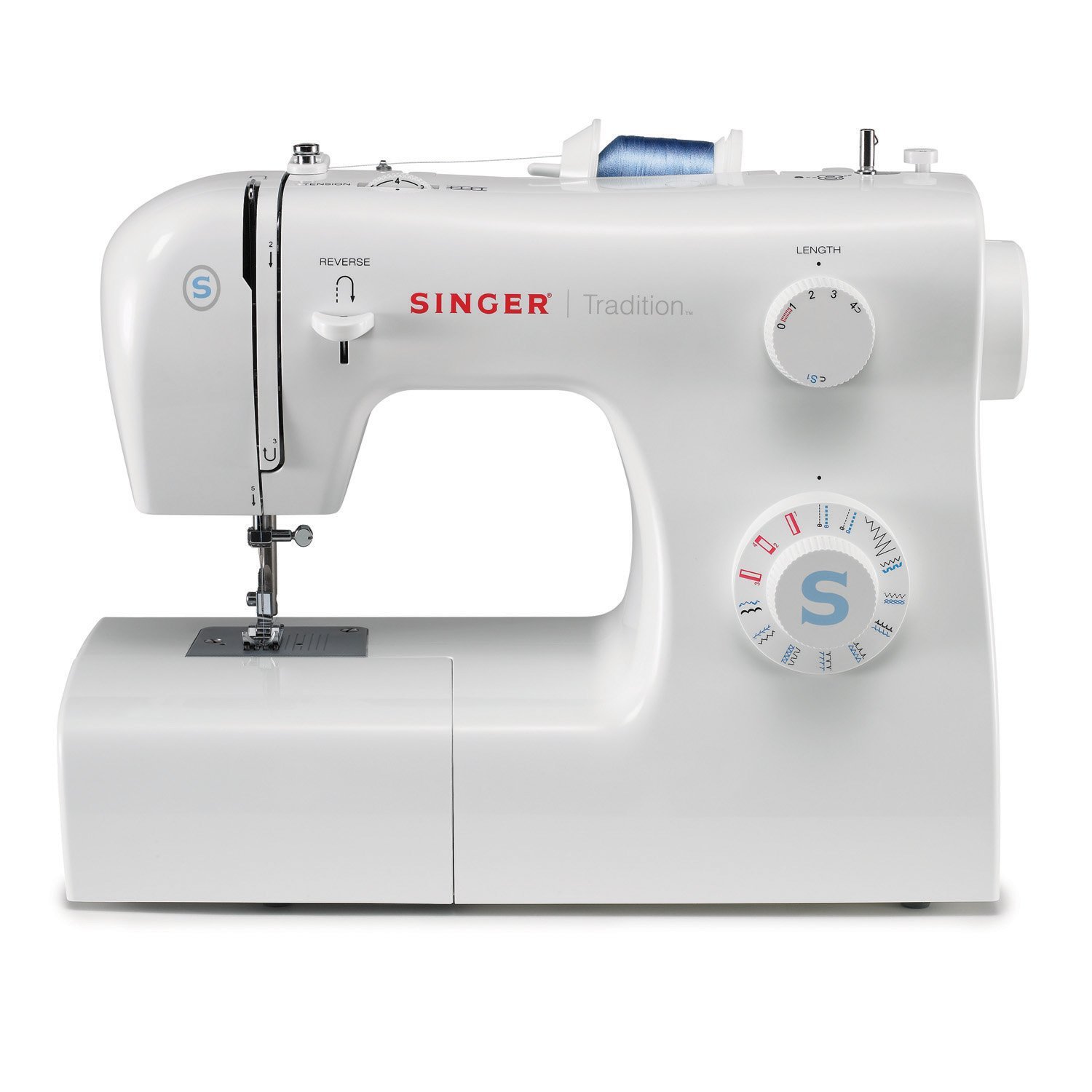 SINGER 2259 Portable Sewing Machine
Get It On Amazon
This Singer Tradition 2259 is the last one on our list, not because it's the worst, but because it had to fight off a lot of competitors to even make it onto the list. It's the result of a lot of comparisons, this list. You can see how we made those decisions by looking at our research report, which you can find above. You should be able to find all the data you need for your choice.
The Singer Tradition 2259 has 19 built-in stitches, built-in bobbin winding and a very simple operation. It's nothing to brag about, except for the quality of the machine. All the Singers we've examined for this review have been really high quality, it's been good to see them keeping up their standards well into the 21st century. This was no exception. For less than $95, you can grab one on sale and come away with a machine that will keep you going for years and years.
The 25-year warranty is Singer standing by their products and saying it will last, and we believe them. This was well made, quiet and ran fast. The heavy-duty metal frame will keep it sturdy for as long as it continues to work, which should be a very, very long time. We're not sure how Singer can make quality like this so cheap but we're not complaining.
This is a free arm sewing machine, giving you a nice dose of versatility. It's a great machine for someone who doesn't sew huge amounts but needs a good machine around for when they do. That's a lot of sewers, so it explains why there are so many people buying these models.
Pros
Cheap
Well made
Sturdy metal frame
19 built-in metal stitches
Buttonholer
Easy operation
Cons
Not as versatile as some might like
Small
Verdict:
Cheap, well built, efficient and with 19 built-in stitches you'll be loving this Singer for years and years. It'll keep going and going well for a long time, and when it needs repairing, just take it to Singer.
Check Customer Reviews on Amazon!
A List of Other Products We Tested
Care and Maintenance
Taking care of your Singer is easy, just make sure they're clean and tidy and they'll take care of themselves pretty well. Make sure it's unplugged when you're not using it and all the feet are in contact with the surface it's on before you start to operate.
Keep a good supply of spare needles in the storage compartment and oil what you can with the recommended oil. Maintenance for Singers is difficult without voiding the warranty, so it's best just to send them off to Singer and let them do it. They all have a 25-year warranty after all. However, being familiar with the common sewing and embroidery machine problems and knowing how to fix them yourself will be of great help.
Wrapping it Up
We hope you've enjoyed our reviews and guide to Singer sewing machines, we've sure enjoyed testing them all out and writing about them. They really impressed us, and we'd been hearing some things about Singer's reputation recently. It's good to see first hand they're still on top of things.
Take a look at our research report if you're still making your choice, it's free to view and full of great data that will give you an even clearer view of these machines.
It's our job to make sure you have what you need to buy the right Singer, we hope we've done it well. Good luck with your shopping and do stop by again in future for more reviews and guides.
ADD_THIS_TEXT