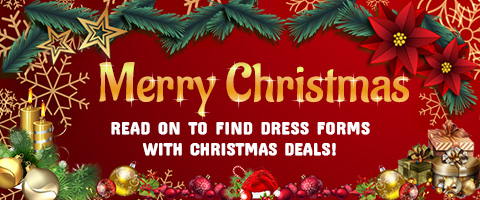 This March, Design My Costume is making buying dress forms far too easy. Here we have 10 of the best dress form reviews, including our pick, best dress form on a budget, beginners, and advanced choices as well as the best adjustable dress form around. Are you just setting out into the world of design, or are a seasoned pro wanting something new?
Regardless of your experience, you'll need a dress form for pinning all those unique and fantastic designs. People tend to wander off or get bored, or eat too many potato chips and change shape. Your dress form won't do anything but be the ideal shape to hang your projects on. It won't complain if you stick pins in it either! Though you've to know how to use your dress form like a pro.
But which dress form to buy? The world of dress form can be bewildering, so relax, get a cup of coffee and follow us through this best dress form review. Design My Costume will help you have the best dress form you need in no time!
Why Should You Trust Us?
"What do they know about dress forms?" I hear you say. Well, in the four years we've spent reporting and updating this site, we've tried and tested just about every dress form you could imagine. This list itself is the product of 55 hours of intensive research, and trust me, nobody spends 55 hours looking at models of limbless torsos unless they are really passionate about what they do. I see dress forms when I close my eyes. This really is the best dress form review around. The lengths we go to for our readers!
We found the best dress forms for you, we spent a week trying most of them for you when we could, and the reviews we've assembled here will hopefully save you a lot of time, frustration, and money. We're not advertising any single product, that's not how we roll.
We're here to help you make the right choice in your best dress form review.
So with this in mind, we've singled out the best dress forms on the market. Every would-be buyer, from the designers of Paris to a penniless student pinning their first attempts to their first dress form, should find the reviews they need right here.
A Short History of Dress Forms
You might be forgiven for thinking the dress form is a modern invention, perhaps invented in a professional tailors' shop or in a department store, but then you remember that people have been wearing clothes for a very long time. Back in 1922, Howard Carter, the famed British explorer and archaeologist, began excavating the tomb of Tutankhamen, the 14th century BC Egyptian pharaoh. When he cracked through the wall of the tomb, he found a solid gold sarcophagus, food, perfectly preserved honey, musical instruments and, amongst the Pharaoh's clothes, a limbless wooden torso that was clearly for use by the Pharaoh's tailors. Most historians believe this to be the first dress form known.
More modern examples of royal dress forms include Medieval English monarchs and pre-revolution French Queens (famed for their extravagance and wealth). In fact, wherever you look in European history, where you find wealth, you find dress forms. These were reserved exclusively for the wealthy; after all, who else could afford a tailor? It was during the Industrial Revolution of the 18th and 19th centuries that the dress form became available to common folks when standardization and mass-production brought what used to be luxuries into the homes of the new middle-class.
This middle-class had money to spend, and shops opened with mannequins in the windows and dress forms for the making of bespoke dresses and uniforms for the new professions springing up. They were often made of wood or solid wax, then later papier-mâché.
The dress form has again escaped its origins and can now be found in the homes of the many at-home sewers who produce for modern markets. Dress forms are found in the art world; a collection by designer Martin Margiela from 1997 featured a piece constructed to look like a dress form. The dress form has been on a long journey, from exclusive royalty to the studios of artists and home sewers, and has left its imprint on sewing culture around the globe along the way.
Types of Dress Forms
Dress forms are used for lots of different things and accordingly, we have quite a few types to choose from. Don't be intimidated, it's simple when it's broken down. First, ask yourself what the dress form is going to be used for. Will you be needing legs? Do you need to adjust the height, or collapse it down for transporting? Lightweight or more sturdy? Big bust or small? Then it's a good idea to know how much you are willing to spend on your sewing. But don't worry if you're not sure, we'll guide you sewers through what you need.
Display Dress Form:
This is for you if you're planning on displaying your creations. Display dress forms are fully pinnable (covered in a thick layer of foam so you can pin at any angle) and should be cloth covered. These are for display, so they're usually decorative, with different colored fabric or patterns. They are often adjustable but for a display form, some just pick their ideal shape and height.
A display dress form can be heavy-duty for more permanent display, or lightweight for transporting around shows, client's businesses or homes. Less expensive than other dress forms, these aren't suited to fitting or draping.
Professional Dress Form:
A bigger investment than a display dress form but worth every cent. You can do it all on a professional dress form. Widely available in all sorts of shapes and sizes, they're generally more realistic in proportions than a display dress form. For fitting, draping and pinning anything while you're sewing, this is your ticket for advanced sewers. They can definitely be decorative.
Wheels make them invaluable in your busy workplace, you'll be able to move them without touching the clothes, or just get them out the way! Features like collapsible shoulders, cage bottoms, and adjustable heights will be endlessly useful and let you get on with your work.
Bifurcated Dress Form:
Dress forms with legs! You can remove them if you need, but when trying out a new design the legs can give a better idea of how it all looks together with pants or shorts. Arms are an option worth considering, especially if you're doing lots of draping or pattern-work.
Bifurcated dress forms are the next step from a professional dress form and can cost accordingly. They could be decorative if you need, but weigh the extra functionality against the money you might be spending. You can spend anywhere between $200 and $1000, with better body shapes and customization the more expensive you get. It was the magnetic arms that sold them for me.
Adjustable Dress Form:
Does exactly what it says on the tin: adjusts. Turn the dial and the sections move away from each other. Priced at the lower end of the market, a good adjustable dress form can be bought for $200-300. This lower price is reflected in their poorer construction materials and less realistic body shapes. Features like collapsible shoulders and being fully pinnable generally aren't available on adjustable dress forms, which can limit their uses and decorative possibilities.
They are useful, however, by giving the designer lots of different body sizes and proportions on one dress form. If you're new to sewing, they can be the way to get experience While not for displaying, fitting or draping, an adjustable dress form will find many uses in your studio!
Dress Form Vs. Mannequins
To the average Joe, they might seem like the same thing but that would be pure ignorance! A dress form is usually the representation of a torso and constructed with a hard interior and foam or fabric exterior. This is because a designer needs to be able to stick pins in it.
A mannequin can't do this, it's a solid shell in the shape of a whole human, used in retail for decorative purposes and displaying clothes. The film Mannequin would have been very different indeed if she'd just been a torso. But let's forget about mannequins, you came here for dress forms!
What to Look For in a Good Dress Form?
Don't get sold a pup, or walk out of the store with the wrong dress form under your arm! There are a few vital things to be looking for in your search for the perfect dress form.
First is type. What does it need to do? Check our list above for more guidance.
Next is size. Dressing for children, women, enormous men or dwarves? Each size has it's own ideal proportions so know what you want before making any choices.
Adjustability – do you want it to change shape? Collapsible shoulders or a cage hem? All important considerations.
Pinnability is crucial. The shallow foam will only allow pinning from an angle, so is less versatile, while thick foam will allow your pins to be stuck straight in. This is the more useful option.
Padding – the shape of your dress form is critical, so how it's padded and where can make a huge difference. High or low shoulders and hips, the size of the bust and back, it all counts.
Usability will make a task a chore or a delight, make sure you can do everything you need with your dress form.
Build quality – A well-made dress form will last for years (I inherited one of mine) whereas a cheaper model will lose foam and form quickly. Look for something durable and solid.
Who Are Dress Forms For?
Whether you're making, sewing, adjusting or repairing clothes, you're going to need a dress form of one type or another. Even the most experienced sewers or designers would struggle to make beautiful clothes that actually fit anyone without a dress form.
There are different ways to use a dress form. Novices need a lot of practice to build up the instincts and "the eye" for good garment making. They will be making lots of trips to their dress form as they make changes and revisions. This is all part of the process, we all started in the same place, so a good quality dress form will help them in their progression.
Professional dressmakers, seamstresses, tailors, and clothiers all need dress forms daily in their work, whether to display their latest creations or to try out new ideas. Customers expect a good fit and cut, they won't get one without a well-equipped tailor and sewer.
Travelling tailors and dressmakers need lightweight versions as they can be loaded and unloaded with ease. If you were traveling to a garment factory to have your designs made real, you could take your dress form and show exactly what you're looking for.
How We Picked and Tested
We began our selection with data produced by our lovely volunteers. They scoured the net for the best deals and came back to us with their best dress form list. In the 4 years, we've been updating this guide, we've tested dozens of dress forms and, while none of them were perfect, these reviews are the best of what we've found.
For close to two months, we've been using and testing these products in the community, testing them rigorously and gathering the results. We chose to look at, amongst others, appearance, size, weight, manufacture, usability, adjustability and unique features.
These were factors consistent across all the dress forms we reviewed and we feel they give a thorough picture of the products' strengths and weaknesses.
We only want the best product for you, that works for us (you'll come back) and works for you (you have what you want). By condensing your choices down to these ten, we hope we've given you the freedom to choose and enough options not to feel limited, while chopping away a lot of the worst choices so you don't have to waste your time.
After an exhaustive comparison and consultation process, we've come up with a list that we're confident will be generally the best dress form you could get on the market. It's highly competitive out there and it's easy to get bogged down in choices and options, but don't worry, we've done the maths so you don't have to.
Our Top Ten Products
Listen up sewers! For each product, we analyzed 30 of the most important features of dress forms. You can check our research report, it's open and designed to help you choose the right product for you or your business. Please like any of our social media pages so you can view the report.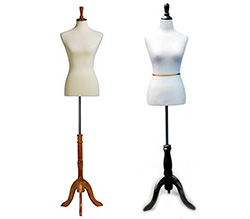 White Female Mannequin Dress Form
Get It On Amazon
Why is This Product Our No.1 Pick?
We have analyzed the 30 most important features for each of the product we have selected, and while this product does have some shortcomings, the unique combination of effective and desirable features has made it our no.1 pick.
The torso height is 27″ from shoulder to shoulder with a width of 14″, Bust 33″, Waist: 24″. Hips 34″. The shape and size of this best dress form have made it the perfect average female size. The height is also adjustable from approximately 4.5 to 6 feet. The foam coating is a thin layer of high-quality stuff, suitable for side pinning. The form can also be taken off the tripod and placed where you like, great for using as a center.
In spite of having so many positives, this product falls in a very affordable price range: you can get this product for less than $65.
Out 1 pick also has a second hole under the form, this is used for displaying pants or shorts. It is made of an entirely recyclable material, so this dress form is eco-friendly. All these stand-out features have cemented this form as our no.1 pick.
Detailed Review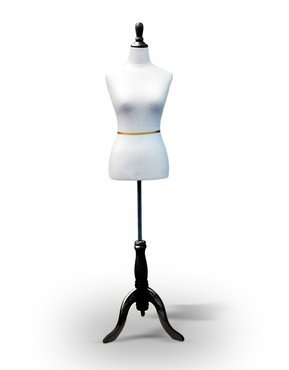 So, what did we think? We thought good things about this dress form. Of all the products we reviewed, it had the highest average in the 30 individual criteria we set.
The dress form had a very sturdy construction made of high-quality, well-made materials, so it should last a long time. The cover material is removable and washable, meaning you can keep it looking brand-new for a long time, or replace it as the time comes.
The size was excellent, it's a very helpful average to work from, and we liked the proportions of the form. They looked right to the eye and a lot of different styles of clothes can fit it.
Being able to remove it from its tripod was very helpful for transporting or displaying the product, as well as packing it away. This form would be suitable for a child who is learning.
The foam was on the thin end, so side pinning was necessary, but this wasn't a hindrance. We stuck some pants on very easily using the second hole under the form, the pole was added and removed with no hassle, extremely handy!
Extra pluses for us that it was made of eco-friendly, recyclable materials. We care about the environment and the garment industry doesn't have the best reputation, so by using this product we're not only using responsible materials but encouraging their use.
And then there's the price! We couldn't believe it when we saw how much we'd paid for it: under $65 doesn't seem possible for such a high-quality product, but there it is.
So in conclusion, this is a great product. Wherever we looked we found quality and value. Quite how they do it, we don't know, but we don't mind that they do! They'll get our sale.
Pros:
Unbelievable sale price
Well made
Great size
Pleasing proportions
Removable cover
Eco-friendly materials
Recyclable
Second hole for pants
Cons:
Shallow foam so no direct pinning
Erm, that's it!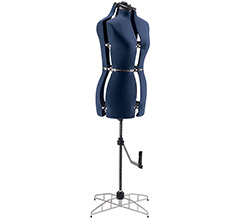 SINGER DF251 Adjustable Dress Form
Get It On Amazon
Why this Product is Best Adjustable Dress Form?
Our research report showed this form as the most adjustable of all our reviewed dress forms.
This thing has a total of thirteen (!) adjustments to provide an incredibly precise fit.
Out of all the dress forms we tested, this was by far the best in terms of fit.
Twelve dials make the changing of the dress form's dimensions really easy, it even had settings at the neck for smooth collars and neckties!
It's attention to detail like that that made it stand out for us.
Being fully adjustable, we can make pattern adjustments before cutting, making for better fittings and alterations.
This frees us up to be more creative with fabrics and see how they drape and hang on the body while you're sewing. We can really push the boat out on what we think is possible with this dress form.
Check customer reviews on Amazon
Detailed Review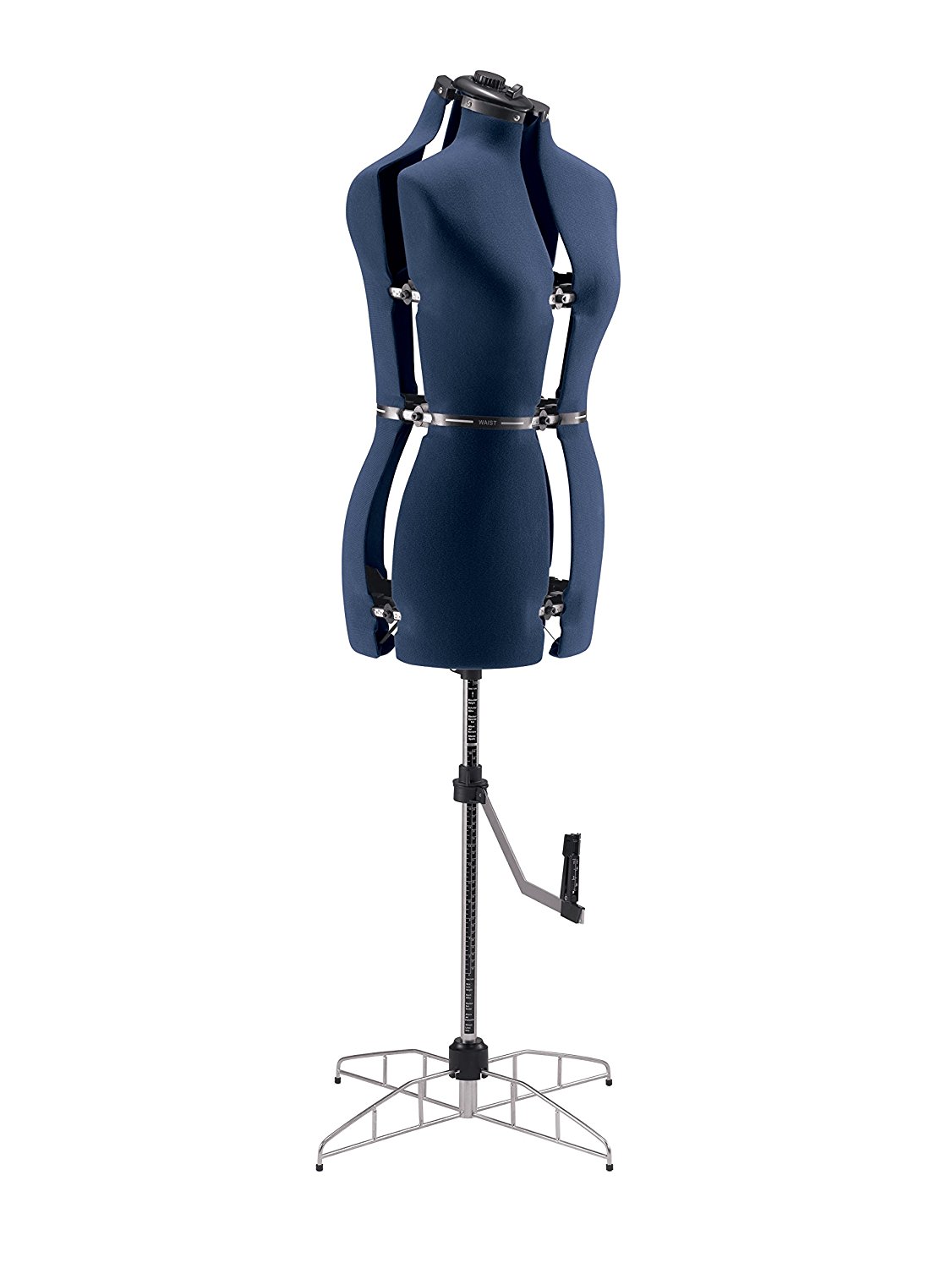 We like to do our research here and we liked what we found when we looked at the Singer DF251. It was full of smart features and great construction.
A dedicated pin cushion and key holder at the neck of the dress form was one such feature, it was just so neat!
Equally cool was the removable hem-guide, which could turn 360 degrees to give us even hems and alterations. This was a neat mini touch.
The foam is shallow, as on most adjustable dress forms, so no direct pinning here, but no matter, the foam is high quality and held all the pins we stuck in it perfectly well.
We immediately noticed the form was very lightweight when we took it out the box but it felt sturdy and well built. It fell over until we put the stand on properly, then it was as solid as a rock. Silly us.
Those with a phobia of DIY will be pleased to find the construction is mini screwdriver free!
It went together without a hitch and we were happy to find that one key is used to alter all twelve dials. It only came with one, which could be a problem if you're in the habit of putting whatever is in your hand in your pocket and going home, like some of us here are.
Overall, it's an excellent product. We loved it and enjoyed using it and secretly want one of our own to keep. This should be the best dress form for home sewers.
Pros:
Great look and color
All those dials! Adjustability to the max!
That pincushion, we love that pincushion
Best fit of all our reviewed dress forms
Lightweight
360-degree removable hem guide
No mini screwdrivers!
High-quality foam
Large range of sizes
Sturdy and well built
Good sale price
Cons:
Shallow foam can be a hindrance
Lightweight also means easy to knock over
Fell over until we realized we'd assembled it wrong. Read the manual!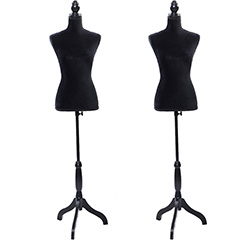 GIANTEX Female Mannequine Torso
Get It On Amazon
Why this Product is Best for Beginners?
From our exhaustive research process, we found this to be the easiest of all of the dress forms to assemble. There is a handy knob on the stand for adjusting height, taking the height between 51.2'' and 66.2'', a large range for a dress form in this class. Our researchers reported that this was a very sturdily built dress form but was also lightweight and easily moveable.
The manual was helpful and easy to read, we had the thing assembled in no time. A child could assemble it, and hopefully, some will.
All parts are numbered and specific steps are shown in clear diagrams that were easily understood. The surface material was smooth and of good quality and cleaned up very nicely. This dress form was very affordable.
Check customer reviews on Amazon
Detailed Review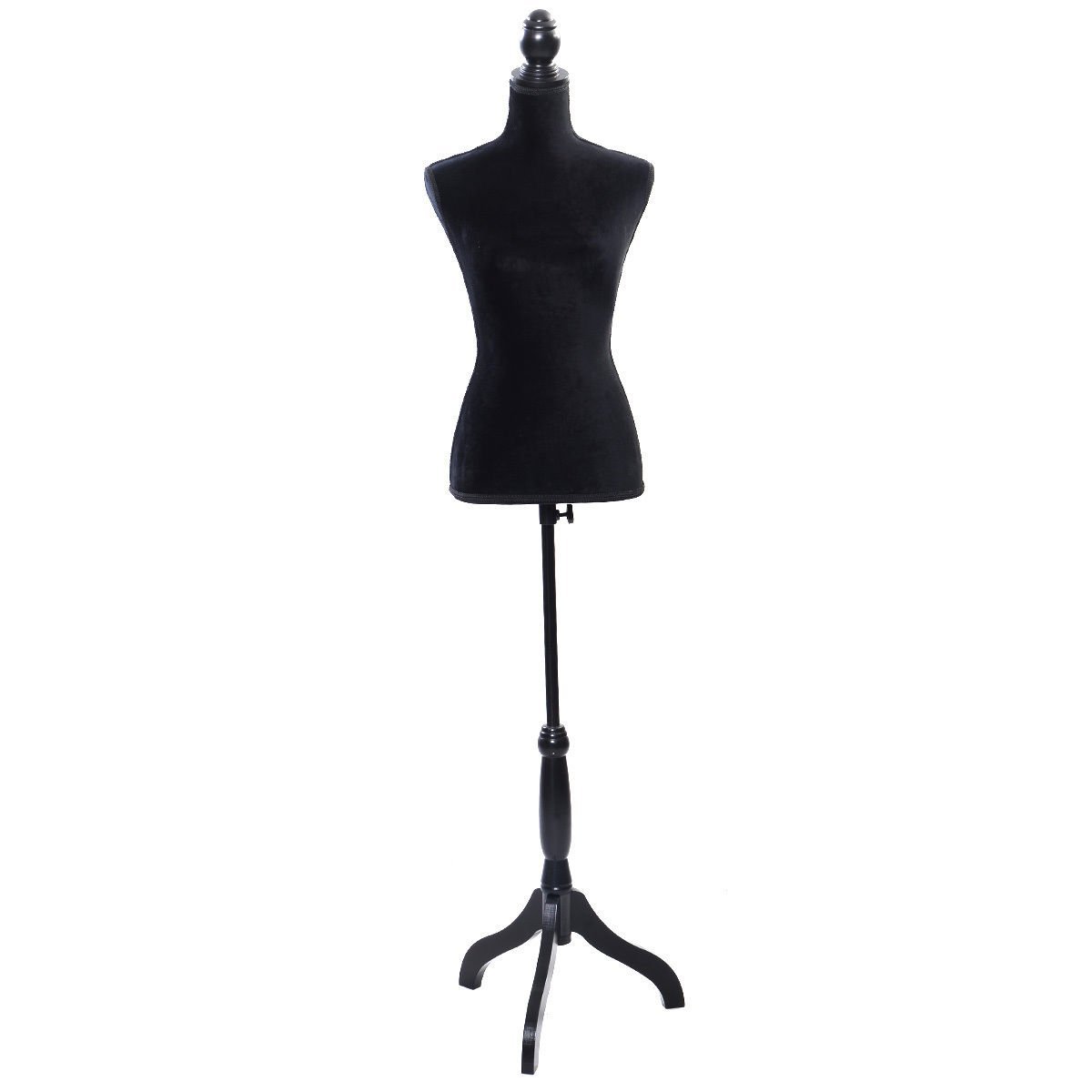 There were a number of things we thought made this an ideal dress form for beginners, the best being the price. A stand-out in its range, we struggled to find anything that competed for the same money.
Other great points about this best dress form for beginners were that the foam held pins well, the changeable material covers were all nice (there were 6 different patterns available) and could be changed easily to suit a number of different garments.
This is an all-round dress form that should cover all the bases for any serious or amateur beginner.
The wooden construction felt like it would withstand a lot of use and was light enough for travel or easy moving around the studio.
The form was eye-catching but not too much, lots of different clothing styles fitted and looked good on it.
One of the best parts for our team was the ease with which it went together. We took it out the box, followed the very clear instructions and voila! There it was, ready to use. All things you want from your first dress form.
Beginners shouldn't have to struggle with unwieldy or heavy dress forms or find their pins dropping out all the time. When we look back on what we started with here, if something like this had been around, we'd have snapped it up. For what you'll pay for it, you won't find any better.
Pros:
Very affordable sale price
Lightweight
Changeable materials
6 patterned covers available
Very adjustable
Eye-catching
Excellent instructions
Easy assembly
Good foam covering
Perfect for a beginner or mini business
Cons:
Lightweight means it will fall over more easily
Wooden base wasn't as wide as some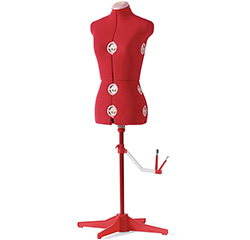 SINGER 12-Dial Adjustable Dress Form
Get It On Amazon
Why this product is Our Advanced Pick?
This is for the serious players. During our research, we found that this was rated highest for the number of advanced features available. In other words, this does everything.
It's pricey, but not unreasonably so. For something as versatile and high quality as this, you can expect to be paying some good money. Not for a child, unless they're a very special child!
It has 12 adjustment dials for getting exactly what you need out of the form.
The neck, torso, hip, waist, bust, and height all adjust over a large range. It comes with a very useful hem gauge and basting attachment. Being lightweight and rustproof, this dress form was designed for the long-haul. Unless the plus-size dress forms are made available, getting this one wouldn't be a bad choice at all.
Check customer reviews on Amazon
Detailed Review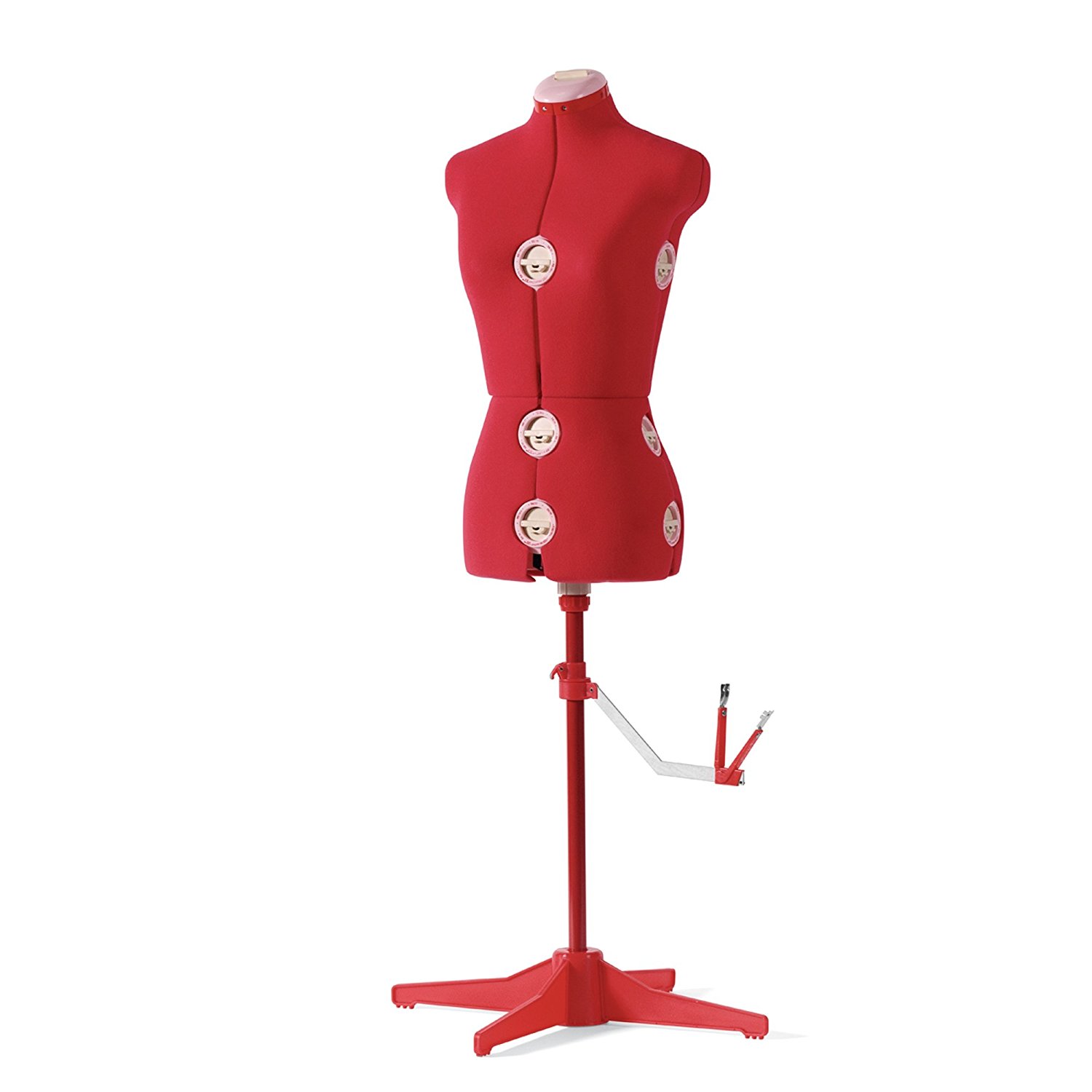 We had high hopes for the Singer 12-dial and they were fulfilled. This dress form meets the quality standards we've come to expect from Singer. The range of the bust was 39" to 45", the waist 30″ to 36-1/2", the hip 40-1/2" to 46", and the neck 13-1/2" to 18".
This was more than enough for anything we could think to put on there. It adjusted smoothly without any creaking or sticking and felt good to operate. We put it together with very little effort and were immediately impressed with the quality feel of the form.
The covering material was a lush red and high quality. The foam beneath was thick enough for our pinning applications and held very well.
This is a dress form that looks like it should last, it's very well made. The stand is strong and can take a fair beating, as well as being wide enough to stop the lightweight body toppling over. The dials all held in place without slipping and were sensitive enough to make very small adjustments, perfect for the perfectionist in all of us.
As a designers tool, we couldn't be more pleased with this dress form. It will cover so many different sizes and proportions we needn't worry about whether something will fit. Most people wouldn't use an adjustable dress form to display but in a pinch, this would do the job perfectly. It has a look of quality that's hard to beat.
This dress form will set you back more than a lot of others, but it could only be seen as a good investment. It'll keep you dressmaking, designing, altering and repairing for many years, whereas a more inferior product might have to be replaced in that time.
Pros:
High build quality
Lightweight
Very adjustable
Smooth dials
Cool color
Great materials
Quality foam
Rust resistant
Cons:
Expensive sale price
Could be too much adjustment for some
Our other 5 product reviews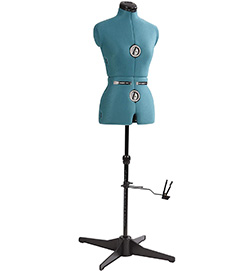 Dritz Sew You Dress Form
Get It On Amazon
For under $100, this a very fair choice. Whether it is a cheap sewing machine, an embroidery machine or a dress form, price is not always equivalent to the quality you get. It has 9 adjusting wheels at the hips, waist and bust and two auto-setting dials at the bust and waist. So it's a versatile dress form. A nice touch is a pincushion in the adjustable neck, this is always handy and stops us losing our pins quite as much. Where do they all go anyway?
The pin helm marker worked nicely, so did the height adjuster. We weren't sure about the opal coloring on the cover but it's removable and replaceable so this shouldn't be an issue.
The dimensions are: 33-40 inches bust, 26-33 inches waist, 36-42 inches hips, 15-17 inches back length, and14-17 inches neck. So it will adjust to most dimensions you could need.
This dress form felt solid and well made, the base was wide enough that we didn't knock it over. All the dials turned smoothly and could be adjusted with precision. They didn't slip or stick, always a plus.
The cover material was high quality and looks like it could withstand some use. We always like a lightweight dress form but this one didn't look like it could take a very heavy gown. When we were pinning we could only pin sideways, but that's to be expected on an adjustable form. We felt this was suited to more experienced garment workers, beginners should look elsewhere.
Pros
High range of adjustability
Good quality build
Lightweight
Smooth dial action
Pincushion in the neck
Fair sale price
Sturdy
Cons
Thin foam
Could be too expensive for some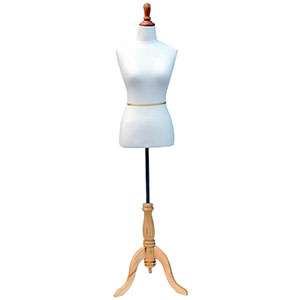 New Female Jersey Dress Form
Get It On Amazon
The base on this dress form is super snazzy, and for a lower priced product it looked and felt good. These are the dimensions: bust: 34″, waist: 26″, hips: 35″, width: 17 inches shoulder to shoulder. The height of the torso is 27.5 Inches. Combined height: 4'4″-5'10".
So it's a good, average size and a fairly neutral female body shape, not too busty. It drew the eye nicely and could hold a variety of clothes styles well.
We assembled this dress form with no problems whatsoever, the manual was good and we gave the customer service a call, just to see what they were like. They were friendly and helpful, always a good sign.
This dress form is made of fiberglass with a thin foam covering and cloth for the covering. Deeper foam would have been good for direct pinning, and as this isn't an adjustable form (apart from height), it really should have deeper foam.
It is lightweight, however, making loading in and out or shifting it around very easy. The base was a good support, it looks fabulous too.
Slightly too small to stop it toppling if you give it a good knock, but it did the job OK. It's a good price, it'll do for those on a budget.
The cover wasn't removable, as far as we could tell, and with a white color, it could soon look dirty. The finish on the wood was perfectly acceptable. We liked this product, but it didn't inspire us.
Pros
Low price
Nice form
Easy assembly
Lightweight
Cool looking base
Cons
Thin foam makes direct pinning impossible
Can topple over easily
Cover not removable
Shape might not be for some people's taste
Check Customer Reviews on Amazon!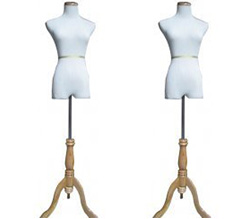 White Female Mannequin Dress Form
Get It On Amazon
With measurements of 28 Inches for the torso, a shoulder width of 14.5 inches,
bust: 35 inches, waist: 24 inches and hips of 33 inches, this is a slim woman's dress form with a big bust and enough waist to hang pants or slacks.
The base is 4.5 feet wide and is adjustable to 6 feet, so it won't topple so easily. There is a second pole to add a waist for hanging pants or slacks.
The wooden construction on the base gives it a classy look, as does the colored band around the waist.
Fiberglass construction makes it very lightweight, and the foam was suitable for whatever pinning we tried. Cloth covers the form and feels smooth and quality.
We liked its simplicity, it worked well and assembled easily out of the box.
The adjustments worked without a hitch, though they felt like they weren't as high quality as some we've reviewed. It does look good so can be used for display as well as repairs, adjustments, draping, and hanging.
We found that very heavy gowns could cause it to topple, but that's because of its lightweight construction.
A major plus is the price, it's a super, cool-looking dress form for the money. The jewelry looks especially good against this form.
Pros
Great value
Good, classy look
Nice cloth
Lightweight
Assembled easily
Second pole for pants
Cons
Shallow foam
Second pole didn't feel as good quality
Grab it now on Amazon & Land Sweet Dreams!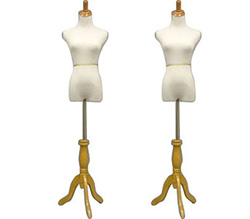 White Female Mannequin Dress & Slacks Form
Get It On Amazon
The shape on this dress form was a bit here and there, it didn't have a consistent theme to the proportions. But that's our opinion, you might like it.
It had a height with its base of 49 inches (4 foot 1 inch to 65 inches, or 5 foot 5 inches tall). The torso measured 29.6″, from mid shoulder to mid shoulder it was 14.2″, the bust measured 35″, across the waist was 26″, the hips came to 34″ and the size of the base measured 17.6″ by 14.6″.
That is a huge bust to waist ratio. But it might do the job.
The foam was thin, so no direct pinning here, and the body was a lightweight fiberglass so can topple over.
On the other hand, it can be transported easily and the white fabric cover looks good against the wooden frame and neck-end.
The height adjusted with no problems, though it did feel a little rickety. The second pole included allows for slacks and pants to be fitted along with your tops, which is very helpful for seeing how a whole set of clothes can look.
This dress form came cheap, we like that.The manual worked well, no problems there.
The pole was removable, so we took the form off and it looked good around our studio. It balanced OK on its own. The base was made of durable wood and can take a kicking, though it could be too small for some heavy-handed or absent-minded folks.
It did fine in our studio.
We liked that the cover came off, a must with white dress forms. Fingers leave residues that show up easily against the white.
Pros
Cheap
White and wood looks classy
Removable second pole for pants and slacks
Removable and washable cover
Adjustable height
Lightweight
Cons
Wobbly on its feet sometimes
Thin foam prevents direct pinning
Odd shape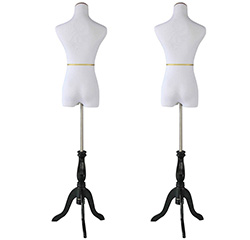 White Female Dress Form on Black tripod
Get It On Amazon
Another low priced but good looking dress form, this has a short body (torso height: 27″. shoulder to shoulder width: 14″ bust: 35″ waist: 24″. hips 33″).
Unfortunately, it has a thin layer of foam, so where direct pinning would have been useful for heavier garments, only side pinning was possible.
Straight out of the box it assembled easily and the manual offered a good set of instructions. The gold belt might be a bit bling for some but is easily removed.
The neck cover comes off, as does the main body covering, making swapping them out or washing them really hassle-free.
Some of the screws in the base weren't threading properly but they held ok. The black wooden base did look very cool with the white body.
Made of fiberglass, it is a dress form that could be lifted by a child and pushed over by an adult. It's a trade-off between ease of transport and stability, and this dress form meets fairly well in the middle.
It looks good to us, the body is a traditionally desirable female form that will suit a lot of dressings or hangings.
This dress form had an odd smell but it went away. It was probably the packaging, the form itself smelled fine after a day or two.
The price was very good, it's not a major investment but it was well made overall and functional. In fact, it won't be a bad choice even if you're just starting your own embroidery business.
Pros:
Well priced
Big bust
Easy assembly
Good instructions
Removable covers
Cool white body
Black wooden stand looks great
Lightweight
Cons
Thin foam, won't pin as well as thicker foam
Screws weren't fitted properly on the base
Odd smell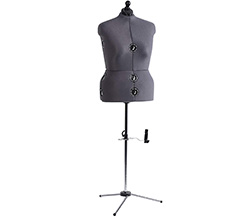 Dritz Twin-Fit Dress Form, Full Figure
Get It On Amazon
The Dritz Twin Fit dress form is an ideal for your garment construction, you can easily use this dress form for alteration or DIY for designing dresses. It has all the features you need in a dress form model such as changeability and a sturdy stand but as a bonus it comes in sizes that will accommodate a range of body types.
In our research this is the only model from Dritz that has the broadest range of sizes that can help you design any dress size according to your need. As this dress form comes typically in petite, small, medium and large as well it comes in full figure size. Due to variable sizes you can now get professional-fitting results from your home. So, without any hesitation take measurements of your body and select the different range of dress form with adjustments that best suits your body size.
You can easily adjust the size of this dress form just by pressing and turning its twelve auto-set dials. For this particular model (full figure size) you can adjust the form by 48 to 54 inches for bust, 41 to 47 inches for waist and, 51 to 57 inches for hip. Beside that you can also adjust the size of back waist length by 7 to 19 inches and by more than 15 inches for neck.
For easy pinning and marking, the form is covered with foam-backed nylon cover as well as cushion on the neck and for accurate marking it has pin hem marker on it. It comes in neutral and sophisticated grey color with the base that can be folded for simple storage.
The price of this dress form is higher than most of the product in our list but if you compare to our advanced pick it is much affordable. With 12 auto-set adjustable dials just like our advanced pick will make a good gift for any seamstresses.
Pros:
As a professional dress form it is not expensive
12 dials for adjustable sizes
Due soft covering it is easy to soft
Stand is stable than other dress form
Cons
Sizes on the dial slightly off comparing to actual measurement with tape
List of other products we tested
Some Tips on Usage and Maintenance
Wash the covers regularly, they'll fill up with your finger grease and dust and become grimy. Keep them out of direct sunlight if possible. Keep a pin cushion if there isn't one on the form, you can wear them out with putting your spare pins in the same place all the time.
Make sure you screw the bases in fully to stop them from wobbling or toppling over. If your dress form is adjustable, keep the dials lubricated with whatever the manufacturer recommends.
Don't put them where people will stumble into them, or be surprised in the night by a limbless torso.
Wrapping Up
There's a lot to consider in your choice of dress form. To adjust or not to adjust, that is the question! If you just want a simple dress form, there are loads to choose from. What body type will you be designing for?
Things like waist, bust, hip and shoulder size and proportions can make a big difference to how your clothes hang, so give it some thought. Another thing to keep in mind is the price. You can spend a lot of money on a dress form, but is it worth it if you're only doing it for fun?
Would you be frustrated by the thin foam on an adjustable form? Do you need wheels on the feet or would you like a wooden stand? Plenty to think on. Good luck with your choice, we hope you've enjoyed our guide and check out the rest of the site for more of the same. And if you don't have the budget or wish to buy, you can even make your own dress form!
ADD_THIS_TEXT