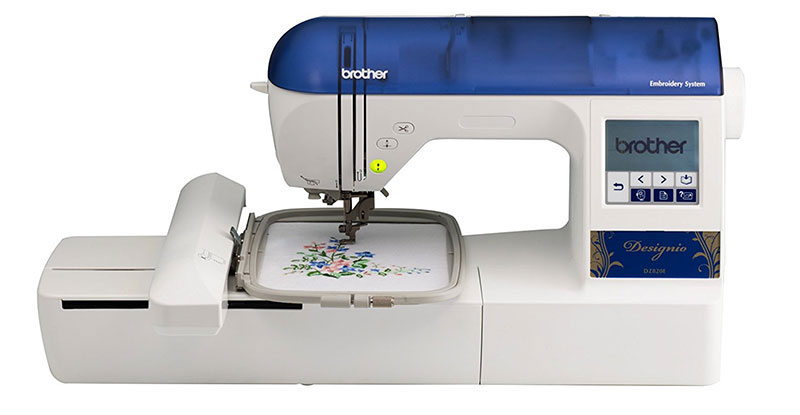 Brother DZ820E
Built in design (136)
9.9/10
frame pattern (120) & lettering font (6)
9.0/10
Embroidery field and hoop sizes
9.0/10
Memory & Computer connectivity
9.3/10
Easy control features
9.0/10
Pros
Wide embroidery area
Convenient maintenance
Touchscreen LCD display
Automatic needle threading
PC connectivity
Well-lit workspace
Smart appearance
Cons
Complex functionality
Requires continuous power supply
Requires good quality threads
Nowadays, technology has taken over every aspect of our lives. Just a few years back, we used to use manual sewing machines but today we can complete our work with ease using advanced monogramming and embroidery machines. Modern embroidery only machines, like the Brother Designio Series DZ820E Embroidery Only Machine, do not require full-time labor. You can conveniently use it on your own to carve out any sort of embroidery you want. Brother DZ820 E Embroidery Only Machine is one of the best embroidery machines presently available on the market and possesses a variety of high-end properties and features.
Includes/Accessories
Brother DZ820E Embroidery Only Machine includes a variety of accessories along with the main product, including:
A High-Quality Dust Cover
An Embroidery Starter Kit
A Variety of Embroidery Hoops, Including 2.5″X1″, 4″X4″ and 5″X7″ Sizes
A CD Containing 200 Unique Embroidery Designs
Scissors
Embroidery Bobbin Thread
Spool Cap
Spool Net
Small and Large Screwdrivers
Needle Set
Cleaning Brush
Seam Ripper
Spanish/English Operation Manual
Power Cord
Embroidery Foot Q
Key Features
Brother DZ820E Embroidery Only Machine review cannot be completed without throwing some light on the key features of this product. Some of these features are discussed below.
Wide Embroidery Area
This embroidery only machine features a wide embroidery area of 4" by 4". You can use this spacious area to make different embroidery combinations in a convenient fashion.
PC Connectivity
It comes with the PC connectivity feature which allows you to do a bunch of cool stuff, including importing various embroidery designs to it. You can get numerous designs browsing the internet.
Touchscreen LCD
Now you never have to worry about how a design would look like in the end. Brother DZ820 E  features an LCD touchscreen, enabling you to have a look at the design before you start using it.
Well-Lit Workspace
If you compare different embroidery machines, you would be pleased to know that this embroidery only machine comes with a well-lit workspace which cuts off the need for using task lights.
Easy to Operate
Unlike the older models of embroidery machines, you can use the Brother DZ820 E to conveniently do all your embroidery jobs without facing any complexity.
Embroidery Starter Kit
It comes with a handy embroidery starter kit which allows you to start working with any kind of designs immediately. It includes 3 medium weighing sheets stabilizers along with 3 embroidery thread spools.
Automatic Needle Threader and Smooth Fabric Feeding
The days of worrying about putting a lot of effort to work on an embroidery designing project are over. Using this model you can enjoy working worry-free, as it features a lot of high-end features, like needle threader and smooth fabric feeding. Its automatic needle threader allows you to carry out needle threading easily while the smooth fabric feeding feature provides you an experience that knocks out the chances of fabric getting snugged.
Product Maintenance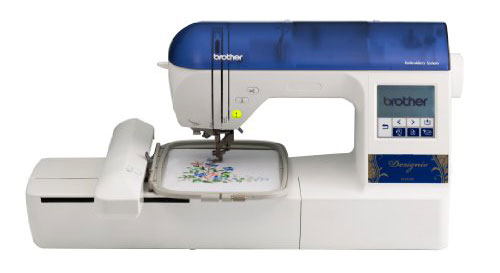 Correct operation and maintenance of the Brother Designio Series DZ820E Embroidery Only Machine is very important but you do not need to worry about anything, as a maintenance guide is also included within this Product's manual. It includes all the information you may require in order to maintain and operate your embroidery machine in the right way. A few main points that must be kept in mind while operating this embroidery machine include making use of the best quality thread, making sure that the needle does not get broken or damaged, and keeping a view at the overall functionality of the machine.
Replacement Parts Availability
Electronic products are highly unpredictable. That's why it can never be guaranteed that every part of an electronic item will stay put for a definite amount of time. In case a part of the machine gets damaged, you can conveniently buy a replacement part visiting an online shop.
Pros
It comes with a wide embroidery area
Easy to use
Touchscreen LCD and a backlight
Automatic needle threading
PC connectivity
Well-lit workspace
Attractive and smart appearance
Convenient maintenance
Requires fewer resources and time to complete an embroidery job
Higher performance, thus higher profitability
Cons
Its functionality may seem to be a bit complex for new users
Requires continuous supply of power which may slow down the work in the event of power failure.
Requires good quality threads to work risk-free
A lot of electronic parts, thus greater probability of one getting damaged
Ease of Use
One of the best things about the Brother Designio Series DZ820E Embroidery Only Machine is that it features PC connectivity which allows you to import as many embroidery designs as you want. This allows you to operate it easily without relying upon the designing solely on your own skills. Moreover, there is no requirement to use a foot controller, as you can conveniently control the sewing speed using the "Start" and "Stop" switches as well as the "Push" button. Its work area is pretty spacious and well-lit, which also add up to the ease you experience while working on this modern piece of technology.
Using this amazing embroidery only machine from Brother, it is highly convenient to go through the attachment of the embroidery hoop with its embroidery unit. It won't be wrong to say that the manufacturers have done a pretty fine job in simplifying such a complex technological piece into something this easy to operate.
Brother Designio Series DZ820E Embroidery Only Machine also makes it very convenient to select the design patterns, as it features a backlit touchscreen LCD display. It also makes suggestions about which thread color would look better in the present scenario. Brother DZ820E also features the ability to make pattern adjustments in its layout settings. You can also use the "Size" menu in order to change the pattern sizes. This embroidery only machine holds no limit when it comes to customization of designs.
My Verdict
According to what I have judged from the functionalities and features provided by the Brother DZ820E Embroidery Only Machine, it may be said that it is a fine piece of technology which allows you to perform complicated embroidery jobs in a way that you have never seen before. If you are new in the field of embroidery, this machine can prove to be a lifesaver for you, as it allows you to do highly complex tasks with great ease and convenience. This embroidery only machine is available in exchange for a nominal amount of money while the reviews all over the internet are very positive and appreciating. All these points make the Embroidery Only Machine to be the best choice if you are looking to buy the best embroidery machine.
Warranty
It comes with a limited warranty period of 25 years. A warranty card is also included in the packaging. It states the starting and expiry dates of the warranty along with a few details about the buyer as well as the selling store owner. In case of a limited functionality issue in the working of the machine, the warranty can be claimed. The manufacturer holds the responsibility of fixing these issues and returning you the machine after carrying out the required troubleshooting. There are different service centers established in some major cities all over the world. These centers can be contacted if you are willing to claim the warranty for your Brother  DZ820 E Embroidery Only Machine.
Value for Money – Does It Worth It?
This review on the Brother Designio Series DZ820E Embroidery Only Machine is incomplete without letting you know if the machine is worth its value or not. In my opinion, the machine is totally worth it. If you take a thorough look at the features as well as the functionality provided by the machine, it may be concluded that the money you pay is quite reasonable in exchange of getting such a high-quality piece of technology. If you are going through different embroidery machine reviews and are planning on going for an old-style mechanical embroidery machine, think again! Those kinds of machines require a lot of hard work and a high level of expertise. On the other hand, Brother  DZ820E Embroidery Only Machine can be operated conveniently even by someone who is new in the field of embroidery.
Final Thoughts
Keeping in view all the details about the Brother Designio Series DZ820E Embroidery Only Machine., it may be stated that it is a good embroidery machine providing you with a lot of features that seemed to be almost impossible a few years back. It comes at a nominal price while it has the ability to pay its price back within a short amount of time in the form of profit. Therefore, if you are thinking about buying an embroidery only machine, buying this machine would be the most appropriate and profitable choice.