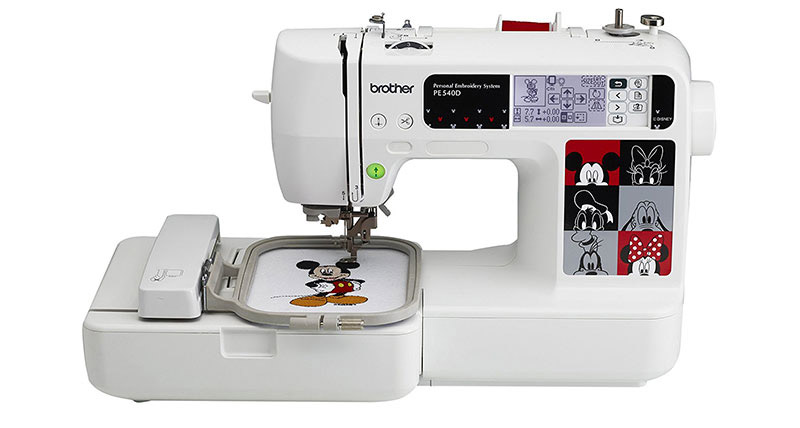 Brother PE540D
Built-in Designs (70)
8.0/10
Disney design (35) & lettering font (5)
8.8/10
Embroidery field and hoop size
8.5/10
Easy control features
9.0/10
Memory & Computer Connectivity
9.3/10
Pros
Versatile
Fast
Precise built-in tutorials
LCD screen monitor
Useful accessories
Cons
Power Rating Adjustment
Inbuilt Embroidery Design
Brother PE540D 4×4 Embroidery Machine with 70 Built-in Decorative Designs is an excellent embroidery machine that has been attracting customers from all corners of the world since its inception. This can be attributed to the infinite list of advantages that the product comes with. In particular, it features a complete list of 70 built-in embroidery designs. Users have a chance to choose their preferred embroidery designs depending on what they want to design or come up with. Many customers are sure to be attracted when they will see the 30 plus Disney embroidery designs that come with this top embroidery machine. Here our Brother PE540D Embroidery Machine review starts with the accessories provided with the machine.
Accessories
When you buy this embroidery machine from the right source, you will find that it contains important accessories which are really helpful. In particular, this brand-new product features a long list of inclusions that are aimed at enhancing the user experience. Based on this, you have to try by all means to buy the product from the right sources. Thus, the accessories you will get are:
USB cable
Foot controller
4×4 embroidery hoop
Needle set
Bobbins
Bobbin thread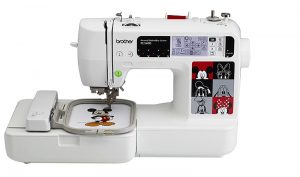 Key Features
This quality embroidery machine comes with a long list of features that are highlighted below:
120 combinations of the frame pattern
Availability of a wide range of framing patterns help get the flexibility needed for embroidering.
USB port
Its USB port for computer connectivity enables you to choose different custom-made designs and input these easily into the machine for getting desired results.
70 built-in embroidery designs
Brother PE540D 4×4 Embroidery Machine comes with 70 built-in embroidery designs. Users have a chance to single out a design that suits their preferences. There are over 30 Disney embroidery designs to choose from. These designs feature a number of marvelous and stunning attributes which make them suitable for use.
Touchscreen LCD display
It has a highly responsive touchscreen. This feature has made this embroidery machine simpler to use. Now you can operate the machine and choose a particular design effortlessly.
Five embroidery lettering fonts to choose from
These fonts give you a chance to easily single out your desired embroidery font. This feature is accompanied by the 120 combinations of frame patterns.
120 combinations of frame patterns
Every user is entitled to using 120 combinations of frame patterns. It enables users to come up with an infinite number of pattern combinations, thus increasing the versatility of the product.
Tutorials
If you are opening the embroidery machine for the first time, you can take advantages of the built-in tutorials that come with this Brother PE540D Embroidery Machine. These tutorials contain important information on how to operate the machine, its major features and several other attributes that are associated with the product.
4″x4″ embroidery area
This spacious area gives you an optimum space for working properly. This feature also ensures that every user has a chance to come with a wide range of designs without any limitations.
USB cable
This quality Brother embroidery machine has a USB cable which users can rely on if they want to transfer information from a computer to the machine. Updating of the machine software is also made possible by the presence of the USB cable. New programs can be incorporated and old ones can be updated using the internet or direct connection from the computer.
Foot controller
In order to make life easier for every user, it comes with a foot controller that makes it easy to control the operations of the machine. Thus, users can have complete control over the product. Its foot controller is quite responsive and amazingly accurate, thus making the machine quite convenient to use.
Product Maintenance
Maintenance of this embroidery machine involves the use of lubricating oil for the movable parts, cleaning the movable parts and covering the machine when it is not in use. Most parts of this machine you have to clean are the bobbins, needles and the screen.
Replacement Parts Availability
Brother PE540D 4×4 Embroidery Machine's replacement parts are readily available in the market. However, online stores are the best sources of replacement parts, especially for bobbin, needles, screens, and buttons.
Pros
It comes with a 25-year user warranty: Users have a chance to enjoy over 20 years of a fully functional, versatile and highly efficient embroidery machine.
70 built-in embroidery designs: 70 built-in designs are available with it, making it easy for users to choose their preferred embroidery designs.
35 Disney Mickey Mouse embroidery designs: There are over 30 Disney Mickey Mouse decorative designs that every user can choose from depending on their preferences.
Easy-to-view LCD screen monitor: A very clear LCD monitor is available to enable users to view their designs and ensure optimum quality during the operations of the machine.
Precise built-in tutorials: For those who want to learn how to use the machine, there are tutorials which are available with it.
Useful accessories: These features come with a complete list of accessories that every user would find worth having, including a USB cable, tutorials, user manual, foot controller, LCD display and a comprehensive collection of buttons for its operation.
Versatility: It is quite versatile, thanks to the numerous built-in embroidery designs, the long list of importable embroidery designs and the large embroidery area.
Fast: Brother PE540D Embroidery Machine probably is one of the fastest embroidery machines available in the market today because of its unique foot controller and sophisticated mechanism.
Update software i9s easy: Once the need to update the machine's software arises, you can conveniently update it using a computer. A USB cable is available to enable users to establish a connection between the machine and the computer.
Built-in memory: The machine features an in-built memory that is large enough to accommodate most of the imported embroidery designs. You can also store old designs for future reference as often as you wish provided the space on the memory allows you to.
Importation of your own designs is possible; you can import your preferred list of decorative designs from the internet as often as the need arises using the connection cable from the machine to the PC. The imported designs can then be stored on the machine's large in-built memory
Cons
Brother PE540D Embroidery Machine has got very few disadvantages that are associated with the product. This explains why it is somewhat difficult to single out the bad spots that come with the product. When you start work with this machine, there has a little possibility that you going to face following problems.
Power Rating Adjustment: If you are a person form those countries that do not support the 110V AC power rating, you need an extra adapter to abject the power rating.
Inbuilt Embroidery Design: Another important point worth noting is the fact that the set of inbuilt embroidery designs may not possess the features that you are looking for. You will have to go to the internet and purchase more designs from the official makers of the machine.
Ease of Use
Using the machine is quite simple and straightforward. You have to take advantage of the user manual in order to get the right guidance on how to use it. The presence of the foot controller also makes the machine quite easy to use since users can conveniently and effortlessly control the movement of the needle. If you want to import new embroidery designs, you can take advantage of the machine's computer connection which enables users to import new embroidery designs as often as the need arises.
My Verdict
According to me, the product should be rated at 4.2 out of 5 stars. This is mainly due to the few varieties of embroidery designs that the machine comes with. Otherwise, it would have been rated 4.8 or even 5 stars. If I compare embroidery machines or read reliable reviews on brother sewing machines, I can easily see that this machine is quite unique.
Warranty Details
If you own the original embroidery machine you will be entitled to imported designs from the manufacturer's website. You will also be given a chance to buy new designs as often as they have been made available to the members of the general public. Based on the manufacturer's comment on Amazon, the product comes with a warranty of 25 years.
Value for Money
My friend has got one of these machines. Last time I used this machine and found that this machine is so fun to use. I asked her about the price and you won't believe that the price shocked me. I was wondering that how come this excellent machine with excellent features is available at such a good price range. I must say that this product really worth the price you will be paying for.
Final Thoughts
Any reliable Brother PE540D Embroidery Machine review would reveal that this is a user-friendly embroidery machine; it is quite safe to use and does not require a user to input sophisticated user commands to make it work. I personally find it worth using and I can pick it on any day.