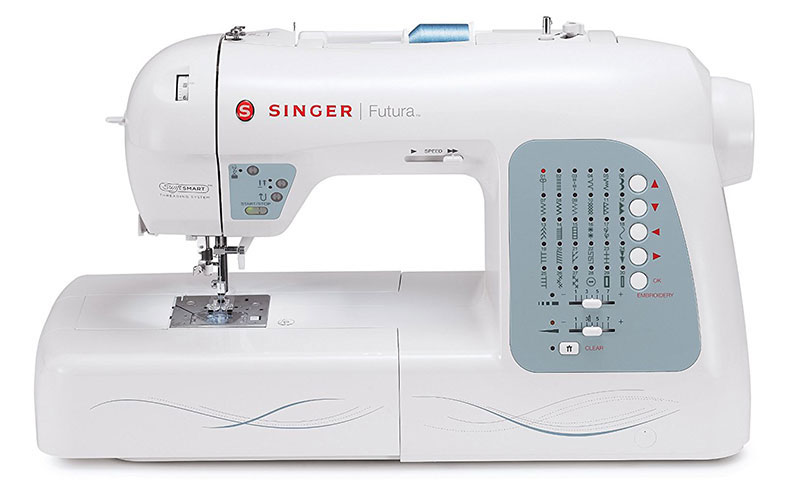 SINGER Futura XL-400
Built-in stitches (30)
6.5/10
Built-in embroidery designs (120)
8.8/10
Memory and Computer Connectivity
9.0/10
Easy control features
8.5/10
Automatic & advanced features
8.8/10
Buttonholes (2-step)
8.0/10
Pros
Computerized
Standard-sized needles
Extra Large Sewing Space
Swift Smart Threading System
Cons
Partly functional threader
Small undesirable jerking
Complex bobbin threading
A few months ago, I was planning to buy a sufficiently high-standard embroidery and sewing machine. This was when this SINGER Futura XL-400 caught my attention. It was loaded with features and most of those were what I was looking for.  So, even though there were few negative reviews on this SINGER Futura XL-400 embroidery and sewing machine, I still decided to go for it. This was also the cheapest model providing these features when others were clearly overpriced.
Include/Accessories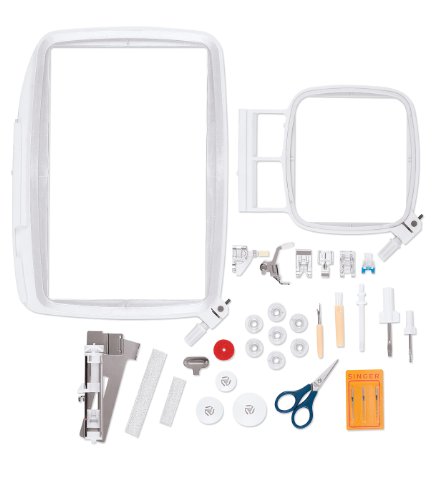 SINGER Futura XL-400's package is well fabricated with all the accessories you need for a more enjoyable user experience. Some of the accessories provided are:
Two embroidery hoops
A pack of needles
USB cable
Bobbins
SINGER Futura XL-400 user manual
A CD containing software
Button sewing foot
Thread spool caps
Key features
Big embroidery area

One useful feature of the SINGER Futura XL-400 is that it has a big embroidery area. It is about 10 inches by 6 inches which can be expanded by multi-hooping and after adjusting a few alignments associated with the hoop.

Wide variety of designs

Its small and large hoops provide over 250 designs.

Easy alignments

The alignment option provided with this machine allows you to shift the design or embroidery work to a new area on the fabric, thus saving time spent on re-hooping. This feature proves to be one of the unique benefits gained for a good eight hundred dollars paid.
Product Maintenance
The customer service of Singer was very poor with many of my calls and emails left unattended. It is as if they are not responsible for their products. So, the product maintenance was not at all satisfactory. For avoiding such damages to your machine it is advisable that you check some tutorials on the singer Futura xl 400 website.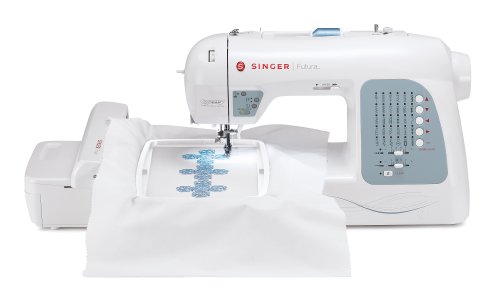 Replacement parts availability
All parts of this embroidery and sewing machine are available for purchase on the manufacturing company's website. Some parts, like the needles, are easily interchangeable with other machines. But in case of other parts, it is advisable that you purchase them from that website. Otherwise, they may cause problems in the future.
Pros
Harp throat or work space

Unlike my previous sewing machine, the SINGER Futura XL-400 features a harp throat for large projects. So I can now sew all shirts and sheets with relative ease. Another important feature that may be new to you is the speed controller. The speed of this embroidery and sewing machine can be regulated by you.

Standard-sized needles are used

The needles of this machine are of standard sizes and shapes. So I can easily interchange them with those of my old machines. It also features an easy threading system which will reduce the hassle of performing this task yourself.

These are the plus points that I could think of while writing this SINGER Futura XL-400 review, a relatively cheaper product in its class of embroidery and sewing machine available in the market. Now let me mention some cons of it.
Cons
Partly functional threader

The threader provided for this machine is only partly functional; i.e., it is very difficult to use and works only fifty percent of the time. After getting irritated with these threaders a few times, I finally started inserting the thread manually which seemed a lot easier.

Small undesirable jerking

Another problem I encountered was the jerking of the machine while under high speeds. Almost every SINGER Futura XL-400 review had this problem stated. This jerking stops when the speed is reduced to almost one-fourth of the maximum. But this slows down my work. One of the plus points of singer xl-400 is its speed controlling system. It is very useful if used properly. Anyway, this feature helps to considerably reduce the loud and clank sounds and the jerking accompanied with high speeds.

The persistent problem of bobbin threads

A major issue frequently mentioned in the SINGER Futura XL-400 reviews is the improper handling of top and bobbin threads. The machine stops when the top thread breaks but fails to do so in case of breakage or completion of bobbin thread. As I mentioned earlier the looks of the machine are quite impressive but this is not the case when it comes to the build quality. Some parts literally came off after just a few weeks. Most of these parts were also not possible to be glued in position because of its functions. The occasional jamming of the thread and the needle with the bobbin case is also another persistent issue. This may be due to the rotation of the case which even ruined some of my embroidery works.

Tension loss in the thread

There is also an occasional lose of tension in the thread. This issue developed after a few days from the first use. So I tried rethreading the whole machine. But still the problem persists. This problem occurs intermittently for a few hundred stitches and then returns back to being correct again. But while doing embroidery works we know that this small defect is enough to make the whole work a disaster.
Ease of use
When I first got this machine, I was naturally really anxious to give it a try. Frankly, I had great expectations which started fading away just a few minutes after unboxing. The machine itself was really heavy when compared by my previous one. So, it would be advisable to keep it on an iron or wooden table of sufficient strength for safety. It has satisfactory looks for a sewing and embroidery machine that may be considered as a plus point. Even though this cannot be stated as the best embroidery machine available in the market it also has its own advantages and disadvantages.
So the first thing we must do to operate this machine for the first time, is to setup the computer software. The software is to be installed in the computer that is connected to this machine. This installation and setup process took about thirty minutes of my time. So this was a really annoying task.
Next, I decided to check out the hoops provided along with these. These were extremely delicate or in other words weak, which of course is undesirable. The hoops of my previous machine were a lot stronger and can sustain a sufficiently large impact without any kind of deformations. This is a huge disadvantage that I found unavoidable when writing this SINGER futura XL-400 review. Embroidery works which is the main purpose for which we customers have bought this machine is made almost impossible due to these useless oops. They were unable to hold the fabric in position, which was really irritating. This monogramming machine provided the basting feature by which the whole design work is outlined by a basting stitch. I employed this feature at the end of each color to see movement in each step and the results where catastrophic. All this shows how poorly engineered this machine is how this has the worst embroidery feature. So it surely is not the best embroidery sewing machine at eight hundred dollars cash.
Later, I found out that this problem does not affect us if we require only single color and normal stitching. But the multicolor stitching which most of us would need is almost impossible to accomplish with this machine. I picked this product despite many negative reviews. I felt these reviews on embroidery machines were not mostly from professionals and considered them as irrelevant.
My verdict
So, in my honest opinion this product seemed a bit disappointing for the money being paid. It suffers serious issues due to lack of good engineering. This is why this product, SINGER futura XL-400 has a lot of negative reviews on the internet. There are imperfections in most of the features provided even though some new additions prove to be really helpful. I am also frustrated with the customer service provided. So as a whole i would not recommend buying this product if you are expecting a quality product for serious works.
Warranty details
The warranty covers various parts of the machine. But they vary in the time or warranty period. Warranty is only applicable for manufacturing defects and not for the damages caused by the customers.
The sewing machine head has a warranty period of 25 years
For motor, speed regulator, wiring and similar electronic components, warranty period is roughly 5 years.
Other equipments like belts posses 1 year limited warranty.
Value for money – Does it worth it?
Even though we pay a considerable amount of money on this product many features are not provided which would have, in my opinion, gifted the customers a more satisfactory experience. One of these features is the auto thread cutting feature. This small feature could have been incorporated without much extra cost as this machine already has working software for its functioning. Another feature is the LCD display which can now be seen in machines not costing half the price. This is a huge drawback considering the fact that, today LCD displays are so cheap and could have easily been incorporated. Instead, LEDs are provided which are so hard to understand and interpret. So, in my opinion this product is a waste of money due to the numerous features left unperfected and some left unattended.
Final thoughts
In the long run, this machine proves to be decent choice for small or average work. But this is certainly not the best embroidery sewing machine, for this price range. Even though some reviews of the SINGER futura XL-400 are positive ones you need not blindly go for it. It is advisable that you compare all the embroidery machines presently available before making a choice. As most of these embroidery machine reviews may not be legitimate, you should also do a slight research through various websites and blogs so as to make the right choice. Thus, the overall experience was quite disappointing in my case and a definite waste of money. So, if you are really willing to buy SINGER futura XL-400, be sure to read maximum number of reviews along with a small research on the internet on the various other options.