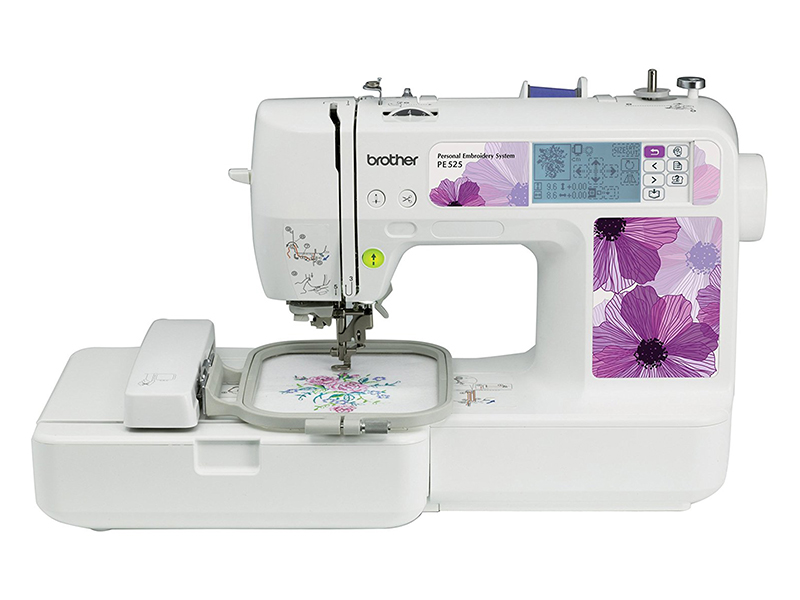 Brother PE525 Embroidery Machine
Built-in Designs (70)
6.9/10
frame pattern combination (120) & lettering font (5)
8.8/10
Embroidery field and hoop size
8.3/10
Built-in memory and PC connectivity
9.0/10
Easy control features
8.5/10
Automatic Features
7.0/10
Pros
Easy and quick stitching
Up to date sodtware
Computer connectivity
Automatic Needle Threader
Perfect embroidery area
Cons
Prone to hardware damages
Heavy
Relatively complex operation
I am going to write a thorough and detailed Brother PE525 Embroidery Machine review that you might be interested in. Today's age is the age of technology and it has impacted all possible spheres of life, including the operation of sewing and embroidery machines. Nowadays, electronic embroidery machines are way more popular and sought after machines than mechanical embroidery machines. Electronic sewing machines generally produce higher quality designs and are also available in the market at reasonable rates. The Brother PE525 Embroidery machine is one of the notable electronic machines on the market. It has more software updates compared to its predecessor model. It is a computerized embroidery machine.
Accessories/services that come with the machine
Some of the significant accessories/services that come with the machine also are:
An embroidery starter kit. This will help you start designing in no time. It is beneficial for both professionals and beginners.
The starter kit consists three of sheet stabilizers (of medium weight) and three spools of embroidery threads.
There is a multitude of built-in designs for you to choose from; 70 designs to be exact.
There are up to one hundred and twenty frame patterns available as well.
Other than that, there are also five built-in lettering fonts.
Moreover, users of the embroidery machine can receive technical supports form experts (free of cost) under a provision that comes with the machine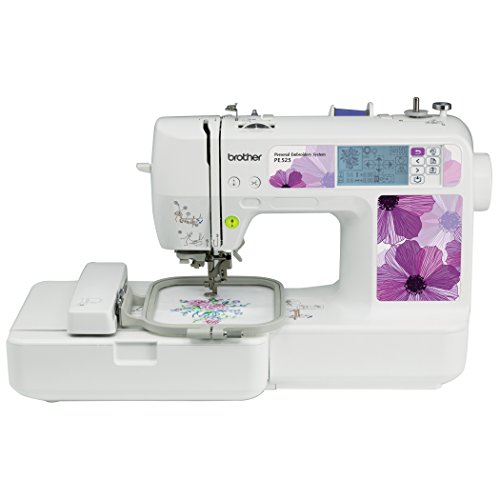 Key Features
Now let's review the key features of the Brother PE525 Embroidery Machine. They are as follows:
One key feature that cannot be neglected is the well-illuminated workspace. Additional lights will not be necessary while working on the machine. The machine has built-in lights that make every part of the machine sufficiently visible. The lighting is especially strong in one of the sensitive and crucial areas that are the needle area. Therefore, turning and moving your piece of cloth will not be an issue.
The LCD touch screen allows you to easily select designs, modify designs, and access help and support.
Moreover, the needle threader of the device is automated which prevents your eyes from getting strained.
One unique feature that the embroidery machine possesses is that it gives you the ability to rotate designs by up to 90 degrees. It also gives you the option to combine various designs.
Furthermore, its rate of stitching is quite fast. It is around 400 stitches per minute.
Another important feature is that it is a monogramming machine.
Maintenance of the machine
Maintenance is always an issue for devices especially electronic ones. The instruction manual of the Brother PE525 Embroidery Machine also comes with a maintenance guide where users can review the working of their machine. It has all the information and details that can be valuable to users for maintaining the machine. One of the most important maintenance tips is to only use good quality threads for the purpose of weaving. Other than that, make sure that the needle being used is not damaged. Damaged needles should be changed immediately. Furthermore, if you notice that the device is not working normally and you are feeling that there might be some internal defects, then you should immediately get the device checked by experts.
Availability of replacement parts
The Brother PE 525 embroidery machine is one the most popular embroidery machines of the Brother brand. Hence, Replacements parts are relatively easily available in hardware stores and also on the internet. The best website on the internet for searching for replacement parts is the machine's official website itself.
Pros
There are various advantages that the embroidery machine provides:
It is electronic as opposed to mechanical. This means that the process of weaving and stitching both easy and quick. Hence, it also has a higher efficiency, productivity and effectiveness compared to mechanical embroidery machines.
Moreover, there are numerous websites online from which you can purchase this embroidery machine. This has simplified the whole process of buying the product to a large extent. Nowadays, almost everyone has access to a stable internet connection. Hence, almost everyone can avail this benefit and save their time and effort by not going all the way to the store.
It has the ability to connect to a computer using a USB port. This is a useful feature as you can easily transfer designs from your computer (or the internet) to the sewing machine.
For troubleshooting and a guide on how to operate the machine, a user manual is also provided with the machine.
There is also a large warranty period of 25 years available for the machine (for a limited period of time).
Cons
This Brother PE525 Embroidery Machine review cannot be complete without mentioning its disadvantages as well:
First of all, having a large variety of features has the potential to be a negative feature as well. It is possible that user gets confused by the complexity of the machine and is thus not able to operate it properly or make full use of its capabilities. This disadvantage is not a small one and certainly cannot be neglected. It can make a good device seem bad.
Moreover, electronic devices are always prone to hardware damages. The life of electronic parts is not very high of they are not handled properly. You need to be very careful when there is some source of water near the machine because water can damage it completely.
Moreover, the machine weighs almost twenty pounds which means that it is relatively heavy. That makes it less portable and more difficult to carry around from one place to another.
Ease of use
There are also many factors that must be taken into review regarding the usability of the Brother PE525 Embroidery Machine. The 4-inch by 4-inch sewing area is sufficient for home sewers (most of the time). This makes it one of the best home embroidery machine in the market. The area is enough if you are making small designs. One of the most important things that make the Brother PE525 Embroidery Machine easy to use is its comprehensive instruction manual that allows you to review all its features and functionalities. The manual contains information on each and every process and function that the machine can perform. Moreover, the machine does not make much noise during operation. The output displayed on the liquid crystal display screen is quite sharp, clear and of high resolution. You are also given the option to vary the brightness of the screen. If we compare with other embroidery machines, many of them do not have this feature.
Final Verdict
Beginners are not fully aware of the range of embroidery tasks and hence, this machine is suitable for them. But still, this machine has cemented its place in the market and is popular amongst a lot of people. It is definitely amongst the best brother embroidery machine. It is expected to stay in demand as it is fast, efficient, productive, effective and electronic. Moreover, it has almost all the features that an average person who does embroidery would want or require. The fact that the embroidery machine is computerized truly makes it one of a kind and a modern machine. Many processes have been automated because if this. Moreover, a wider variety of designs can be used due to the possibility of importing designs from the internet. The internet has a plethora of designs of nearly all types, sizes and colors.
Warranty Details
Be sure to thoroughly read the warranty card that comes with the machine. It contains all the details you need to know the warranty covers, what the warranty does not cover and limitations. The warranty time span of the warranty of this machine is 25 years. Free technical support via the internet and phone is also included in the warranty package.
Value for money
Therefore, my final verdict is that if you are a beginner in the world of sewing and embroidery, this machine is definitely worth your money. Its plethora of functions and ease of use will help you smoothly transition to more advanced and complex embroidery processes. As for professionals, this device is not worth the money.
Conclusion
To conclude this Brother PE525 Embroidery Machine review, it can safely be said that it is undoubtedly a quality machine. However, it is the best possible embroidery machine mostly for beginners. The primary reason behind this is its limited embroidery area and the fact that it can only carry out embroidery. For professionals, this machine can be good too but it definitely cannot be considered to be the ideal machine. Its range of features is more suited for beginners so that they can smoothly transition into the whole process of embroidery. But that does not mean that the device is of no use to professionals. Those professionals who know how to work around with settings can make good use of this machine as well. Hence, it can be said that this machine is a must buy for beginners.