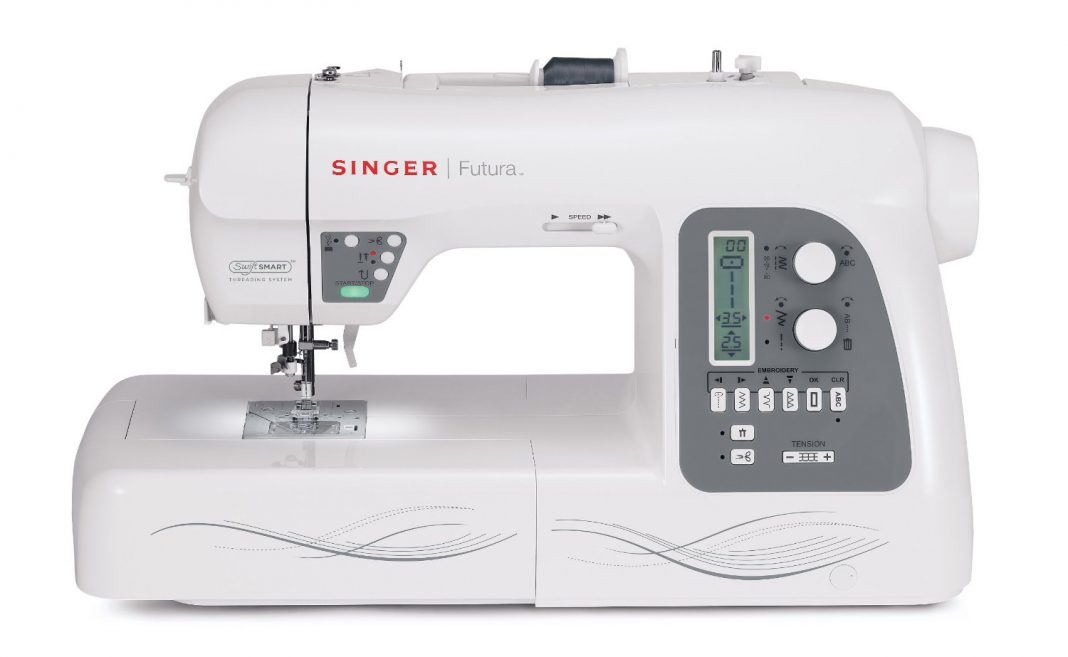 SINGER Futura XL-550
Built-in stitches (215)
9.9/10
Built in designs (125)
9.9/10
Buttonhole (6, 1-step)
9.5/10
Easy control features
9.5/10
Computer Connectivity & Advanced features
9.5/10
Lettering font (20)
9.0/10
Pros
Versatile
Very easy operation
Swift Smart Threading System
Extra Large Sewing Space
Compatible with design software
Cons
No knee lifter included
Not perfect for embroidering
For those who love to sew and are always on the lookout for the best embroidery machines on the market, Singer is definitely amongst the top brands for them to choose. Singer is a brand that sees the future, thus producing the best of embroidery machines. You will realize it when you compare its products to the rest ones in the market. SINGER Futura XL-550 is Singer's one of the best products and we will now be covering this SINGER Futura XL-550 review here.
SINGER Futura XL-550, with over 125 built-in designs, 215 stitches and a number of automatic features, surely offers to be one of the best  embroidery machines for beginner. It offers a large and well-lit surface area, computerized interface for adding and using embroidery designs, simpler usage and a range of other features, as you will read ahead. What sets it apart from other traditional sewing and embroidery machines is the way it easily gets connected to PCs and takes your favorite designs to produce perfect outputs without requiring too much effort from you.
But does it live up to the promises it makes? Let us go ahead and find out.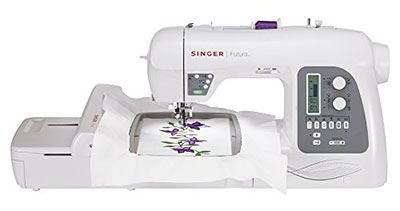 Key Features
An important part of this review is covering in detail as to what the Singer Futura XL-550 offers. A roundup of some of its best features includes:
Automatic Needle Threader with the SwiftSmart™ Threading Technology
In order to help you save time and make it all easier, the SINGER Futura XL-550 makes the task of threading quite easier with this system.
Speed Control
With easily accessible speed controls right at the front of SINGER Futura XL-550, speed can be adjusted as required for a specific sewing project.
LED Lights with the StayBright™ Technology
The main characteristic of any top quality sewing and embroidery machine is how it makes the entire task easier and convenient. With 6 LED lights that fill the entire surface with light, working on the Singer Futura Xl-550 is made convenient and stress-free.
Foot Lifter with Extra High Presser
For placing bulky fabrics or multiple layers, the foot lifter of it is able to produce extra high presser presser.
Handy trays for all accessories
The removable extension table with extra storage space ensures that all required accessories are there within a hand's reach.
Built-In Spool Pins
Singer Futura Xl-550 has 2 built-in spool pins, which allow for vertical and horizontal thread delivery. Thus allowing for top-stitching and specialty sewing techniques to be used with ease.
215 built-in stitches
The Singer XL-550 comes with over 215 built- in sewing stitches, as well as 1 endless buttonhole and 6 automatic 1-step buttonholes. It also has 125 embroidery designs built-in that come in 20 different fonts and outlines letterings.
Compatibility of all major design types
The embroidery software in this machine works and recognizes all major design file types, including FHE, DST, XXX, PES, JEF, HUS, CHE, SHV, EXP, PSW, PCS, PEC, PCS and SEW.
Advanced software for editing
It features an advanced software that lets you not only select and use designs, but also lets you edit the already existing designs and letters. All of this with 5 bonus fonts let you create any design that you want to.
Hyperont Software
Like a particular font on your PC? With the XL-550, you can convert any TrueType font in your PC into embroidery. All of this does not require you to have any specialized knowledge- you just need to follow the on-screen instructions, and it will be done in three simple steps. Chose, scan and edit the images as per your liking.
Maintenance
One of the best things about the SINGER Futura XL-550 that has stayed consistent in every customer review is how easy it is to maintain and take care of this machine. It does not require too much cleaning or specialized maintenance, and once you use it, keeping it covered for storage is all that is to be done.
Replacement parts availability
In case you require any replacement parts for the Singer Futura Xl-550 embroidery machine, you can buy them from the Singer website itself. Buying from the manufacturer site will ensure that you get the right products that are compatible with your machine.
Pros
A roundup of all the positive points of this embroidery machine as gathered from various reviews is given as follows:
Making any new designs in it is extremely easy- you just need to add them through a Laptop or PC, and the machine will do the rest.
The threading system saves you a lot of time and hassle in working with the needle and thread manually.
With all the brightness that comes on its surface through those LED lights, working on it is like a joy.
As mentioned earlier in this review, new designs can be added to the SINGER Futura XL-550 through any computing device. This can be done without any additional configuration, in addition to a host of designs that come with the machine out of the box.
Its size and stability make working on it convenient without any shaky surfaces or tables.
The XL-550 comes with a lot of surface area to aid you in a range of different projects whatever your need may be.
Cons
While there are many advantages of having the SINGER Futura XL-550 as mentioned in this review, it is still not a perfect monogramming machine. There are a few downsides to having it, which include:
If you are planning on embroidery with different materials, than it will be quite a tricky task- especially for beginners.
While computerized machines are simpler to use, this one comes with quite the learning curve for those who have never used a computerized embroidery machine before.
Some configuration is required in order to use the machine out-of-the box, which again requires knowledge that a beginner may not have.
Ease of Use
As we mentioned before in this review, Singer Futura Xl-550 is simple to use, as far as computerized machines go. Out of the box, basic sewing and embroidery tasks using it can be performed without any hassle, and you do not need any specialized knowledge for that. If you want to take on embroidery projects that involve a range of materials, than it will be tricky, and learning how to properly do that can take some item. Its large and well-lit working area makes sewing and embroidery tasks on it a joyous and stress-free endeavor.
Using the pre configured designs in the machine is not hard, and they can be used by just selecting them and letting the machine do the rest. To add any new designs in the machine, a laptop/PC is required, and the machine's software will guide through the rest.
My Verdict
Despite of all the cons mentioned in this review, it is fair to say that the Singer Futura XL-550 is a machine that lives up to most expectations that anyone can have from a computerized sewing/embroidery machine. For the price, it does come with many features, including the preconfigured design, advanced threading system, well-lit and large surface area and a lot more that make it ideal for both beginners and advanced users.
Warranty Details
The sewing machine head of the Singer XL-550 is covered by a 'limited' warranty that extends to a time of 25 years from the date of original purchase. It does not cover any normal wear and tear from usage, but only extends to manufacturing defects for the said period. However, replacement parts and labor will be only free for the first year after the date of purchase- after that, the parts will be free but the user will pay the labor charges.
Similarly, the motors, switches, light assembly, speed control and all other electronic components are subject to a limited 5-year warranty, subject to the same conditions as described earlier. The belts, adjustments, bulbs, rings and attachments are covered by a limited 1-year warranty, subject to the same terms.
It is to be noted here that all the warranties mentioned above are only for the original consumer, and cannot be transferred to the subsequent owners of the Singer XL-550.
Value for Money
While the Singer Futura XL-550 is at the higher end of the price bracket, all the features and advantages mentioned above in this review do make one thing pretty clear- this machine is worth all the money that you pay for it. Not only is it a great choice for beginners, but its vast range of functionality along with advanced features make it suited to any kind of sewing and embroidery project for all skill-levels.
Conclusion
Thus, little is left to be said about the Singer XL-550. User testimonials are amongst the biggest proofs that this machine is all that it promises, and a lot more. There are many computerized machines in the market that claim to be the best for all needs, but not all of them manage to live up to that promise.
However- the XL-550 is unlike them all. It is a user-friendly machine with a range of features that you will find useful in whatever embroidery and sewing project you may be undertaking- no matter how small or large it may be. As mentioned in this review, the Singer Futura XL-550 does have its set of disadvantages- but they are more than made up for all the benefits that this machine comes with.
For all those who want a durable sewing and embroidery machine, backed by a trusted manufacturer's name and warranty, then the XL-550 is surely the way to go.