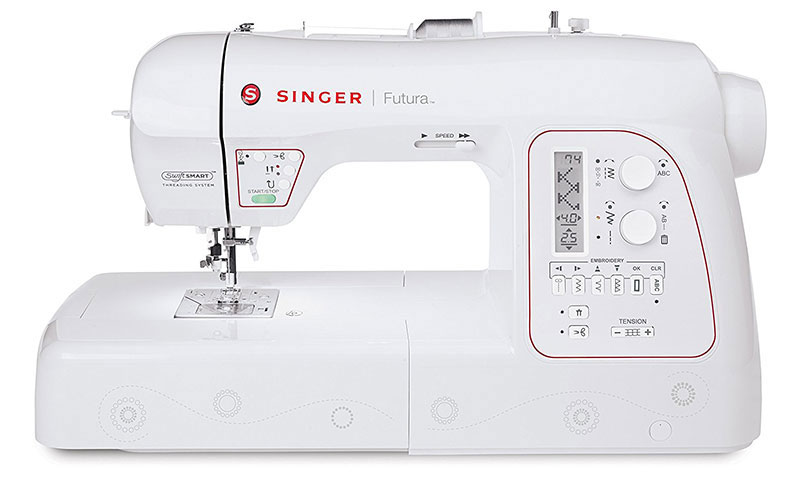 Singer XL-580 Futura
Built-in stitches (215)
9.9/10
Monogramming font (3)embroidery designs (250)
9.9/10
Monogramming fonts (20)
9.8/10
Multi-Hooping Capabilities
8.5/10
Easy control features
9.0/10
Advanced Editing features & USB connectivity
9.7/10
Pros
Fast
Advanced Threading System
Up-to-date software
Manual thread bobbing
Needle Up/Down Programming
Cons
Not perfect for embroidering
Complex functionality
Singer XL-580 is an innovative monogramming machine that fuses technology with the art of embroidery. This home embroidery machine comes with a large number of pre-loaded embroidery designs and lets you add your own embroidery patterns to it via computers. This means that once you have a design in a digital format, there is little you have to do in order to bring it out, as Singer Futura XL 580 will take care of it for you.
The computerized nature of this sewing and embroidery machine is not all it possesses, there are a number of other features in it by which it claims to be the best on the market. As you go ahead, you will know more about what Singer XL-580 Futura has to offer, how you can best make use of it for your projects as well as the pros and cons of having this machine.
Includes/Accessories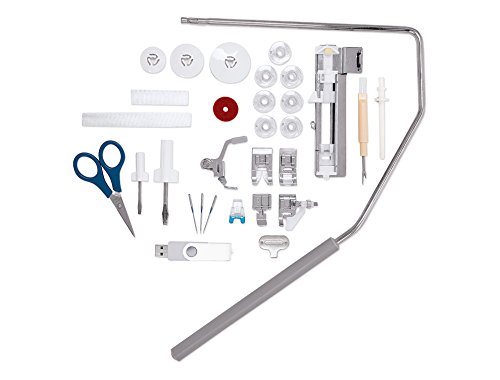 The major accessories that come with the Singer XL-580 Futura include:
Button Sewing Foot
Thread Spool Caps
6.75" X 4" Endless Embroidery Hoop
Pack of Needles
Zipper Foot
Embroidery Foot
Thread Spool Nets
10" X 6" Embroidery Hoop
Spool Pin Felt
Seam Ripper/Lint Brush
Auxiliary Spool Pin
Screwdrivers
Knee Lifter
All-Purpose Foot
USB Cable
Blind Hem Foot
Satin Stitch Foot
Vinyl Accessory Bag
4" X 4" Embroidery Hoop
Buttonhole Foot with Underplate
Bonus Software
USB Key
Scissors
Bobbins
Key Features
Some of the key features of Singer Futura XL 580 are highlighted ahead.
50 Endless Designs and Hoop
It has 50 endless hoops which let you create borders on any fashions, draperies, and tablecloths.
Over 250 embroidery designs
Straight out of the box, this embroidery and sewing machine comes with over 250 built-in embroidery designs ready for you to use.
USB Key to aid in designing
With this feature, you do not need to be connected to your machine at all times. You can design using your embroidery software on your computer and then upload it to use with the machine.
Multi-Hooping Capabilities
Unlike other machines, it lets you create designs that are larger than just one hoop without too much of a hassle. Large designs with multiple hoops are created on the screen that let the sewer match designs and stitches with precision and ease to get the best possible results.  It has 1 each of 10"X6", 4"X4" and 6.75"X4" endless hoop.
Add your own designs with ease
Apart from the built-in designs, you can also upload your own designs with ease. This can be done using almost any PC or laptop. Singer Futura XL 580 employs embroidery software that is compatible with a range of file types, including DST, PEC, EXP, SEW, FHE, XXX and so on.
Over 20 fonts for monogramming
If you are looking to monogram or personalize your projects then you have over 20 different embroidery fonts to choose from. You can even resize, shape and rotate the letters using 30 different frames, like arc, wave, and banner amongst others.
Maintenance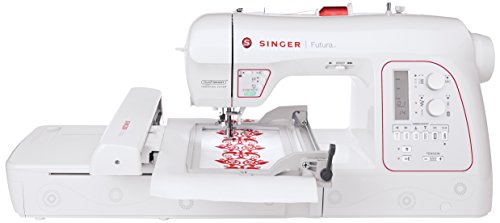 One of the best things about Singer XL-580 Futura is that it requires very little maintenance. When you compare it to other embroidery and sewing machines, you will find that others may need some form of maintenance over time except this model. All you have to do is use it whenever you need and keep it covered for the rest of the time.
Replacement Parts Availability
Replacement parts of the Singer XL-580 Futura are easily available from the manufacturer's website. But it is advised that you read the instructions and warranty paper carefully before attempting any replacement on your own.  The best source of getting replacement parts is the Singer's website itself for ensuring the best performance and this will also keep the warranty valid.
Pros
The major advantages of this embroidery and sewing machine are given ahead:
Easy to use
Singer Futura XL 580 is extremely easy to use. It comes with over 250 designs that can be used right after installing it and new designs can be created and uploaded to the machine with just a single click. It has a range of designs and fonts for monogramming. Overall, there is little that a beginner needs to know for using this embroidery and sewing machine.
Advanced Threading System
It employs the Swiftsmart™ Threading Technology. With this technology, all you have to do is guide the thread to the needle area from the spool in the single groove. Then you have to press the threading lever to finish threading the needle.
Keeping the software up-to-date
The software used in Singer XL-580 Futura is not just there for the sake of it. With live updates, you can either keep it on a schedule or do so manually to ensure that this embroidery and sewing machine is always at its peak performance.
Freedom from manual thread bobbing
With Singer Futura XL 580, you do not need to pull its bobbin thread manually anymore. All you need to do is insert the bobbin, put the thread in its channel and then begin sewing.
Needle Up/Down Programming
Its needle is programmable, which means that a user can set it to be moved to the highest up position and stopped when your foot is lifted away from the controller. As a result, removing the fabric gets easier. In case you are pivoting, quilting or appliquéing, you can also program it so that the needle gets stopped in the down position.
Cons
In spite of all the claims of it being the best monogramming machine, it still is not perfect in every way. This embroidery machine does come with its own set of disadvantages which you must consider before making a final decision.
Its design software may not be much easy to use
While the design software that comes with Singer Futura XL 580 looks easy to use, it is not as simple as it appears. For a beginner, getting used to this may take quite a bit of effort through trial and error.
Embroidery may be a bit challenging
Depending on the material you are using, embroidery can be a bit challenging. Especially in cases of t-shirts, it may not be very simple and takes time to learn.
Learning phase
While it claims to be an embroidery and sewing machine for beginners, there is a lot to learn for using this machine, especially for embroidery purposes.
Ease of Use
As mentioned earlier in this review, the major highlight of Singer Futura XL 580 is how easy it is to use it for various tasks once you know how to handle it properly. For anyone who has never done any embroidery before, learning how to use this machine may take some effort.  It has over 250 patterns of various kinds that can be used straight out of the box.
Apart from these, loading and adding new designs to this embroidery and sewing machine are quite simple and can be done from multiple channels. This machine is ideal for those who find tasks like needling the thread frustrating, as it automates or simplifies most of such tasks.
My Verdict
With everything that has been mentioned in this review so far, it is clear that Singer Futura XL 580 is a product that offers all features that any user could ask for in a embroidery and sewing machine. With its computerized features that take embroidery to the next level, there is little left to wonder about what it offers.
Thus, it really is a machine that you can consider buying if you are looking for a durable sewing and embroidery machine. It will help you bring your own designs to life with ease and precision, and let you do a lot more than a traditional embroidery machine.
There are different warranties covering different parts of Singer Futura XL 580, so it is important that you read this information prior to buying. Any warranty is only valid for manufacturing defects but not for regular wear and tear. For warranties extending over 1 year, the part and labor costs will be paid by Singer for the 1st year. After the first year, the parts will continue to be free, while the customer will have to pay for the labor costs. A breakdown of warranty by parts goes as follows:
Its head: 25 years of limited warranty
Its motor, wiring, light assembly, switches, speed control and all other electronic components: 5-year limited warranty
Adjustments, bulbs, rings, belts, and attachments: 1-year limited warranty
Value for Money
Overall, while Singer Futura XL-580 may seem to be on the higher side of the price range, it does manage to deliver value for money. All those automated features with a range of accessories make this sewing cum embroidery machine a value for money product.
Final Thoughts on Singer Futura XL 580
Thus, at the end of this review, it is quite safe to say that Singer Futura XL 580 is a product that delivers what it promises and is a value-for-money purchase. It is not just for the beginners, but also for those who are experienced in this art and looking to bring their designs to life with precision and best results. For these reasons, Singer Futura XL-580 is the sewing and embroidery machine that you simply cannot ignore and thus must consider buying!