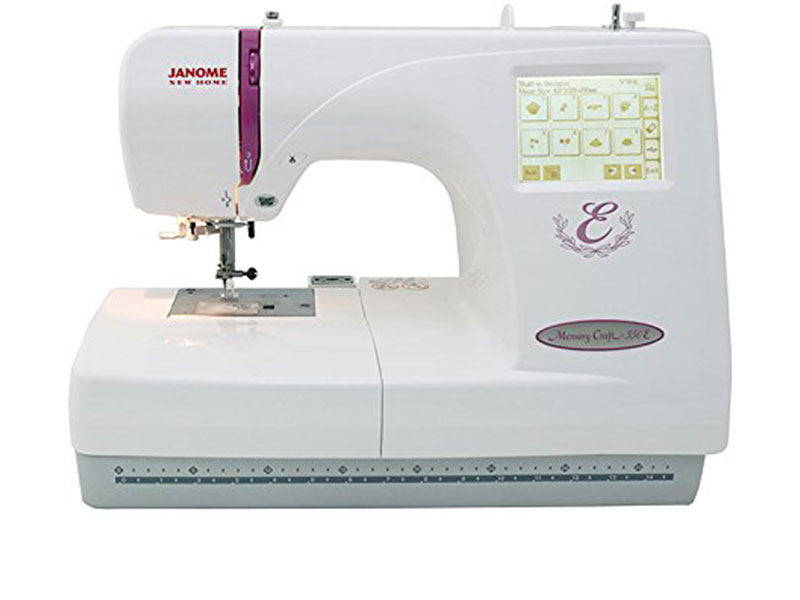 Janome Memory Craft MC350E
Built-in Designs (100)
9.3/10
Monogramming font (3)
8.0/10
Embroidery field and hoop size
9.0/10
Easy control features
8.5/10
Easy Editing and USB Connectivity
9.0/10
Embroidery Sewing Speeds (650spm)
8.8/10
Pros
Easy operation
Design can be customized
Fast operation
Auto-needle threader
Cons
Low bobbin quality
Pre-loaded designs
Lack of support
If you are looking to buy an embroidery machine that lets you take on a host of embroidery projects, right from those on garments and accessories to home décor items as well, then the Janome Memory Craft MC350E is one machine that you must consider. Not only is it an excellent monogramming machine, but its ease of use also makes it possible for you to reflect your personal style statement- no matter how complicated it may appear at first sight. Unlike most other machines in the market, this is just an embroidery machine- with no sewing capabilities. With that in mind, if you want nothing more than an embroidery machine, this may just be the right thing for you.Everyone wants to buy the best embroidery machine- but with all that there is in the market, finding one may not be as simple. While the Janome Memory Craft 350E claims to be one too, we will try to determine that through review, discussing what this Janome embroidery machine offers, what are the pros & cons of it as highlighted by various user reviews- and eventually, if you should buy it or not.
Includes/Accessories
In the box, the Janome Memory Craft 350e comes with three standard accessories. These accessories include:
A Specialized Bobbin
Embroidery Hoop A, with measurements 125 x 110 (mm)
Embroidery Hoop B, with measurements 200 x 140 (mm)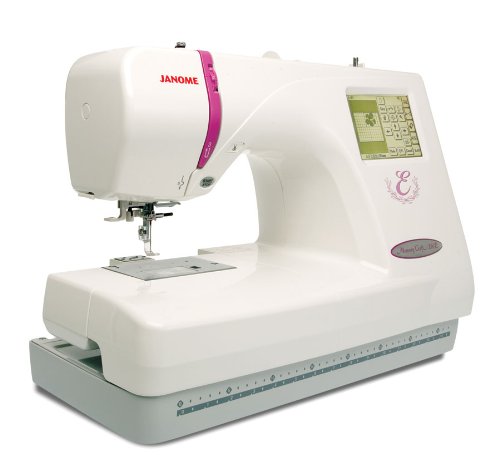 Key Features
Let us now go ahead and analyze the key features of Janome Memory Craft 350e embroidery machine that make it a worthy purchase:
Built-in designs
In order to help the beginner start with embroidery and create amazing outputs while at it, the machine has over 100 designs that are built-in that can be used right outside the box. Apart from that, it also offers 3 different fonts along with 2 as well as 3 letter monogramming.
Large embroidery sign to ensure convenience of most projects
The machine can perform embroidery of all size up to 5.5"x7.9".
Easy design transfer and compatibility
The machine also lets you upload your own designs to it, thus helping you bring your creations to life. This can be done via an ATA PC card or via USB, with the supported format/extension being .jef.
Easy editing and setup of designs
If you compare it with other embroidery machines, then the Janome 350e will surely stand out based on its ease of use. The backlit LED screen, guides you systematically in whatever you have to do. In addition, it also has on-screen functions for editing that let you reduce/enlarge, turnover, drag & drop, zoom and rotate your designs to suit it in the best possible way.
Fast embroidery sewing speed and built in threader
The embroidery sewing speed that you get with it is around 650. It has an automatic thread cutter as well as a needle threader built-in to make it all even easier.
Maintenance
As you would expect with any quality home embroidery machine, the Janome 350 e does not require a lot of maintenance. Once you have purchased this machine, you will have little to worry about as it automates most tasks and does not need any special care.
Replacement parts availability
Most of the replacement parts for this machine can be purchased directly from the manufacturer, Janome. These are available from either a reputed retailer or wholesaler of Janome, from Amazon or from the manufacturer website. It is recommended that you review the quality and authenticity of the spare/replacement parts that you install in
Janome Memory Craft 350E to ensure that its warranty remains valid and the performance does not decline. Any non-genuine part could not only stop the machine from functioning properly, but would also void the warranty, as is highlighted ahead.
Pros
Some of the major pros that come with this embroidery machine, as gathered from customer reviews all over include:
Ease of operation and simplified controls
One of the prime reasons of buying electronic embroidery and sewing machine is how easy they are to use, and the Janome 350E is a true example of that. Its backlit panel provides you all the necessary instructions in the most simplified manner while the on-screen controls make adding and editing your own designs easy and effective.
Add, edit and customize your own designs
In the Janome 350E, all you need to do for adding your own design is upload it either via a USB or through an ATC PC card.
Fast stitching speed with excellent quality to save you time
The machine has an embroidery sewing speed that is around 650 spm, which means precision stitches that also save time and produce quality results faster. You can be sure of getting the best stitching quality that no other embroidery machine will be able to match.
Accurate auto-needle threader
There are many machines that have an auto-needle threader just for the sake of it- however, with 350E, you can be sure that this will work every time. Add to that the auto-thread cutter, and your embroidery project just turned into a joyous activity!
Pay only for what you want
You do not need to buy an embroidery & sewing machine combination if that is not what you need. With the 350E, you only pay for what you want- a quality embroidery machine that produces great results every time you use it!
Cons
With all those features and advantages mentioned in this review till now, it may seem as if the Janome Memory Craft 350E is a perfect embroidery machine with no cons. However- that is not so, and this is what we will cover in this section. Here are a few of the cons that you can expect when you go in for the 350E.
Low bobbin and associated problems
Users have reported that the low bobbin feature does not always work with the best results. This is primarily because the message displayed is there only for a brief period of time- something that you may miss in between a serious embroidery project.
Pre-loaded designs
While there are several pre-loaded designs in the machine, how useful they actually are is another question. Those designs that come with the machine are basic, and do not cover a large variety as one would expect.
Display screen and associated quality change
During use, the quality and brightness of the LED screen often changes automatically, which is an inconvenience since you may have to reset it in-between your embroidery project.
Lack of support for design files
While design files can be uploaded to the machine, it can only accept .jef files.
Ease of Use
As we mentioned earlier in this review, the Janome Memory Craft 350E embroidery machine is quite easy to use. It works great with all kinds of garments and materials, and a mere change of thread is all the user needs to do for working with them. Any of the pre-installed designs can be used with the machine straight out of the box. Any new designs can be added either through an ATA-PC Card or transferred through USB.
My Verdict
With all that we have said about the machine so far, it is quite clear that the Janome Memory Craft 350E is a machine that delivers what it promises. If you are looking for nothing more than an embroidery machine that delivers all the required features and performance, then this is the model you must go in for. A separate embroidery machine means that you can focus on two things at the same time, which is one of biggest pros of going with the 350E.
Warranty Details
The machine is warranted for a time of 25 years after the date of its original purchase. This warranty only covers defects either in the workmanship or in its materials, not extending to the electronic and electrical equipment in the machine. In the first year of purchase, any replacement and labors costs will be free and borne by the manufacturer. After the first year, the parts will be free but the user will have to pay for the cost of labor. Any postage and/or transportation that may be necessary has to be paid by the user. This warranty is only for non-commercial usage of the machine. Users are advised to review this information and register the Janome Memory Craft 350E on the Janome website post-purchase to stay up-to-date with the warranty and get the most of it from Janome.
Value for Money
With all those great features, solid warranty and a good reputation, it is obvious that the Janome 350E is a value for money product. This product gives you all that you would expect from a trusted manufacturer of embroidery machine, and despite of its heavy price tag, justifies it all quite well. While it may not have a sewing machine along with it, this will probably turn out to be in your favor- especially that with this, you can actually execute both tasks at the same time.
Final Thought
Thus, at the end, it would be right to say that the Memory Craft 350E has lived up to what you expected from a Janome product. This easy to use embroidery machine offers you a versatile range of functions that make executing a range of embroidery projects possible with ease and the best results. If you want an embroidery machine that is durable, produces great results every time, has a host of features that will assist you in even the most complicated of projects, than the 350E is surely the right way to go.