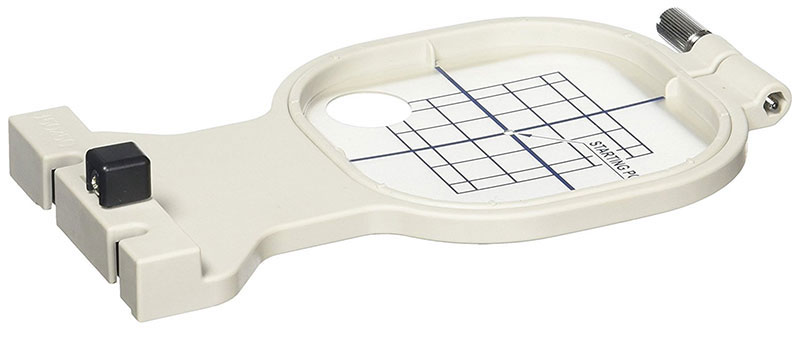 Janome 200E Memory Craft
Built-in Designs (73)
7.0/10
Monogramming font (3)
7.5/10
Embroidery field and hoop size
8.5/10
Easy control features
8.8/10
Advanced Features & USB Compatibility
9.0/10
Embroidery Sewing Speeds (650 spm)
9.0/10
Pros
Easy to operate
Start control button
Multiple resizing options
Convenient embroidery area
Easy to move around
Affordable price
Cons
Embroidery-only machine
Less Built-in designs
Embroidery is in fashion these days. While it looks very beautiful and attractive on a clothing article, it is very expensive at the same time because it takes a lot of skill, effort and hard work to complete an embroidery project. But luckily, we live in an advanced age where technology has made its way to almost every aspect of our lives. In the past, manual embroidery only machines used to carry out this kind of jobs but we are lucky enough to have a variety of fully automated computerized embroidery machines. The Janome 200E Memory Craft Embroidery Machine is one of these marvelous wonders of modern technology that allows us to do all our embroidery jobs in an easy and convenient manner.
Today I will be giving Janome 200E Memory Craft review from my own point of view. It is a monogramming machine that allows you to conveniently add a variety of professional and unique embroidery designs to any kind of clothing. You can use this machine to beautify a variety of stuff, including clothing articles, home deck items, accessories and so on. It is a computerized embroidery machine enabling you to copy different embroidery designs in its built-in memory using the PC connectivity feature. You can simply forget to buy expensive designer wear as you can make your own custom clothes using the Janome 200E Memory Craft Embroidery Machine.
Includes/Accessories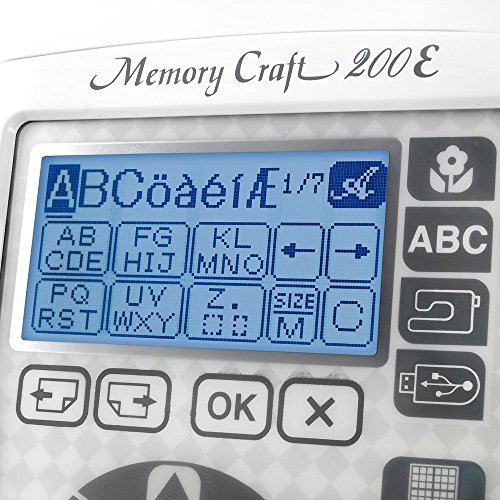 This home embroidery machine contains the following items in the packaging:
Janome 200E Memory Craft Embroidery Machine's Body
More Than 70 Embroidery Designs
Bobbins
Spool Holder in Small and Large Sizes
Spool Stand
Felt
Additional Spool Pin
Lint Brush
Screwdriver
Scissors
Embroidery hoop
Set of Different Needles
Hexagon Wrench
Instructions Manual
Soft Cover
Instructional movie CD
Power supply cord
Template sheets
Warranty card
Key Features
In order to carry out a detailed review on the Janome 200E Memory Craft Embroidery Machine, let's take a detailed look at the key features offered by this high-end product.
1. 73 Built-in Designs
This machine offers almost 73 built-in designs. They are there to provide you with the convenience of making your choice while stitching the fabric. In addition to these designs, 3 different monogramming fonts are also provided with it. You can use these fonts for any sort of letter patterns. In case you need any other designs, you can conveniently get them from the internet.
2. Good Stitching Speed
Janome 200E Memory Craft Embroidery Machine operates at a fast speed. It has a stitching speed of almost 650 stitches every minute. This fast speed can save you a good deal of time which means you can make good money on account of profits. Using such a high speed, you hold the power to complete multiple stitching jobs even in case of a tight schedule. However, if you compare different embroidery machines, you will realize that there are some machines that operate at ultra-high speeds. Brother SE400 is one of these machines.
3. Touchscreen LCD
This embroidery machine features a high-end LCD display. It allows you to have a vivid look at whatever operation is being carried out by it. Its LCD display also incorporates the feature of touchscreen which allows you convenience and accessibility. Moreover, you can make use of the touchscreen to rotate designs at an angle of 45 degrees.
4. Thread Cutter
Its thread cutter is a pretty handy feature that allows you to cut off the top and the lower threads after carrying out a stitching. This provides your fabric with a distinct decoration as well.
5. USB Compatibility and Memory
If you take a look at different embroidery machine reviews, you will learn that most of the high-end embroidery machines feature the facilities of PC connectivity and USB compatibility. This feature allows you to carry out transference of different designs between your PC and the embroidery machine. You can choose any design patterns of your choice and then transfer them to your embroidery machine in order to implement it on a piece of cloth.
6. Extras
This embroidery machine displays all screen messages in 11 languages. This is known to be a unique feature of this machine which is also a mark of diversity. It is equipped with a carriage arm and a separate carry handle for portability. A few presser foots are also included in the package, like darning foot, button sewing foot, hem foot, zipper foot, dual feed foot, etc.
Maintenance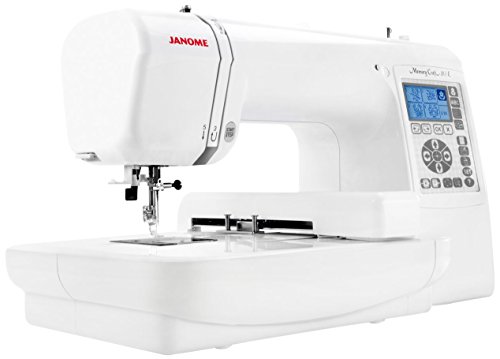 Janome 200E Memory Craft Embroidery Machine is a modern piece of technology. Unlike the mechanical machines in the past, this machine is much more complex. All you have to do for a safe operation is to follow the instructions provided in the instructions manual. In case of any issues, you can always claim the warranty provided along with the product.
Replacement Parts Availability
In case some parts of this embroidery machine get damaged, you can buy them from the internet. Replacement parts for various models of high-end embroidery machines are easily available on the internet. It is recommended to take a lot of care in order to find the replacement part that is specially designed for your product.
Pros
This embroidery machine offers a good number of pros. Most of them can be seen in almost all the high-end embroidery machines but only a few of them are pretty unique and classy. Some of the major pros of the Janome 200E Memory Craft Embroidery Machine are discussed below:
This machine is very easy to operate
You can start stitching by just pressing the "Start" button
Multiple resizing options, thus flexibility in designs
Large and convenient embroidery area
Easy to move around
Affordable price
Cons
The disadvantages of this embroidery machine are fewer as compared to the pros of it. These cons are discussed below for your convenience and better understanding:
It is an embroidery-only machine, so it is limited to carry out embroidery tasks only.
Built-in designs are less in number in comparison to other models of the similar price range.
Ease of Use
Janome 200E Memory Craft Embroidery Machine is very easy and convenient to use. You can start any kind of stitching project just by pushing the start button on the machine. There is a large embroidery area which enables you to perform any embroidery task in a convenient fashion. The high speed of stitching also makes it faster to carry out the required embroidery designing. Therefore, even if you aren't a pro at the embroidery stuff, you can learn it very easily using this amazing embroidery machine.
My Verdict
A review on the Janome 200E Memory Craft Embroidery Machine is incomplete without telling you guys what I believe about this machine. In my opinion, this machine is a fine piece of technology allowing you with an easy and convenient way to carry out any sort of embroidery projects. It is available in exchange for a nominal amount of money. On the other hand, it has the ability to provide you a good deal of money on account of profits. In other words, you will be able to recover the money spent for purchasing it within a limited amount of time. Therefore, buying this machine is highly recommended.
Warranty Details
Janome 200E Memory Craft Embroidery Machine comes with a 25-year limited warranty which covers a limited number of scenarios where the machine loses its functionality. In case some part of the machine gets broken or something gets burnt as a result of power fluctuations, you cannot claim the warranty.
Value for money – Does It Worth It?
Keeping in view the price of the embroidery machine and the features you can enjoy if you buy it, it won't be wrong to say that buying a Janome 200E Memory Craft Embroidery Machine is a good purchase. It is a good value in exchange for the money you would pay as a price. You can even recover the cost in terms of profits you make as a result of completing various embroidery projects.
Final Thoughts
In order to conclude the review on Janome 200E Memory Craft Embroidery Machine, it may be said that it is a pretty handy embroidery machine. But in order to be sure about the money you are willing to spend, it is recommended to go through some other embroidery machine reviews. That way, you will learn about the pros and cons of several embroidery machines offered in the same price range. Moreover, you can compare different features, accessories and a bunch of other stuff you will get along with every option.