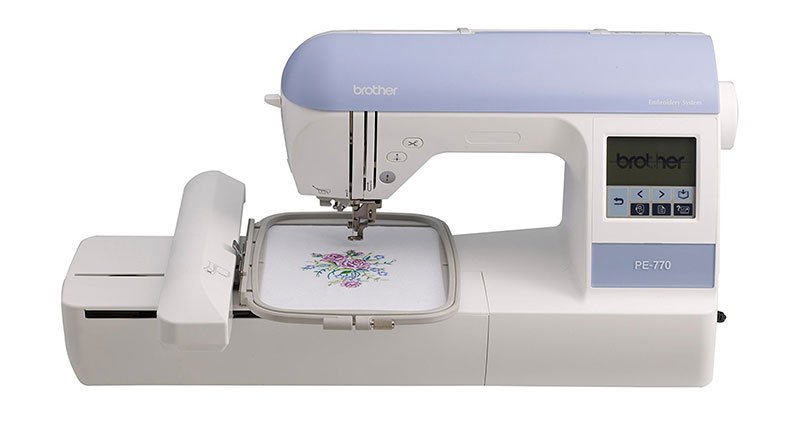 Brother PE770
Built-in Designs (136)
9.9/10
Frame pattern (120) & Lettering font (6)
9.5/10
Embroidery field and hoop size
9.6/10
Memory & Computer Connectivity
9.3/10
Advanced & automatic features
8.5/10
Easy control features
9.5/10
Pros
Option of editing designs
Built-in memory
Automatic needle threader
Easy to use
Large LCD interface
Cons
Supports 110V only
Embroidery only
Do you want to find out a way through which you can take your embroidery projects to an entirely different level? Do you want to craft amazing embroidery designs without any hassles in a quick manner? Do you need quick assistance for your embroidery business? If so, then read this Brother PE770 review that will offer you a new insight into the capabilities of this wonderful embroidery machine. Brother PE770 is a computerized embroidery machine that offers a 5"x7" hoop size. Have you heard of a machine that offers USB memory stick compatibility? This monogramming machine lets you download a plethora of embroidery designs and save them. With a quick bobbin set up and winding system, ease of operation and some other exceptional features, Brother PE770 can be undoubtedly considered as the best embroidery machine available in the market today.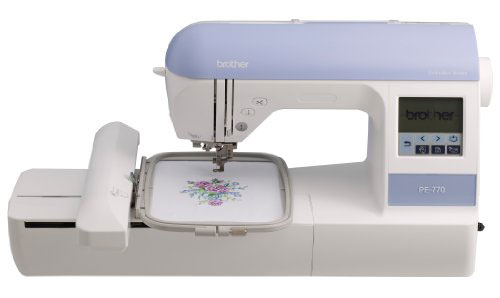 Accessories
Bobbin and Embroidery threads
General accessories
Hoops and stabilizers
Bobbins and Cassettes
Brother embroidery cards
Key Features
Large embroidery area of 5″x7″
Built-in designs, 120 frame patterns, 6 lettering fonts
LCD touchscreen display
Features to edit designs – decrease and increase the size of designs and mirror-image
Built-in memory
Automatic needle threader that aids in easy threading
Quick-Set drop-in top bobbin
Thread trimmer
Brightly lit work area
Tutorials for properly using the machine
Built-in USB port
Product Maintenance
You need to ensure that you regularly follow the maintenance tips so that your Brother PE770 5×7 inch Embroidery-only machine functions appropriately for a long time without posing any issues. Make sure to use only high-quality threads. If there is a jam, you need to ensure that it is completely cleared before you start re-threading. Before using the machine, check the bobbin case and the upper threading system. If the needle is bent, you need to change the needle every time before use. Following these tips will make sure the device would function smoothly for years to come. So you must exercise proper care while using the accessories and features mentioned in this Brother PE770 review.
Replacement parts availability
Most electronic products never come with a guarantee. However, following certain instructions can help your machine function smoothly. When there is a need to replace any part, make sure that you purchase replacement parts from genuine sellers. A good news is the replacement parts of the Brother PE770 5×7 inch Embroidery-only machine are easily available all over the world.
Pros
Option of editing designs
Built-in memory for importing new designs
Automatic needle threader
Easy usage of memory function
Large LCD interface that is easy to use
Cons
A support of 110 volt AC is needed for this device to function, so you need to know whether this provision exists in your country or not
This machine is for embroidery only. You cannot do regular sewing with this machine which may disappoint a lot of users.
Ease of Use
Brother PE770 5×7 inch Embroidery-Only Machine has been recognized as a quality machine that offers best value in many Brother PE770 reviews by the users. You can find out what makes this machine stand out from the rest if you compare embroidery machines that offer similar features. This embroidery machine review proves that this machine is one of the best machines available in the marketplace today for embroiderers. Brother PE770's price is reasonable owing to the features offered by it. You can make use of the internet for discounts from reputed sellers. You will find a variation in the Brother PE770's price. Make sure to grab the best deal from a reliable seller.
1. Load the designs and stitch
As Brother PE770 embroidery machine comes with an in-built memory, you can just load designs and start stitching, thus making it quite convenient when it comes to usage. If you are going to repeat a single design on placemats or other items, you can save the design and keep using it again and again.
2. Flexible options pertaining to memory transfer
This embroidery machine offers you 136 built-in patterns. You can add any design to your Brother PE770 5×7 inch Embroidery-Only Machine that you have downloaded on your personal computer using a USB stick. This flexibility offers an added advantage to embroiderers who run their businesses from home.
3. Quick machine set up
The best thing about embroidery machines offered by Brother is that these are easy to set up and use. You can check out several Brother PE770 reviews left by users over the web. Each one must have agreed upon this point. This machine comes with printed instructions pertaining to threading. It features a drop-in bobbin and an automatic needle threading system. Its automatic thread cutter makes this task a lot easier.
4. Interaction with touch screen
You can easily switch options using its LCD screen. Slide options just with a finger touch. There are some built-in tutorials that can be viewed on the LCD screen of this machine. The entire set-up process can also be checked on the LCD screen.
5. Multiple Hoop sizes
For best results, you should always use the smallest hoop size that is possible for you. It is crucial to maintain the right size based on your task. Several machines offer hoop sizes that are small but they don't offer options that are offered by Brother PE770. If you compare several embroidery machines by reading their reviews online, you will find that other machines do not permit you to include both design and name without re-hooping. The 5×7 inch work space offered by Brother PE700 permits you to craft a design and gives you the power to personalize your design without worrying about re-hooping.
My Verdict
Brother PE770 also comes with a dust cover and an embroidery arm. The users also get a cleaning brush, needle set, accessory bag with seam ripper, touch pen, scissors, three spool caps, three bobbins and two screw drivers when they purchase this fantastic machine. The best thing about this embroidery machine is that the manufacturer offers a 25-year warranty on this device. The only thing about the machine is that you cannot use this for sewing purposes. It just functions the way you want it to program. Brother PE770 accessories offered by the manufacturer make this machine easy to use.
Warranty details
This product covers accessory and machine items. Warranty is offered on the machine by the manufacturer on the machine as well as on the accessory items. The company promises that there would not be any kind of defect in the workmanship and materials when operated under normal conditions. The duration of warranty period is two years from the period of purchase and six years for printed circuit boards and electronic components. Chassis casting coverage is offered for twenty five years from the date of original purchase. You need to retain the proof of product purchase in order to claim for warranty.
Value for money- Does it worth it?
This monogramming machine comes with an expansive field of 5"x7" which allows you to stitch designs that are ideal for bags, jackets and items pertaining to home décor. With more space, you get the freedom to rotate and combine designs. You can unleash your creativity without facing any issues. You can easily work on borders and frames and craft your unique designs. You get the option of picking designs from the library that is built-in. You can craft your own designs and save it for future use. This Brother PE770 review concludes that this machine is worth every penny you pay for it.
Final Thoughts
Brother PE770 embroidery machine is a useful machine for embroiderers who run their businesses from home or from their workshop. In this fast-paced world, it is hard for people who run their embroidery businesses to use needle to create embroidery patterns. Brother 770PE helps you start working on your project immediately and makes everything pretty much efficient. This is certainly a best buy for anyone looking for a feature-loaded embroidery machine. Brother PE770 offers professional quality finishing when it comes to embroidering. You can also put Brother PE770 accessories to great use. Follow the instructions, choose your designs and you are ready to create your own patterns on the fabric. You can compare embroidery machines reviews that are offered by other brands. You will barely find any machine that can offer features and quality that Brother PE770 has to offer.  This Brother PE770 review proves that the features offered by the manufacturer are impeccable.