Finding the perfect sewing machine is not that easy task and many people look at nothing more than the price list of different manufacturers, like Singer and Brother to make a final choice. However, this is not the right way to follow for this purpose. No matter if you are looking for the best Singer sewing and embroidery machine review, the basic rule is always the same- never make a final choice based on a single factor. Keeping this in mind, we have collected reviews of some of the best Singer sewing and embroidery machines available for sale.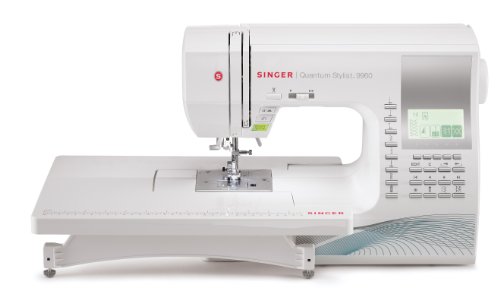 The 9960 is undoubtedly one of the best sewing machines that Singer has to offer, especially if you are looking for a computerized one. With 600 built-in stitches along with 5 fonts and 13 automatic 1-step buttonholes, there is little that this model cannot accomplish. It is a computerized machine, so all users have to do is upload the preferred design to the sewing machine and it will take care of the rest. Its auto-needle threader makes it easier to set it up and with its top drop-in bobbin mechanism, users are required to do an even lesser amount of work.
Moreover, this sewing machine has a one-touch automatic thread cutter. This cutter trims the lower and upper ends of the threads when the sewing task is done, something that will save you a lot of time and you will be able to perform more complicated projects. It is important to have complete control over the machine when you are sewing, and that is exactly what you get with the speed control and electronic autopilot capabilities of the Singer 9960. Its extra-large sewing space helps you work on large projects with great ease. If you need even more area, the extension table provided free of cost is an added bonus!
You can edit the stitch and mirror image it through the controls of this machine. To help you take care of cuffs and sleeves, a free arm is provided to sew them with ease. You can adjust the sewing speed and even sew on very slow speeds as per the demand of the project. Its LCD screen along with backlight gives you sufficient illumination to work smoothly. With 25 different needle positions, there is little that the Singer 9960 lacks. You will also get a 25-year limited warranty on this model.
Key Features
Needle up/down setting
Self-winding bobbin
Automatic lockstitch

LED lights for working area
Backlit LCD display with brightness controls
Pros
Easy setup
User-friendly
Works great with heavier fabrics

Cons
Auto-trimming does not work accurately all the time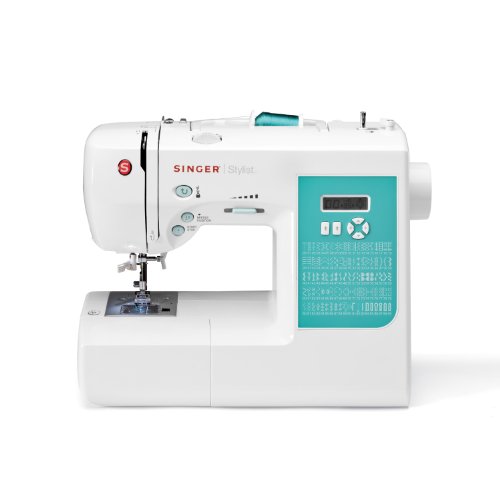 One of the top-rated sewing machines from Singer is the 7528 100-Stitch Computerized Sewing Machine. As the name suggests, you will get 100 built-in stitches in it along with 10 different presser feet that are made to suit all your quilting, crafting and sewing needs. One of the best things about this Singer sewing machine from a user-friendly point of view is how easy it is to thread its needle using the auto-needle threader. Its LED display screen, as opposed to LCD screens in most machines, helps you do a lot with little effort. You can set the stitch length and width, select the type, and do much more using just the controls on the screen.
Its drop-in bobbin with top load has a clear cover which lets you keep track of how much thread is left and when a replacement is required. Since it loads from the top, inserting bobbin is not that much of a hassle. Working on darker fabrics may be a hassle with most machines, but not when you have one of the best Singer sewing and embroidery machine. A long-lasting LED light illuminates the working area of the Singer 7528 to ensure that every user has minimal strain. The bulb stays cool regardless of how long the machine operates.
You can choose from any of the 6 different buttonhole sizes, all of which take no more than a single step to create. If you want to create a buttonhole with infinitely long side then even that can be done with this model. Its needle can be programmed to stay down or up when the sewing task is completed, depending upon whether you are sewing, quilting or pivoting. With a Start/Stop button and speed control slider, you are always in command of what the sewing machine is doing and how it is doing so.
Key Features
100 built-in stitches
Precise speed control with Start/Stop button
Program the needle to stay down/up
LED screen for comfortable viewing
Pros
Very easy to set up
High customization

Easy threading and bobbin winding
Large illuminated workspace
Cons
No lever to lower the feed dogs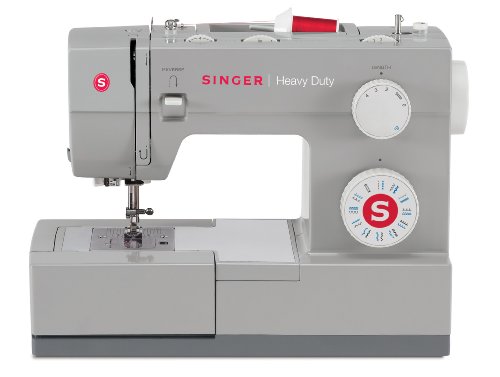 With one of the highest sewing speeds as compared to the so-called "best sewing machines" on the market, Singer 4423 is the top-of-the-line sewing machines presently available. It has a sewing speed of above 1,100 stitches per minute, which means better results in lesser time. The metal frame interiors of this model are heavy-duty which help keep the machine still to provide you a skip-free sewing experience. An even sewing is ensured through the bedplate made of stainless steel that provides a smooth fabric feed. There are 23 built-in stitches in this sewing machine. These cover all essential, decorative and stretch stitches along with an automatic 4-step buttonhole as well.
What makes it one of the best sewing machines for quilting is that it has an automatic needle threading mechanism along with a top drop-in bobbin that is very easy to load. The bobbin has a clear cover that lets you keep track of the amount of thread left so that your work is not interrupted in the middle. In the drop feed, an easily moved lever is also there that can be used to move the feed dogs down to let you do monograms, free motion embroidery and sew buttons as well. Four types of presser feet are included in this model. Its free arm is ideal for stitching cuffs and sleeves.
With Singer 4423, all major accessories are provided for free, including an all-purpose foot, buttonhole foot, zipper foot, button sewing foot, seam ripper, bobbins, auxiliary spool pin, spool pin felt and screwdriver. This machine is compatible only with 110V AC and cannot be used where this voltage is not provided, even if there is an adapter. Singer covers this machine with a limited warranty for a period of 25 years from the date of purchase.
Key Features
1,100 stitches per minute
Automatic needle threader and bobbin winder
3 needle positions
Fully adjustable foot pressure control

Free arm for cuffs and sleeves
Pros
Sturdy construction
Versatile machine suitable for a range of projects
No hassles of threading or bobbin loading
All necessary tutorials are provided by Singer
Cons
No storage space for accessories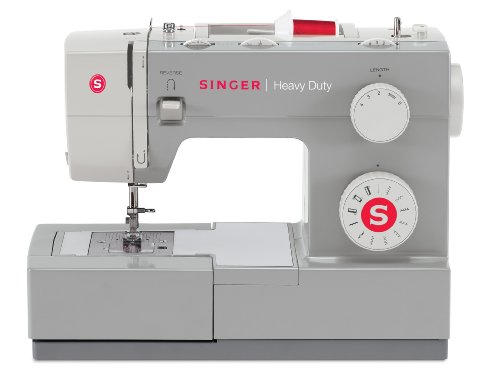 As the name suggests, Singer 4411 is a sewing machine specially designed to give you the best performance no matter how much work you need it for. This sewing machine is a true workhorse, as it is capable of stitching at a speed of 1,100 stitches per minute. It is powered by a motor that is 60% more powerful than standard sewing machines. This motor helps you sew through even the thickest of fabrics without any difficulties. Its bedplate made of stainless steel helps the fabrics to slide through the machine's arm without any hindrances.
There are 11 built-in stitches which include 6 basic, 4 decorative and 1-auto buttonhole. All of these make this sewing machine the best choice for quitting, clothing construction, crafting and many more things. Its drop-bobbin has a clear cover that lets you monitor the thread and know when it is time to change. Inserting and removing the bobbin are also not hard. Moreover, using this bobbin to make buttonhole is also very simple that takes just 4-steps and the machine guides you through the task.
One of the most common problems you might face with beginner sewing machines is skipping stitches. No such thing will happen while you will be using the Singer 4411, as its rigid support and heavy-duty metal frame ensure that the entire mechanism stays in perfect alignment to give you a skip-free sewing experience. The free arm of Singer 4411 helps you sew on even the hard-to-reach areas, such as cuffs, pant hems, and collars with professional results. If you are planning to sew multiple layers of fabric then its extra-high presser foot will be an added advantage.
An on-board storage accessory area is provided by this model situated in the removable sewing bed so that all the accessories you need are always within an arm's reach. The maximum stitch width you can get with this stitching machine is 6mm to create a more pronounced and bolder look.
Key Features
Maximum stitch width of 6mm
Super fast stitching of 1,100 stitches per minute
Extra-high presser for multiple layers
11 types of built-in stitches
Pros
Very easy to setup
Faster stitching results with greater stability
Can be used to stitch any type and thickness of fabrics
Free motion sewing can be done with drop feed
Cons
Too many features may seem complicated to beginners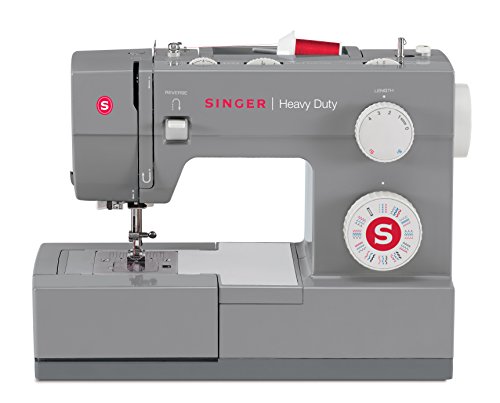 Have you ever faced any problem with your sewing machine while working on thick layers of fabrics?  Or does it skip stitches every once a while? If you have faced any of these problems or something similar then chances are that you are not using the best sewing machine. Here is the 4432 Heavy Duty Extra-High Speed Sewing Speed that comes with 32 different built-in stitches, including 18 decorative, 6 basic, 7 stretch and 1 automatic buttonhole. Its extra-high presser allows for greater clearance which helps you sew on even the heaviest of fabrics.
You can make stitches with a width of up to 6mm, thus helping to have a more pronounced and bolder look. Its free arm helps you sew on cuffs, pant hems and other areas that are hard to reach. Its heavy-duty metal frame is ideal to provide you with a skip-free sewing experience by holding all of the machine's mechanisms in a perfect alignment. The drop-in bobbin of it is very convenient to remove and insert, and the clear view cover of it makes it simple to monitor the thread supply of the bobbin.
With a stitching speed of up to 1,100 stitches per minute and a motor that is 60% stronger than the standard ones, you will get better results in lesser time no matter how thick the fabric may be. Its needle threader is automatic with all the threading instructions illustrated on the sewing machine. You will be able to lock the thread without any frustration or eyestrain. There are 3 different needle positions to chose from, and the one you need can vary with the kind of project, such as top-stitching, cording and inserting zippers. Adjustment of the length and width of the stitch can be done according to the values you want by turning the dial. For keeping all accessories, a storage area is also there on the bed of the sewing machine.
Key Features
1,100 stitches per minute with 60% powerful motor
Drop-in bobbin with clear view
1-step buttonhole creator
Metal frame with rigid support
Presser foot lifter with extra high clearance
Pros
Can be used with all kinds of fabrics
Skip-free sewing
Create buttonholes in 1 step
Automatic threading
Cons
Needle up/down position cannot be programmed
Finding the best home embroidery machine with all the features you need may seem like a long search at first, but with the Singer SE300, it successfully comes to an end. Offering you over 200 built-in embroidery designs with 6 alphabet options and an LCD touchscreen, Singer SE300 is one of the best home embroidery machines available at present. It has 250 built-in stitches along with hundreds of different stitch functions. You can toggle through and select the right combinations of settings from the touchscreen itself. The needle threader of this machine is automatic and it does not take more than 6 seconds to thread the machine from the spool to the eye of the needle.
It is important for every embroidery machine to keep stitches even and Singer SE300 does this automatically keeping the thread tension at the desired level. Its 10 1/4×6-inch working area helps you to take on even larger projects with ease. In case you want to load more designs into the Singer SE300 or add your own, then it can be done via the USB connectivity.  For having skip-free embroidering experience, this embroidery machine comes with a heavy-duty frame made of metal that keeps all of the machine's components in perfect alignment. Its working area is illuminated with 3 LED lights to allow you to work on darker fabrics and intricate designs with ease. The bobbin of it can be wound while embroidering so that you do not have any interruptions while working on an important project.
The software powering this embroidery machine can be updated to keep it at the best performance level. Singer SE300 comes with a 25-year warranty and a range of accessories, including extra bobbins, embroidery hoops, needle set and a lot more.
Key Features
Heavy-duty metal frame
200 built-in embroidery designs and 6 alphabet options

250 types of built-in stitches
Load designs via USB
Works on universal power supply
Pros
No limitations due to voltage
Can be used for both sewing and embroidering
Large number of accessories provided
Illuminated working area
Cons
No storage area for accessories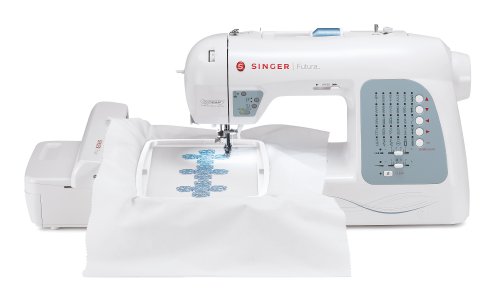 Singer Futura Xl-500 Computerized Sewing and Embroidery Machine is one of the best products from Singer. It utilizes the SwiftSmart™ threading system that threads the needle automatically without any hassle. Its bobbin winding motor is placed separately, which means that you can wind it while embroidering or sewing. So, there is no need to stop what you are doing. The working area of it is flooded with lights through the 6 LED lights with StayBright™ technology. This is useful when working on darker fabrics and it helps in reducing eyestrain.
An important component of sewing is controlling the speed. This top quality Singer sewing and embroidery machine gives you a speed control mechanism that is on the machine's front for easy access. The bobbin system of this machine has the Drop & Sew™ mechanism that allows the bobbin thread to be picked up automatically for quicker threading. With the clear cover, seeing the bobbin supply is easy and you do not get any surprises of the bobbin running out of thread.  There are 2 spool pins built into the machine which take care of vertical and horizontal thread delivery to allow for twin needle sewing. This means that you can use this small sewing machine for top-stitching technique as well.
Even the best sewing machines may encounter issues when being used with thick fabrics, but it does not happen with the Singer Futura XL-400. It comes with presser foot lift with the extra high clearance that allows it to be used with bulky fabrics and multiple layers. 2 snap-on hoops of 4" x 4" and an extra large hoop of 10" x 6" are included to allow you to embroider with a range of sizes. The accessories you use along with this Singer sewing and embroidery machine can be stored at a hand's reach on the removable extension table. Moreover, there is more space on the embroidering unit for keeping your accessories.
Key Features
Foot presser with extra high clearance
Bobbin winding motor placed separately
SwiftSmart™ threading technology
Precise speed control located at the front of the machine
Large storage space

Pros
Can be used for sewing and embroidering
Accessories can be kept close

Easy to load/replace bobbin
Regularly updated software
Cons
Very heavy and not portable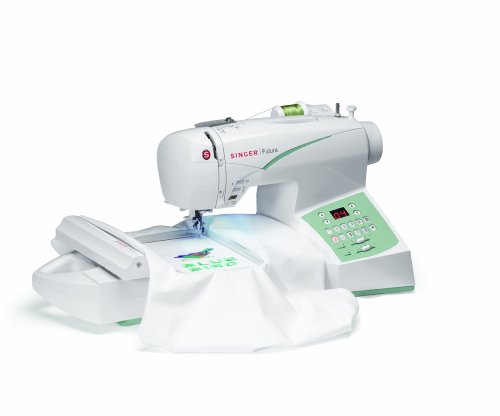 100 stitches, 2 hoop sizes, 5 monogramming designs and over 120 embroidery designs – these are what you get with this ultra-modern Singer home embroidery and sewing machine. It is an all-in-one Singer sewing and embroidery machine that can take care of all your needs. The top drop-in bobbin that is easy to wind/replace and the auto-needle threading mechanism make using this machine a very convenient and hassle-free process. It will not take you more than a few seconds to set the bobbin and begins sewing.
Selecting the type of stitch that you need, its length, balance, width, and pressure can all be done with the touch of a button. 3 LED lights illuminate the working area that lets you work on thicker fabrics with greater ease. The USB connectivity feature can be used for loading any other embroidery design and patterns on the machine. You will also get an editing software and AutoPunch for converting the clip-art into embroidering designs for your convenience.
With this machine, you will never lose place since you can move backward and forward through the design via the needle stop or reverse stitch button. You can use this Singer sewing and embroidery machine for topstitching as well,through the drop feed feature. It is ideal for sewing on monograms and quilts, and to add a creative touch to your project. Decorative as well as straight stitches can be locked on with just 1 button. The end of seams is reinforced to give you stronger stitches and to help you avoid any unraveling.
The design and construction of this Singer sewing and embroidery machine allow for greater stability and keeps it all in place so that you do not have any skipped stitches. The tension in the thread is also maintained so as to give you high-quality stitches. With the foot lifter with extra-high clearance, you can sew on even the bulkiest of fabrics with ease.
Key Features
7mm of stitch width
Works with thicker fabrics with ease
Sew and embroider all in one
Automatic tension control
Pros
Easy to set up and sew
Heavy duty sewing machine
All necessary accessories provided with the machine
Illuminated working area
Cons
Embroidering factions complicated for beginners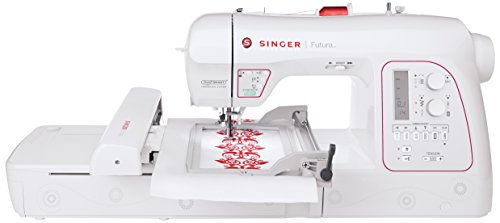 This is one of the most feature-rich Singer sewing and embroidery machines in this lineup, and amongst the contender of the best on the market. It has 250 of the latest embroidery designs, including large & small hoop as well as 50 endless designs included in it. You can also add your own embroidery designs from your computer to the machine through the USB key-without being connected to the machine. A set of bonus software, including HyperFont™, AutoPunch™, and an Advanced Editing Utility is provided along with the machine, which allows you to expand your creative capabilities.
You can create designs that are larger than a single hoop with the multi-hooping capability. You can create these designs on the screen itself, which lets the sewer match the designs and stitches with utmost precision. The 3 hoops included in the machine are a 4"x4" small hoop, a 10" x 6" large hoop, and an endless hoop of dimensions 6.75" x 4". This Singer sewing and embroidery machine can also be used for creating free-motion quilting designs through embroidery, which is another added advantage.
20 of some of the most popular monogramming fonts are included, and you can size, rotate and shape letters as well, with the 30 lettering frames. The automatic thread cutting feature cuts the bottom and top with nothing more than the touch of a button. The bobbin mechanism employed by the Singer Xl-580 makes use of the Drop and Sew™ technology, which does not require pulling the thread manually. All you need to do is insert the bobbin, put the thread in its channel and start sewing.
Over 215 stitches are built-in the machine, which including 192 decorative, 10 basic, 7 buttonholes and 6 stretch stitches. Thus, no matter what project you may be working on, you will find the perfect stitch for it. The needle can be programmed to stop at the down position or the highest up position, depending on the requirement of the task that you are doing.
Key Features
Embroidery and stitching all in one
Large number of built-in embroidery designs and stitches 
Sewing machine parts held in place by Singer's quality construction
Pros
Uncomplicated setup
Large variety of settings to chose from
Designs can be uploaded on the machine with ease
Illuminated working area
Cons
Learning to use the software takes time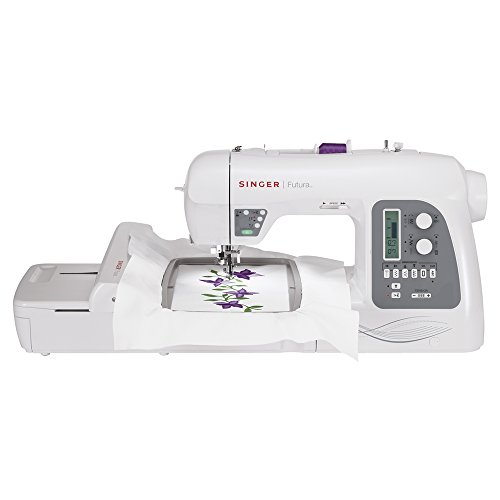 SINGER Futura XL-550 Computerized Sewing and Embroidery Machine is one of the best in terms of an all-in-one machine. It provides you with everything you may require for getting through any kind of embroidery and sewing project. Over 125 designs are preloaded in this model so that you can start using it right after getting it. This model's working area is illuminated through 6 LED lights which allow you to take on even the most intricate of projects without straining your eyes. The sewing space of it is extra-large to allow you to work on quilts and any other projects where a large working area is necessary.
You can upload any of your own designs to the SINGER Futura XL-550, as it is compatible with all major design file types, including XXX, CHE, PCS, PEC, EXP, FHE, and many others. Its bobbin system is Drop & Sew, which means that you do not need to pull it manually. You just have to insert it, put the thread in the machine's channel and get on sewing. The threading system of this Singer sewing and embroidery machine is another innovation utilizing the SwiftSmart technology. You just have to guide the thread from the spool to the needle's area via 1 groove and then thread it by pressing a lever.
A range of bonus software is included along with the SINGER Futura XL-550, including HyperFont, AutoPunch, and an Advanced Editing Software. You can use these for a number of functions, like turning images into embroidery, converting any of your PC fonts into monogramming and editing the existing embroidery designs. This software can be installed in any PC without any special requirements and you will be able to explore your creative capabilities in an instant!
Key Features
125 built-in embroidery designs
Edit all designs with ease
Multi-hoop support
Easy threading with SwiftSmart™ system
Drop & Sew bobbin technology
Large working area
Pros
Upload designs with ease
Suitable for working on all kind of projects
Very useful extra software

Winding bobbin and threading are very easy
Cons
No storage area for accessories
As you now know what various Singer sewing and embroidery machines offer, you will be able to better decide as to what you need in terms of sewing and embroidering and which machine offers it in the best possible way.