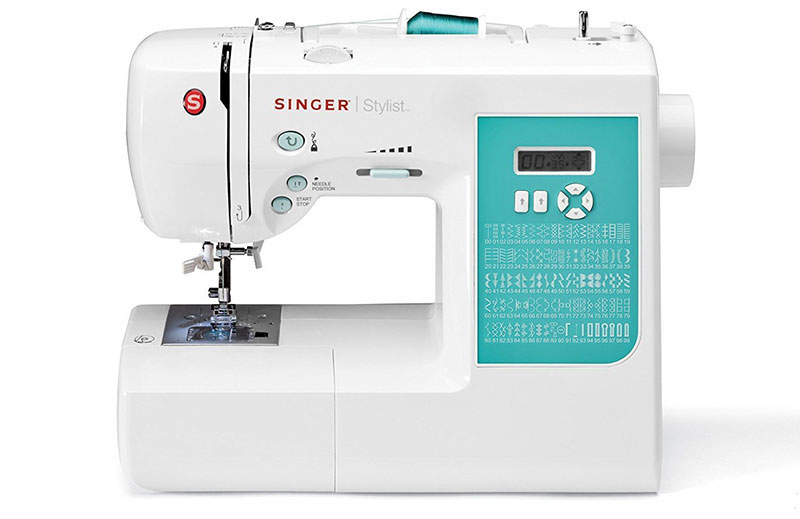 SINGER 7258 Stylist
Built-in stitches (100)
9.0/10
Needle Position (13)
9.0/10
Easy Control features
9.3/10
Buttonholes (6, 1-step)
9.0/10
Automatic Features
9.5/10
Pros
Very quiet operation
Durable construction
Stitches very smoothly
Easy to use
LCD display
Easy controls
Top-loading bobbin
Cons
Complex presser foot adjustment
Limited stitching width
Singer is a brand that is synonymous with stitching and high-quality, innovative products, and its 7258 Stylist 100-Stitch Computerized Sewing Machine is no different. The machine has already won the ''Best Buy'' award from the Consumer's Digest and is undoubtedly one of the best computerized sewing machines available in the market. With multiple stitching options, loads of useful accessories, and seamless functionality, the machine is definitely an excellent choice if you are looking to buy a computerized sewing machine. If you are still not convinced with it, this Singer 7258 Stylist review is sure to help you make up your mind.
Accessories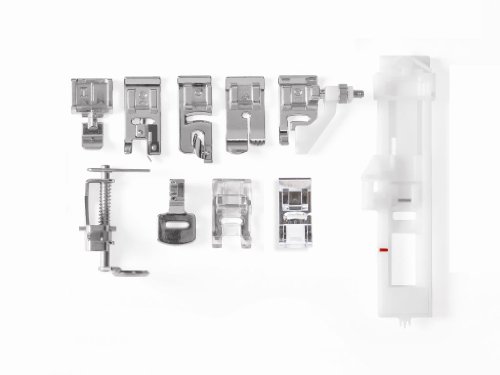 Let us first talk about the accessories that come with this machine. It comes with-
5 needles
Additional spool pin
4 bobbins
Buttonhole opener
3 spool caps
Darning plate
Screwdriver
2 felt discs for spool pin
Quick start guide
Owner's manual
Instructional DVD
Key Features
While this computerized machine is loaded with a number of features, I'll only talk about the ones that impressed me most.
100 Stitches
Singer 7258 Stylist sewing machine comes with as many as 100 stitches that are built into this machine. The basic stitches are known as the utility stitches. These are basically the stitches that will create the foundation of your project. This also includes zigzag, straight, stretch as well as blind hem stitches.
Apart from the basic utility stitches, there are many decorative stitches, heirloom stitches, and quilting stitches as well.
10 Presser Feet
The computerized sewing machine also comes with 10 snap-on presser feet. Most of the machines in this price range come with 5 or 8 snap-on covers, but this Singer 7258 Stylist machine comes with 10 presser feet. Some of the presser feet that come with this machine are General Purpose, Buttonhole, Zipper, Overcasting, and Gathering foot.
Easy Threading System
The easy threading system of this machine which features automatic needle threader and built-in thread cutter is another great thing about this machine. Apart from enhancing accuracy, it also makes it easier for you to use the machine. Even the drop-in bobbin of the machine is very easy to load as it has a clear cover to allow the users to easily monitor the level of thread in the bobbin.
LCD Screen and Easy Controls
The machine features a small LCD screen and the button are neatly arranged and labelled to make sure that the users do not find any difficulty in using this machine. Every feature you select will be displayed on the screen for complete convenience. Moreover, there is also super bright LED light for illuminating the work area.
Auto Pilot Feature
The machine also has an auto pilot feature which enables it to continue sewing even your feet is not on the foot pedal. This feature is very handy for people who like to work for longer durations.
Apart from the above mentioned features, the machine is loaded with a number of other features, like built-in storage area for accessories, reverse sewing, 13 needle positions, automatic tension selection, horizontal delivery of thread, free arm sewing, and a lot more.
Replacement Parts Availability
Even if you know a little about sewing machines, there is a great possibility that you might have heard Singer and its high-quality sewing machines. The brand is one of the leaders in the world of sewing machines and you will not find any difficulty in finding the replacement parts for this 7258 Stylist sewing machine.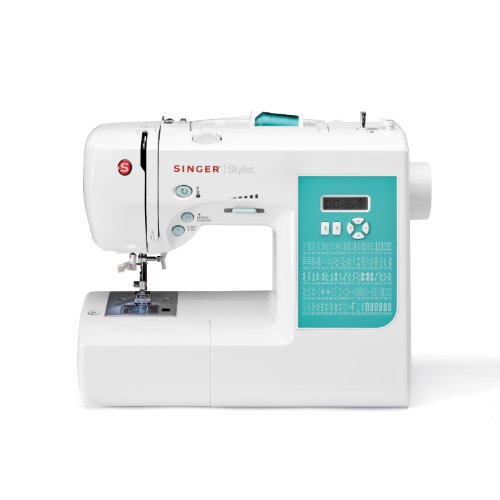 Pros
Very quiet operation
Durable construction
Stitches very smoothly
100 stitching designs
LCD display
Easy controls
Top-loading bobbin
Easy to use
Cons
Pressure of the presser foot cannot be manually adjusted
Width of stitching is limited to 5mm, while other machines in this price range offer 7mm width
Ease of Use
The next part of this Singer 7258 Stylist review is how easy this machine to use. Simply put, 7258 Stylist sewing machine from Singer is easy to use. The machine is loaded with a number of thoughtful features which the hobbyists and the beginners are sure to enjoy. From its drop-in bobbin to its automatic threader, everything in this machine is pretty simple.
One of the features that further adds up to the ease of using this machine is its speed controller with the help of which users can use this machine without the help of the foot pedal. This feature is especially excellent for beginners as it allows them to start using the machine at a slower speed which they can gradually increase as their experience increases. Moreover, the machine comes with an owner's manual as well as an instructions manual and a DVD as well. These allow you to understand the different features of this machine easily.
Warranty Details
The 7258 Stylist Sewing machine comes with a standard 1 year warranty for its parts, labour and included accessories. Its electronic components and circuit board carry a limited 5-years warranty, whereas, the chassis casting comes with a limited 25-years warranty.
My Verdict and Final Thoughts
While the Singer 7258 Stylist is not the cheapest of computerized sewing machine, it is not the most expensive as well. While the machine has some great advanced features, it is targeted towards beginners and hobbyists and not professionals. The company has done a great job of making sure that every aspect of this machine, right from its features, its build, to its functionality and storage, is simple so that the beginners are able to use this machine effortlessly.
Even the advanced features of the machine are not very difficult to master and can help the beginners to be better in their sewing art. The machine has thousands of positive reviews on Amazon and will be a perfect pick if you love sewing and want to be better in it.
While I tried to cover every important aspect of this machine in this Singer 7258 Stylist review, if you still have any question about this machine, you can use the comments section available below to send them. And don't forget to check the reviews of some other great sewing machines on this website.