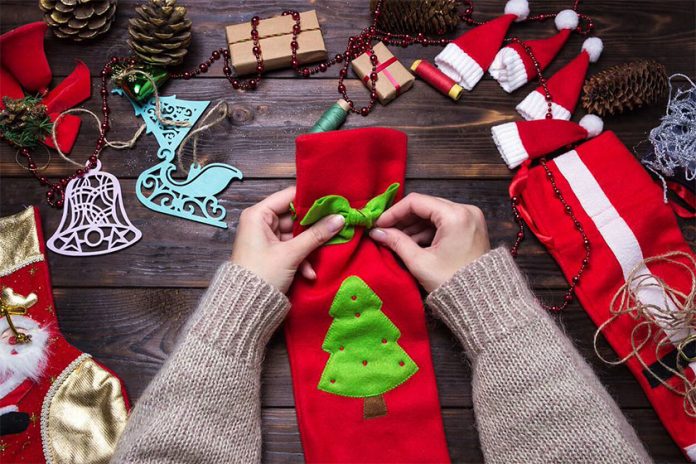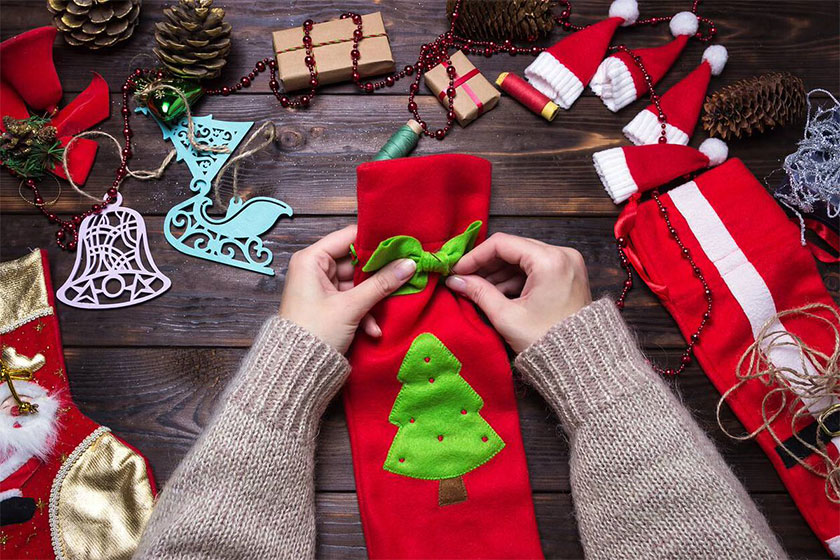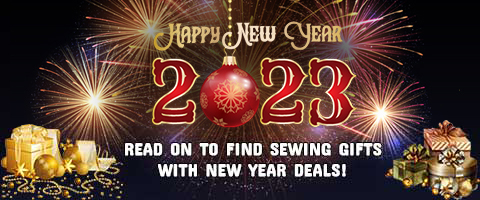 Stuck for that special gift to buy for your loved one? Well, if they are into sewing then you have come to the right place. We have gathered a plethora of sewing gifts to please any sewing hobbyist, and there is something for everybody.
But if the recipient is into embroidery, we also have great embroidery gift ideas for you! Let's now see how to surprise your sewing hobbyist with the following sewing gifts.
1. Needle and Pin Cushion
By far the most useful of all sewing gifts would be the trusty needle and pin cushion. This handy piece of kit ensures your needles and pin are always at hand and easy to grab. They come in so many designs, both traditional and the more fun.
This cute tomato inspired pin cushion is rated highly on Amazon. There is fabulous sparkle with some decorative jewels added to the mix, an ideal pick for the glamorous sewing bees. The item is also a lovely pink color, moving away from the more traditional red tomato pin cushion designs seen elsewhere.
If you are looking for unique sewing gifts then this oriental-inspired pincushion is a great choice. In a vibrant green color, it features children's faces around the edging, guaranteed to brighten up your day. Made from durable material, not only is this a different design but it is also hard-wearing.
Perhaps the recipient of your sewing gift is also green fingered and loves the outdoors. If so, this flower-designed pincushion would be ideal. This bright design has a good amount of room and even enables you to sort your needles and pin by using the different petals. With some excellent reviews on Amazon, this pincushion is perfect for bringing a little sunshine into anybody's day.
2. Mini Sewing Kit
Buttons have the tendency to fall off when they please, and as for stitching, that too may just come apart when it fancies. If your loved one likes to come to the rescue to repair damaged garments then a mini sewing kit is perfect. These suggestions are great for mending on the move and will easily fit into your handbag
This mini sewing kit comes in a sleek black case and contains everything that on the move sewing lovers should need. Some mini sewing kits only tend to provide the essentials, but this product has gone all out to provide over and above what you should need. With a range of various different color threads and 30 assorted needles, no matter the garment, you should be covered. This kit is a great value for money.
Rated as an Amazon bestseller, this mini kit should feature high on any list. With a smart carry case and compact design, this is super easy to carry around with you. Elastic holders mean all of the kit stays secure in the case, but at the same time offers easy access when you need it. Not only is this a great quality gift but it also provides a wide range of colored threads and various on the go tools.
Slightly larger in size than the first 2 products, this carry case does have everything. The clever manufacturers have doubled up on the colored threads used most often so that you are less likely to run out. All products in this offering are to a good standard, but the needles are of special relevance, being of Japanese high quality.
So far, we have centered on mini sewing kits offered in sleek carry cases. If you are looking for something more fun, why not opt for this Singer egg-shaped storage case. This compact design comes in 3 bright colors, green, pink and purple, and is just so unusual. The casing offers a handy clip in order to attach to a bag or belt if you so wish, to ensure your kit is always close by when you most need it. Although this product has the fun factor, Amazon reviews hint that the kit may be lacking in quality.
With some good reviews on Amazon, the case contains a great array of thread colors and handy tools. Needles are stored away nicely in their own little pot, which can be important to stop you from losing them when on the go. Aimed at both professionals or beginners, this handy 40-piece mini sewing kit would make a great gift as it comes in a lovely box. Just add a bow and away you go.
3. Sewing Clips
A newer alternative to using pins is using sewing clips. Clips can be used at any time, but are most useful when working with multi-layers of fabric, as using pins in this situation may cause them to bend or snap. If you are buying a gift for somebody who likes to work with thicker fabric or on larger products then clips would be perfect for them.
With close to a 5-star review on Amazon, this sweet pack of clips comes in a gorgeous metal tin which would look great in any hobby or craft room. There are 100 hundred clips included that are super strong and will open up to hold multi layers of fabric. Not only can these clips be used for sewing but they are also multi-functional, so if your recipient also loves other crafts these could be a perfect choice.
Another great sewing gift would be this amazingly good value tin of 100 sewing clips. The tin comes in a cute rabbit design, so great for animal lovers, and the clips are offered in a range of light and bright colors. Reviews suggest that the clips are of good stable quality and they do have the added bonus of not damaging your fabric as pins might do.
4. Measuring Tapes
In order to get the perfect fit, every sewer, either hobbyist or professional, will most definitely be in need of a measuring tape. Each and every millimeter is crucial to make sure they aren't caught short with this great range of measuring tapes.
This is not just any plain old measuring tape, it is disguised as a cute and friendly turtle. Perhaps you are looking for a unique gift and if so, this turtle measuring tape is a great choice. The tape is 60 inches in length and features a soft and cute turtle outer design. The tape itself is retractable and small enough to be carried in your bag.
Another adorable pick for a measuring tape gift would be this super sweet sheep. The tape is 60 inches long, with the tape itself acting as the sheep's tail, how fun is that. Ethically produced and handmade, the tape is made from wool and is perfect for the hobbyist with the environment in mind. So, if you are looking for something different this sheep measuring tape is a perfect choice.
If you feel as though something slightly more serious and authentic is in order then perhaps you should opt for this retractable pocket tape measure. The tape is double sided, with inches on one side and centimeters on the other, the choice is up to you. The product comes in a variety of colors and reviews suggest it is a handy purchase being both hard wearing and automatically retractable.
5. Buttons
Big or small, round or square, red or yellow, the avid sewing hobbyist can never be without too many buttons. Whether it be a cushion or a cardigan, buttons are essential and you can get through them so quickly. Having a great range in the sewing box is key. Choosing one of these button packages will see your recipient being forever grateful.

Keen sewers are bound to be super busy over Christmas, making lots of lovely gifts for their loved ones. Why not give them a helping hand by presenting them with the festive Christmas buttons. With 200 in a pack, the buttons are made from wood and are perfect for all sorts of winter projects. Whether that be a fluffy Christmas jumper or a lovely festive bag.
These buttons have a much brighter and more springtime feel to them. You get 100 in a pack and they can be used for both sewing and other craft related things. The buttons are handmade from wood, so may contain slight imperfections, each button may be slightly different. This didn't seem to cause problems for buyers, who have rated this product highly on Amazon.
Perfect for adults, or the younger sewer, these festive-themed buttons would make perfect sewing gifts. You receive 300 buttons in each pack which is great value for money. There are 2 pinholes per button, which is perfect for sewing. Although small in size, each of the button designs is cute and would be perfect used when sewing Christmas gifts for friends. Better than that you get the choice of 3 different colors of button per pack.
If you are buying for somebody who is always working on something different, then this button package is a perfect choice. Buttons can be used for everyday sewing, but there are some buttons that can be used for more special occasions, such as Easter or Valentine's Day. Purchasing these buttons as a gift will see them spoilt for choice.
Perhaps something of a vintage style would be more appropriate and these buttons could be just the treat. With a haberdashery-type design, these buttons come in a great range, from big to cute and small. There are some mixed reviews on Amazon for this product but overall, they are rated well. If you are willing to give them a try, you could be in for a treat.
It is key for sewing lovers to have a good pair of craft scissors. Failure to own a good pair of scissors can result in torn fabric and uneven edges. To prevent this nightmare, why not take a look at our suggestion for the perfect scissor gift.
These absolutely stunning, gold plated scissors, and made in Italy and feature a unique stork design to the handle. These scissors enable you to make that perfect cutting line and make gliding through material easy, without causing any nicks or tears. This product has amongst the best reviews on Amazon and will make a truly thoughtful sewing gift that can be treasured for a long time.
A staple for any sewing kit is a handy stitch un-picker. We all make mistakes and want to have another go when something is not quite right. If you know somebody who is always aiming for perfection in their sewing then this tool would be a good choice.
Not only is this a perfect gift but also an excellent value for money. You will get not one, but 16 stitch un-pickers in the pack. There is one for every day of the week, plus extra on top. With an array of colors, you can choose one to use whatever mood you might be in. The pickers are metal in structure with a plastic handle, they also come with a plastic cover for protection to ensure they are long lasting.
Sewing caddies are perfect for those who need organizing or may want to organize their sewing gear a bit better. Often coming with multiple compartments, they are great for sectioning off the different elements of your kit. What's more, they usually come in a huge range of designs and sizes.
This unique gift sees a very modern take on the original sewing caddy. Based on the popular Mason storage jar, this caddy has a fabulous bright pink lid which acts as a ballet skirt, how cute. With the jar being clear, you can easily see through to grab exactly what you need. The outer skirt also acts as a holder for your various tools and pins. Such a super fun design, for a super fun sewer.
A keen sewing hobbyist will be crafting way into the night. With that in mind that may need some extra lighting in the room once the dark draws in. Even those sewing through the daylight hours may want to brighten up the room so they can see every detail. If this is the case then a sewing lamp would be a great gifting idea.
Not only is this a lamp, but it is also an organizer to boot. With a bordering tray to hold smaller items, such as buttons as sequins, there is also a much large storage section for your tools. The lamp element is 13 watts, providing plenty of light and the lamp head is extendable and flexible so that you can be sure to get that perfect angle. Slightly more expensive than the other gift ideas we have discussed, this lamp is worth every penny and makes the perfect treat if you want to splash out.
10. Needle and Hook Case
In addition to regular sewing, it may be that your recipient also enjoys knitting or crocheting. Your most important tools for the job are needles and hooks, so to keep them safe and tidy why not invest in a carry case as the perfect gift for them.
Although there are yet to be any reviews placed for this product, we can tell it is going to be a big hit. It features a whimsical woodland design and has the added luxury of being handmade. The bag is capable of carrying your needles as well as wool. There is even a handle wool dispenser, allowing you to feed the yarn out of the bag without removing the yarn itself, genius.
Allow your crafty friend to be the talk of the crochet club with this classy little hook carry case. With a glamorous spotty red and white design, this case is timeless. It's the perfect handy size and will fit easily into any handbag or desk drawer.
Some sewers tend to become obsessed with their countless different colored threads. To have them mixed up or tangled is a big no, no. If you know somebody who gets frustrated with unorganized threads then perhaps a thread caddy would be right up their street.
If you are stuck for ideas and you think they already have all the tools you need, then this wooden thread caddy could be just perfect. The caddy is handcrafted and also features a pin cushion to the side, making it a good all round piece of kit that will please any sewing hobbyist. With a 5-star review on Amazon, you will struggle to find better sewing gifts, especially for this Christmas.
SEE MORE AMAZING SEWING GIFTS ON AMAZON