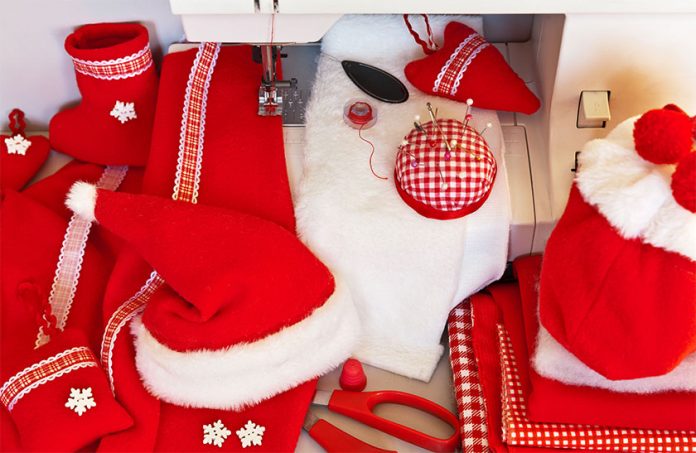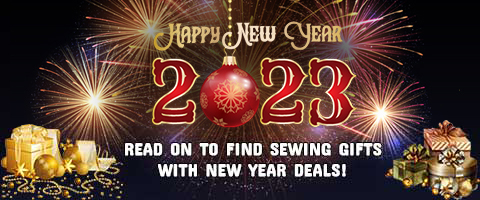 Christmas is always a time of the year when you want to give a spectacular gift to those who are the most special to you. Unfortunately, finding the perfect sewing Christmas gift ideas can be challenging if the giftee is a sewing enthusiast. You not only want to get something that will be meaningful to the person you are giving it to, but you also want to ensure that whatever you give is within your budget.
The budget part seems quite easy for many, but finding something meaningful can be a lot more challenging. Because Christmas has become so commercialized these days, it can be difficult to find something and this is why deciding to make a gift of your own could be the perfect option for you.
The fact remains that there are some people who are incredibly talented in making things through sewing. Maybe you don't have the gift, but there are those out there who have designed amazing ornaments and other sewing Christmas gift ideas that would be great to give to anyone you know as a Christmas present. This will allow you to give a gift which is a lot more personal and which will make Christmas even more special. If you are looking for great sewing Christmas gift ideas, then here are some to consider.
Many will consider an ornament to be unimaginative, but the truth is that this is one of the best sewing Christmas gift ideas that you can have and make use of because it is visible on the tree all through the Christmas season and enjoyed year after year. The fact that you can have it personalized only adds to making it special and will be something that will be cherished for years.
This classic hand-sewn snow figure has many options for all ages and is a beautiful looking ornament. There are granddaughter, grandson, and adult ornaments, and all come with a decorative hat and the cutest face. It is something that will last for years.
Other than ornaments, there is nothing that is more common to see at Christmas time than the wreath. This is a fantastic decoration that looks amazing on any door or other entryways.
Now you can give this amazing kit as a present or put it together yourself and give it as a gift to a friend, family member, or co-worker. There are three different options for the look that you want, and they even have Halloween and Owl options as well. You even have the ability to personalize it so that it can be even more unique. It will be the kind of present that will bring joy for years.
Another great Christmas gift idea is this cross-stitch embroidery sewing kit. This is so much popular because it not only gives you the opportunity to build the gift for them but also allows you to simply give the kit to them and allow them to make it.
Contained in the kit is a fantastic embroidered cloth and you are given all of the materials that you need to make a beautifully designed cross stitched gift that will look beautiful on the wall of any home. The designs are beautiful and will really give a great look on the wall during this festive time of the year. This is the perfect gift that will brighten up any home.
What could possibly be better than homemade ornaments of your favorite Christmas time special characters, including Rudolph, Santa, the Elf, and the Abominable Snowman? Nothing and this is why this kit is absolutely perfect for anyone who is looking to give a great set of ornaments that will be cherished for years.
Rudolph the Red-Nosed Reindeer is a true classic that people have loved for over 40 years, and now you can make that a part of anyone's Christmas. It is an amazing ornament that will look great on any wall, or you can give the kit to a friend or family member who loves to do needlecraft. It will give them hours of enjoyment and a great ornament for future Christmases. The best part of it is that you get four ornaments in one.
The advent calendar has become a very popular product for people at Christmas time. People of all ages love the idea of counting down the days until Christmas arrives and the advent calendar is the perfect solution to use.
While you can buy a calendar each year, the best idea may be to give an advent calendar that your friends or family can use each year. This fantastic kit not only allows you to create a beautiful calendar that will be cherished for years, but you can also give the kit away as a gift and let that special DIY person do the work.
This is a beautiful calendar that brings in all the beauty and majesty of Santa and his workshop and will be a beautiful addition to any home at Christmas time.
A music box can be a sensational gift for anyone, and this is one of the most clever that you will see on the market as it is a sewing machine that also is a music box. You get this beautiful retro look sewing machine that is just 6.5 x 5.3 x 3.1". It perfectly fits on any mantle, table, or another area where you place your knickknacks and ornaments for your home, and will really have a beauty that you will love.
A simple twist of the music box allows it to begin to play the song, and you are also able to store things inside the little table on which the sewing machine rests. It's a fantastic looking little item, that will be the perfect gift for virtually anyone you know.
having a cover for your throw pillows can be a very practical item simply because there were going to be times when you're going to spill food, drinks, or other items on the pillows that are frequently used by people who were sitting or lying on your couch or chair. Since you already need this for your pillows, why not make it seasonal by adding these CaliTime throw pillow covers.
This set comes with three pillow covers, all with a very cheery looking Santa Claus wishing everybody a Merry Christmas. They are the perfect item for any person's home or office, and are machine washable and are durable. A fantastic gift that people use year after year during the holiday season.
There are lots of people who love to do crafts. They enjoyed needlework, quilting, embroidery, or other kinds of hand stitched and designed items that make Christmas a special time of the year. If you know someone like that, then this T-shirt that proudly adorns "All I Want For Christmas Quilting Fabric" could be the perfect gift.
The shirts, and five different colors and are a blend of cotton and polyester, making them comfortable and easy to clean. The lettering on the front is very colorful, bright and is durable through many washing sessions over the months. Ideal for both men and women and comes in 16 different sizes, including for kids.
9. Christmas Decoration Sewing Kits for Children
great craft designs and decorations don't just have to be about adults. Kids can enjoy them too, and they usually do. This is why this craft kit is absolutely perfect to get even before Christmas so you and your child can spend some time putting together and decorating these beautiful snowflake ornaments.
There are three in a kit and come in various shapes and sizes so you can buy a couple of different kits and have the whole selection. They are beautiful ornaments that range sizes from three inches to seven inches wide and come in colors such as blue, pink, purple and white. They are fantastic and you and your child will have hours of fun doing it together.
Another great activity for kids is this personalized ornament kit. Not only do you get great characters, like Santa, elves, and snowmen, but you can decorate them any way you want.
Your child will truly love this activity, as it gives them the chance to decorate some of the most well-known and special parts of Christmas. There are three characters included in each pack and are the perfect activity for children of all ages. What a great memory to have for future Christmases when you put these amazing characters together with your child.
10. Christmas Stocking Felt Applique Kit
the idea of the Christmas stocking dates back over as long as anyone can remember. It is one of the most special parts of Christmas, and children and adults love putting up the stockings and seeing the goodies that are going to be inside. Now you can make this part of the holidays even more enjoyable, as you can make your own Santa stocking, decorate and have it for years to come, making it one of the best sewing Christmas gift ideas.
This stocking is the perfect gift for you to either make and give to someone or to give them the kit and let them make it themselves. There are very easy instructions to follow, and you can even personalize it to really make it your own stocking. It's one of the great sewing Christmas gift ideas that can be used for decades.
Bucilla provides four amazing choices in stockings, including Santa putting helping put the star on top of the Christmas tree (86278 The Finishing Touch), Santa in his workshop (86165 The Workshop), the Sugar Plum Fairy (85431 Sugar Plum Fairy), and the Candy Express (86147 Candy Express). All are 18 inches in length and have a beautiful look to them that is both elegant and festive.
another great stocking option is this McCall's Christmas Stocking pattern set. There are great designs in here that allow you to make the stocking of your choice, using the colors and patterns that fit your needs.
While only one size is offered, there are additional patterns included for adding stars, dots, and other decorations that will make this a great stocking you will enjoy for years. Just think how much fun you and your children will have creating and making their own Christmas stocking from scratch.
11. Embroidered Patches
maybe what you are looking for is to get some great patches that you can embroider onto a shirt, jacket, sweater, or other garments. If you are looking for some great options in this category, here are a group that you will surely want to look at.
This three-piece set includes a Santa, Christmas tree, and a bell with ribbon. Easily irons on to make a great addition to any garment
This Christmas set comes with two characters in a pack, but there are four total characters that you can get, including a snowman, bells, Santa, and Christmas tree patches. These are easy to iron on and work well on any garment
If it is decorative ornaments that you want to add as patches, then this is the perfect alternative for you. You get five in a pack, and all come in different designs and with different colors. Easy to iron on.
If you are looking for some beautifully designed snowflakes to iron on to your garment, then this is exactly what you are looking for. They are elegantly designed, and have a great appearance that will brighten up any garment you wear. Comes in a pack of three.
12. Ribbon Sets
Ribbons are always great gifts and great things for you to get for yourself, simply because they are used in so many different things during Christmas. You not only can use them to decorate presents, but also wrap the ribbon around your tree, a wreath, or any other kind of Christmas related item, including your stockings or along the windows of your home. Here are a couple of great ribbon sets for you.
If you are looking for a great set of ribbon that offers 60 yards of 3/8 inch wide satin fabric, then this is the perfect package for you. There are five different patterns with each ribbon set, and two different sets. Patterns include snowmen, candy canes, and ornaments.
This comes as 12 single pieces of ribbon, each of which is a little over half a meter long. The pattern is printed on one side, and includes different snowmen, ornaments, snowflakes, etc. You will also like how colorful they look and how they can be used for many purposes beyond gift wrapping.
13. Books
You may like to create all kinds of great crafts and projects during the Christmas time, or at least know someone who does, and so one of the best sewing Christmas gift ideas is a book on ideas for projects, including step-by-step instructions would be ideal. Here are some great ideas for you.
This paperback book comes with 20 different ideas that you can sew for Christmas. The projects that are included are such things as ornaments, pillow covers, and decorations, among others. If you are a person who loves to make craft projects you will love this Christmas book.
Maybe you are a person who likes to make quilts or know someone who does. This is a great choice for you if this fuels your fancy. There are 14 different projects that you can make, including stockings, blankets, and much more.
This is a great book for those who are looking for quilting patterns that will help them to make fantastic projects. There are 13 projects contained in the book, and the step-by-step instructions make it easy to follow. The perfect gift or it gives you the opportunity to make the perfect gift for someone.
McCalls has long been known to produce fantastic patterns that are ideal for just about anything you wish to make with a sewing machine and fabric. This sewing pattern is perfect for anyone who is looking to make gifts to give away to friends, family members or whoever you would like to share some Christmas cheer with. You will be amazed at the wreaths, Christmas trees, and other ornaments and decorations you can create.
Christmas is supposed to be a time of great joy and fun but unfortunately, it has become a time of who can spend the most or a scrambling around time to find the hottest gift of the holiday season. It can make it incredibly hectic, not to mention a burden on your budget. With these kinds of holiday gifts, you can show that you put some real thought into the gift, and you will find that these are the kinds of gifts that are remembered for years to come. Instead of chasing down the "can't miss" gift this season, get something that they will, or make something they will love. It will truly make this a Christmas to remember.