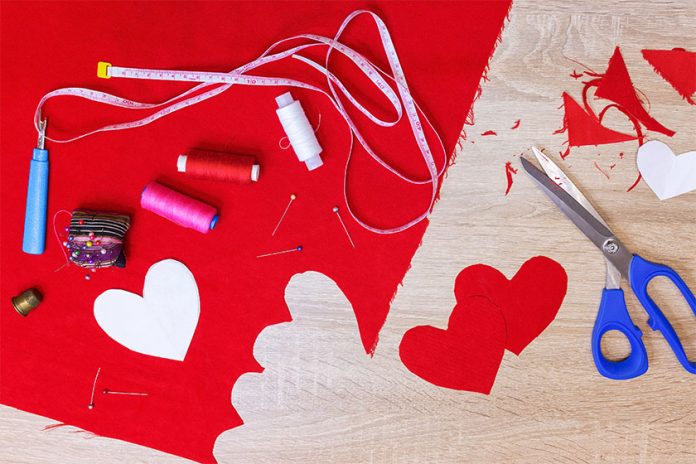 Fabric cutting is an integral part of getting your project created. Whether you are creating designer clothes, quilts, curtains, or embroidery projects, you'll need to cut the fabric from the original bolt or another medium. Gone are the days when people used to rely on only scissors for this purpose and now the garment industry is moving towards fabric cutting machines of all shapes and sizes. They can create the perfect cuts to flatter every body shape and know that they will have the same size consistently. This is especially important with ultra-expensive fabrics and hard-to-cut designs. These machines are also able to cut other materials, including metal, glass, paper, and plastic. There are multiple types of cutting machines used in garment industry and they can be put into a few main categories, such as manual cutting machines, semi-automatic cutting machines, and computer controlled knife cutting machine. The methods differ by how they cut and what process the operator takes to make the cut.
Below you'll find each described to see which best works for you in each situation.
Manual Cutting Machines
Manual Cutting Machines are just one of the types of cutting machines used in garment industry.  These are hand-operated mechanical machines that can cut, emboss, and punch holes in many different types of mediums.  Here are the types of manual cutting machines:
Hand Operated Scissors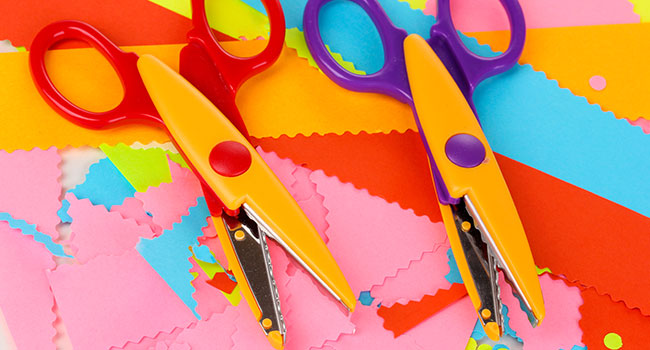 Hand Operated Scissors are the "old-reliable" solution and simplest fabric cutting tools to use. They can be used for cutting fabric or other thin mediums and have been used for thousands of years. In addition to just scissors, there are also shears. The best advice is to buy high-quality scissors or shears and use them judiciously. Keep them sharp and out of the hands of children. They are tried and trusted tools for almost any project. There are also style shears to add textures and shapes to the end of projects. These are used especially in scrapbooking and card making processes.
Die Cutter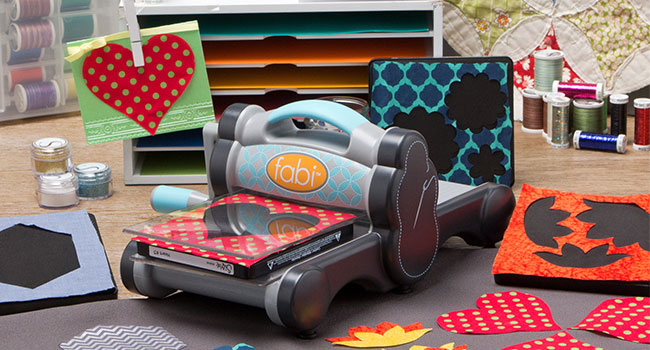 Die Cutters use metal dies and pressure to cut outlines and create textures with embossing. You're limited to the amount of dies that you own and need additional dies for more shapes. Dies are placed on the medium and then go through the machine. The pressure caused between the two plastic pieces and additional material cut allow the die to cut into the paper or fabric.
There are digital computer die cutters as well. These use computer programs that can cut any medium and are simplified versions of the industrial automatic cutting machines. Die cutters are good solutions for the casual crafter and the digital options have many different options though you are limited to which brand you use moving forward.
Drill Cutter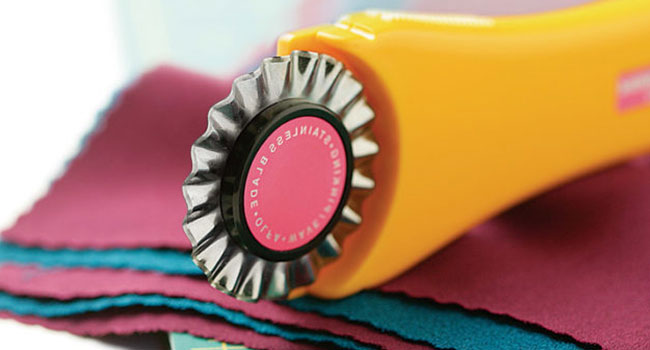 Drill Cutters cut holes in fabric in given specific spots.  These holes can later be used for rivets, attaching different fabrics to one another with anchor spots, or helping to build structure with darts or pleats.  Normally power operated, drill cutters are compared by their punching power and like a drill press punch through the fabric or other medium's layers to create holes.
Semi-Automatic Cutting Machine
Semi-Automatic Cutting Machines are another types of cutting machines used in garment industry.  This is done in very different ways depending on the mode of cutting.  Here are the different types:
Straight knife Cutting Machines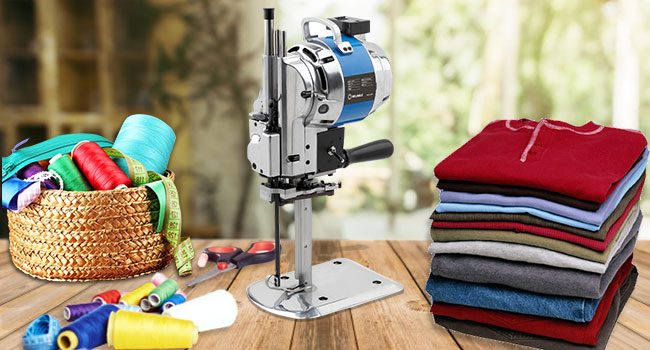 These use a straight knife that is similar to a sewing machine. An operator uses it along a pattern to cut out any shape by pushing the medium to all the vertical knife to cut. Though it is very quick, there are safety concerns. These can't be used by children and diligence is imperative during operation to make sure that there are no injuries.
Round knife Cutting Machines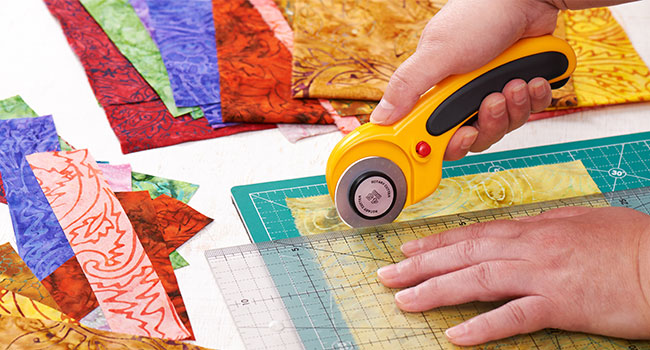 Round knife Cutting Machines use rotary cut wheels to cut fabric. The round knife is like a pizza cutter and normally used for straight lines and large circles. Rotary cutters have less uses than their straight knife counterparts and are normally hand-powered and easy to use.
Band Knife Cutting Machine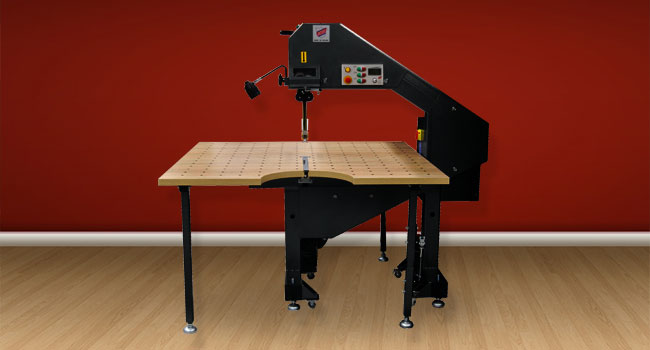 Band knife Cutting Machines use a vertical knife similar to a straight knife cutting machine but with the band instead of a smaller knife, it is more heavy duty.  Corduroy, denim, foam, and tougher materials are easily cut with the band knife.  Diligence must be used with the band knife cutting machine to ensure that there are no injuries.  Like the straight knife cutting machines, children are not encouraged to use this product.
Die Cutting Machines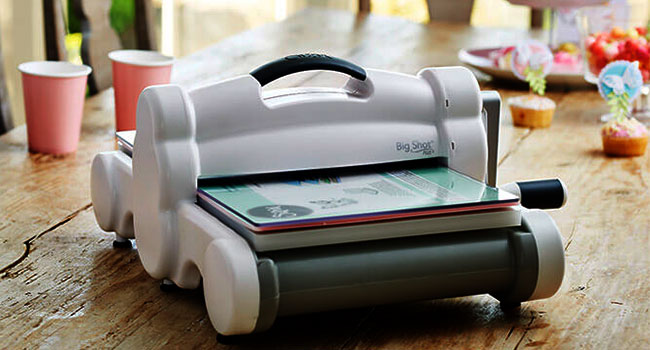 Die Cutting Machines that are semi-automatic.  These have the capability of automatically advancing the assembly through the machine.  This allows for more people to be able to use this device but like the manual cutting machine, you're limited to the number of dies you have.  Semi-Automatic Die Cutters are limited to having an extension cord and are not as mobile as their manual counterparts.
Notcher Machine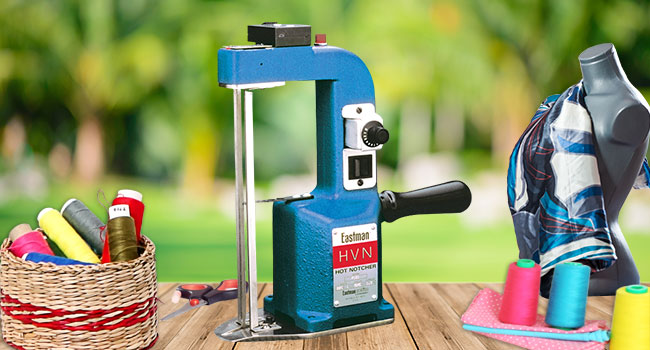 Notcher Machines are perfect for creating perforations and ridges. Perforations, whether they can allow for harder items to be punched out or adding textures, can be integral to some projects. This is normally a more specialty item but can be easily used and pivotal when needed. Notcher machines that don't punch through the whole depth of the material are similar to straight knife cutting machines.
Drill Machine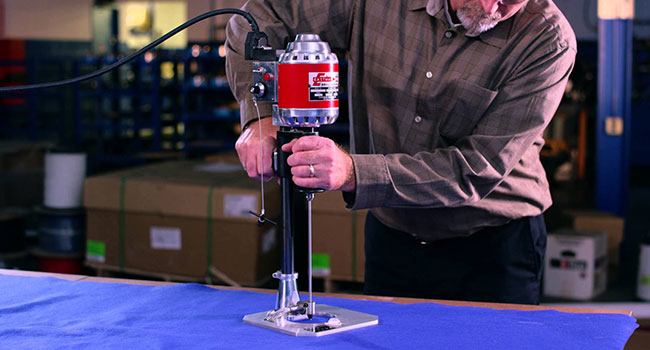 Drill Machines, like the drill cutter, punch holes in the fabric. This semi-automatic option is great for production work and holes for buttons. Drill machines for fabric or other mediums are easily used and can help to easily create attachment points and structure for avant-garde pieces.  Built to resemble an industrial drill press, a lever lowers the drill to punch holes in whatever medium you are using at the time.
Fully Automatic Cutting Machines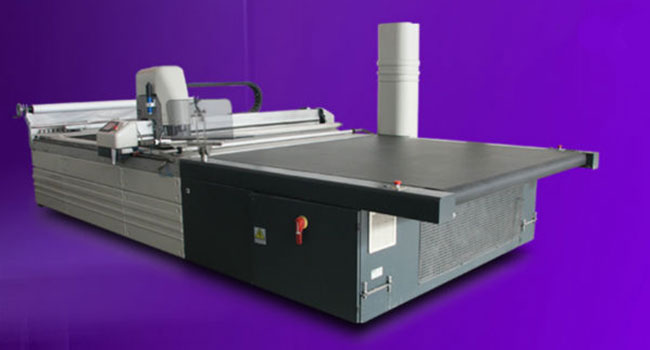 Fully Automatic Fabric Cutting Machines use integrated digital displays to quickly cut a lot of material.  There are also fully automatic cutting machines that can cut different mediums in addition to fabric.  These are specific to each brand and would recommend comparing them to see which one best meets your criteria.  When considering the fully automatic cutting machines take special care to see which interface is the easiest to use and has the functions that you need.
Laser Cutting Machine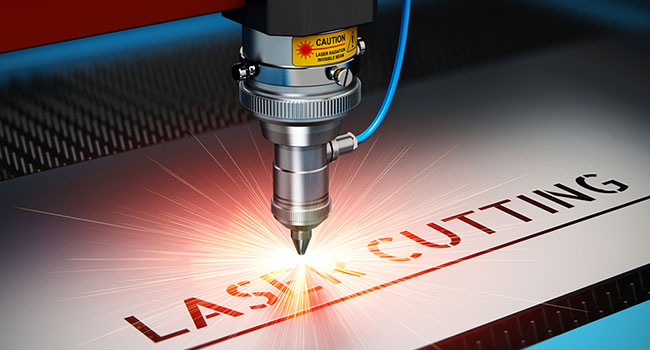 Laser Cutting Machines are capable of cutting intricate designs in many different mediums.  A normal tool used in jewellery making, the laser cutting machine is great choice in stronger or tougher mediums including plastic, metal, and paper.  With a most exact computer guiding it, very complicated designs can easily be done and due to the accuracy, you lose less of the product between cuts.
Water Jet Cutting Machines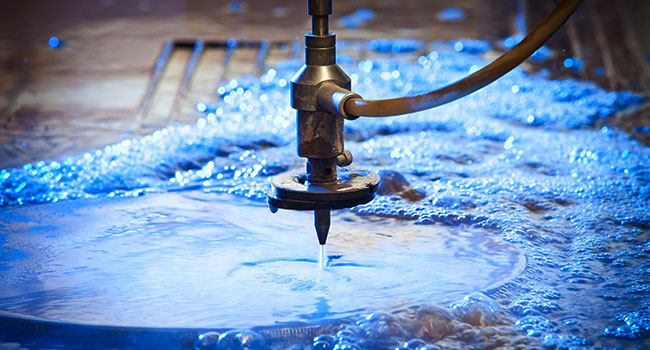 Water Jet Cutting Machines take cutting to the next level and increase your choices of medium greatly.  With the water jet cooling down the friction created during the cutting process, there are many different options including specialty tile work, metal, wood, and glass.  Like a normal saw, water is pumped onto the cutting wheel to reduce the heat that is created.  This allows for the water jet cutting machine to work more efficiently and with less friction, there is less need for replacing the cutting blades.
Rib Cutting Machine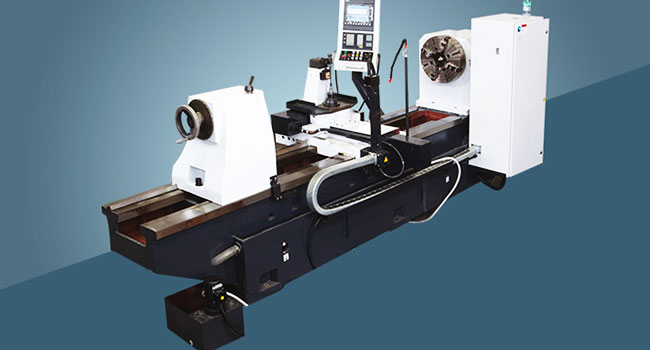 Rib Cutting Machines are larger machines that help construct pieces by cutting woven fabrics into strips. These strips can be used in a number of different purposes. Strips are useful and can be used in weaving, embellishments and creating garments. The rib cutting machine looks like an old ironing board and lifts the medium (usually always fabric) into a 3-D triangle and performs multiple cuts at once.  This creates a lot of strips in a short amount of time.
Air Jet Cutting Machine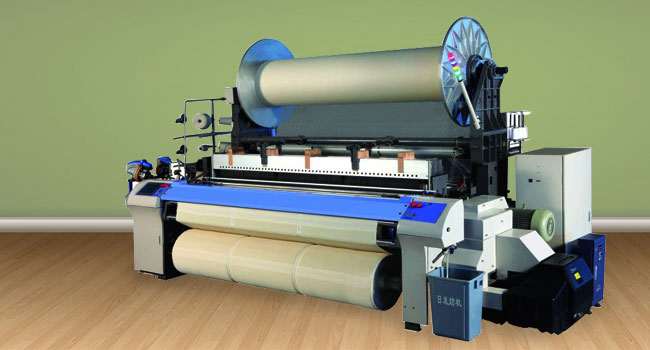 Air Jet Cutting Machines use powerful streams of air to cut. The air is able to cut almost anything and is very powerful. Due to there not being a set cutting surface, water or other cooling is not necessary.  Care must be used when using this device but the number of things that can be cut makes up for the diligence that must be used. This is a very useful tool and can cut almost anything. Though there are different configurations, powerful jets of pressure air cut your material. With these being computer controlled there is no direct manipulation of the jet during cutting and this is normally fully automated.
Ultrasonic Cutting Machine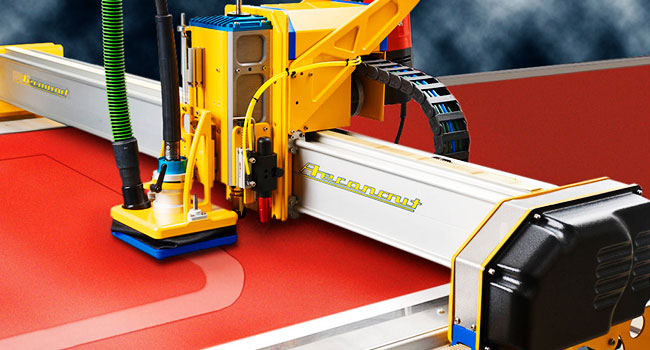 Ultrasonic Cutting Machines are specifically useful when cutting woven fabric. By cutting the woven fabric with an ultrasonic vibrating blade there are no frayed edges. This lack of frayed edges can help make fewer steps in creating garments. The vibration allows for straight cuts to be easily made on difficult fabric to cut. Like a chop saw or conventional manual paper cutter, the ultrasonic cutting machine is lowered to cut the fabric.
Plasma Torch Cutting Machine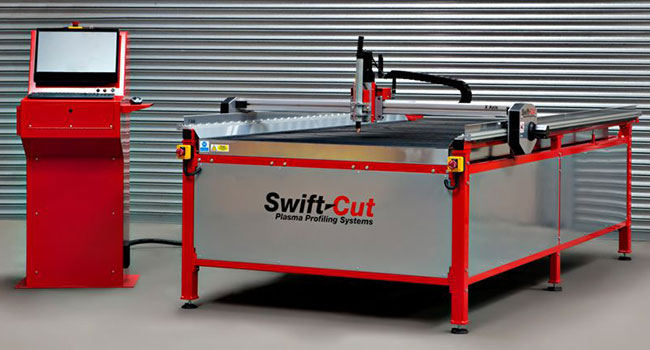 Plasma Torch Cutting Machines are great solutions when cutting conductive materials like metal. These are expensive tools but create amazing punched out pieces easily and quickly. Like the laser cutter, there are many intricate designs that can be constructed and easily cut out with the plasma torch cutting machine's automated computer system.
Conclusion
Cutting machines come in many different shapes, sizes, specialities, and price points. When comparing them keep in mind what your main use will be.  Are you a casual crafter or looking for production?
Do you need a certain medium cut on a regular basis?  What is the best machine to cut that medium? Are you technology savvy enough to use the computer-controlled cutting machines?
When considering cutting machines, research the brands. Especially for computer controlled models that limit you to their brand's program and available stencils, make sure that the brand has the choices that work for you best.
Whether you need a fabric cutting machine or a cloth cutting machine or other types of cutting machines used in garment industry, invest in a top-quality one to ease your production, you won't be sorry!