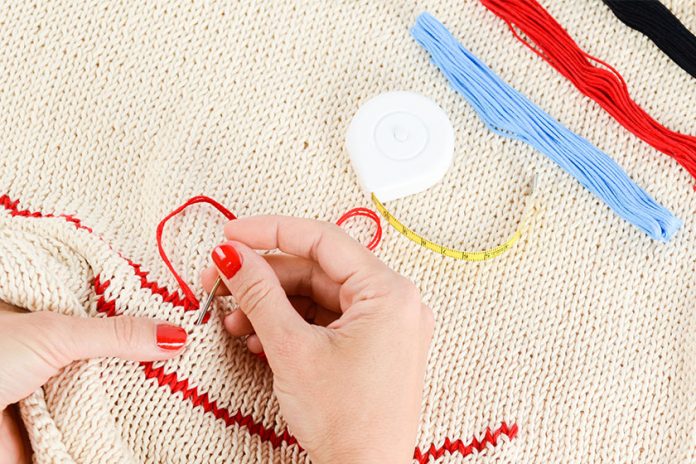 When it comes to the choices you have for choosing an embroidery design, the options are unlimited. There is a whole world full of pictorial art that you can take up as your catalogue of hand embroidery designs. The embroidery can chose from any of the painted backgrounds and pre-printed illustrations to selecting an original artwork from some other medium to stitch. For the ones who possess illustration talent, the art of embroidery offers the same, if not better creative possibilities as painting. In embroidery, even the simplest of line drawings can transform into works of art through the colorful and beautiful thread work.
Pre-Printed Outlines
For over a century, fabric that has printed design outlines have been increasingly popular. These are what any beginner to stitching and embroidery will work on, for creating them only requires a needle, thread and the will to create beauty. Such pre-printed outlines are most often sold along with kits that have all of the required threads, along with a completed picture that acts as a key to what thread colors and stitches are to be used.
Pre-Printed Fabric
The pre-printed fabric offers the stitcher hand embroidery designs that are painted on color blocks, used as the background of the specified design. In this, only the actual motif has to be stitched, while the outlines are provided. Pre-printed fabrics come with kits that also have illustrated keys that indicate the stitch type as well as the colors of the threads that are to be used.
Stamped Cross Stitch
Most people think of cross-stitch in the form of a counted-thread technique. Pre-printed cross-stitch designs come in the form of cross stitches made on a ground fabric. In this technique, it is next to impossible for the printer to align the stitches along the fabric's grain with perfection. This is why the stamping technique is followed, and not fabric weaving. Thus, the technique is classified under embroidery and not under counter thread.
Designs You Transfer Onto Fabric
Designs that can be transferred on fabrics give you freedom in selecting the fabric you like, along with the colors of the thread as well as the embroidery design.
Iron On Transfer Designs
Iron-on-transfer design method is nearly the same as pre-printed outlining. The only difference between the two is that in this, the design is ironed on to your preferred fabric. There are a number of iron-on transfers in the market suiting your tastes. There has been a recent revival in interest for the old and contemporary designs, which has further sparked the publishers to re-start popular subject transfers.
Transfer Pens And Pencils
Transfer pencils and pens are inexpensive tools offering two different ways of accomplishing what you are trying to do. With these, you can trace hand embroidery designs on paper first, and then iron it on the fabric. Here, remember that the design when ironed on the fabric will be a mirror image of what is traced on paper. Another way to accomplish this is to draw it directly on the fabric. There are designs that are washed off the fabric post stitching, while there are some that leave some marks and fade after a short time, which could be anything from 8 to 48 hours to use. There are pens and pencils that can enable transfer on dark as well as light fabrics.
Direct Tracing
Direct tracing is what you can do if the design fabric is light in both its weight and color. All you need to do in this technique is potation the fabric on the outline, and then draw directly on it through a fabric marking pen. The marks will be washed out once the stitching completes. It would be wise if you test-wash the fabric once before you transfer on it.
Dressmaker's Carbon
With dressmaker's carbon, you can transfer an exact mirror image of handmade embroidery designs on your preferred fabric.
Pricking and Pouncing
Pouncing & pricking is amongst the oldest methods in design transfer. For this, you need a sharp needle- the eye end of which can be inserted in any wine cork to make handling easier, or a tracking wheel for piercing the design paper. Apart from that, tailor's chalk, pounce powder or fabric marking pen is also needed. This is quite a popular method with quilters, so finding all the requisite material for it can be done at any quilting shop.
Hand embroidery is a productive and exciting hobby, and you need nothing more than embroidery kits to begin with beautiful handmade embroidery designs. With these kits, beginners can start quite easily, and they are also a excellent gifting article. If you too have been wanting to start with embroidery, then all that you read above should serve as the right starting guide. Go on and bring your designs to life today!