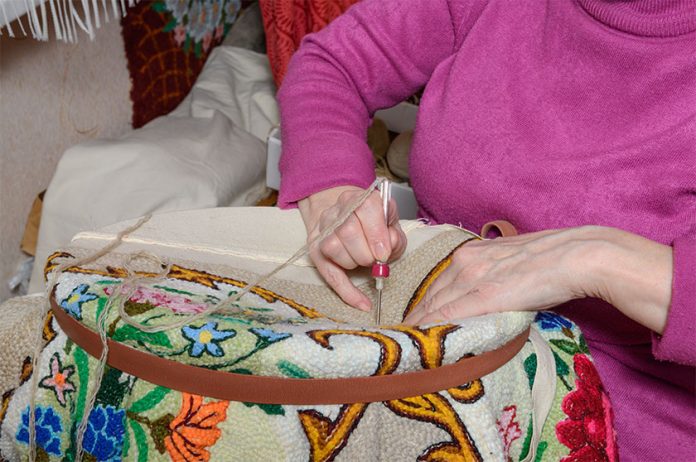 Embroidery is the art of stitching designs on to a cloth or fabric to in order to make in look more attractive. In embroidery, there are some methods or steps that should be followed to avoid looping of thread and the problem of designs not lining up. This embroidery technique of giving an outline for your designs is known as hooping. There are also other methods involved in hoping that make work easier for embroidery works. Further in this discussion, we will talk about some hooping tips and tricks that can make your embroidery experience more enjoyable.
Hooping tips and tricks
Nowadays, hooping is given great importance in embroidery works. This is because, if your designs don't line up, your work may turn into a disaster.  So each embroidery worker goes through all hooping procedures before starting his/her work.
The most important step before doing embroidery work on a fabric is washing. The cloth should be cleaned and washed before starting work. Otherwise the cloth may shrink making your work look horrible. So it is advisable that you machine boil the cloth before embroidering.
The cloth should be stabilized i.e. the fabric should not shrink; deform etc which ruins your work. In some fabrics, the stitches may sink which can be avoided by water topping.
You should always prefer quality embroidery materials for work. For instance, you should use machine threads and sewing threads should be avoided as far as possible. So you should give your machine the materials with the right quality and specification to work with. Only then the machine will be able to perform various embroidery techniques successfully.
Before starting your embroidery works you need to find the right material fabric that suits your needs. So a small research, on the weight and type of material, should be done before deciding the type of fabric used. If you choose the apt fabric, then half your job is actually done. So choose the fabric that fully befits your needs.
A sharp needle is always preferred in any embroidery technique. So it is essential that you replace your needles quite often, to make your work effortless. A dull needle can cause looping of thread which poses serious problems to your embroidery work.
Just before embroidering you should always check the area you are targeting. You can draw a mark on the area to be stitched. Temporary horizontal and vertical lines can also be drawn to make this easier.
Some fabrics are hard to do embroidery works because of the instability and stretchiness. Such fabric is glued to stabilizers before embroidering to avoid its movements.
If you successfully follow the above steps, then you will surely be able to enjoy your work experience to the brim.
Two types of hooping
The hooping techniques are mainly categorized into two, namely 'in hoop' and 'hoopless'
The 'in hoop' technique is adopted when you don't have any issues with the hooping of the fabric. If you are using a large item then the cloth shouldn't be slippery, so that the fabric does not get damaged b the hoop.
The other method is undertaken in cases where the fabric wouldn't hoop over your material and always get stuck with your hooped backing. This method necessarily involves the use of adhesives and stabilizers.
Hoopless method for several situation
The various situations where the hoopless technique is undergone are given below.
In case of slippery fabric or cloth this method proves to be a total life saver in comparison to regular hooping methods. Here the hooped backing sits in between the rings, giving no chance for the fabric to slip.
When fixing small embroidery designs pieces in places such as collars, the hooping may seem a bit difficult. Here you can use glue to the non embroidering item.
Other conditions where this method is employed are fat or thick fabric like towels and fur and also in the case of stretchable fabrics like paper leather.
Basic hooping tips and tricks
Whatever method you adopt while hooping, the result should be a tight fabric with no bubbles.
The basic hooping tricks are:
Loosen the screw to lay the bottom hoop ring on the surface. Put the fabric and stabilizer. Slide the upper hoop ring while making sure no stabilizer or bubbles are visible. Spray some adhesive and stick your fabric.
Alternative ways in embroidery hoop
The alternate embroidery techniques of hooping are given below. The first one is flexi hoop which involves hard plastic inner ring and a flexible outer ring to hold the fabric in position. Another method called the spring hoop incorporates a very flat material that can easily slip under the machine. This is particularly for machine embroidery. Finally the Q-snap method which consists of a plastic tube fit into a rectangular or square shape.
So, the various hooping methods combined with advancements in embroidery techniques have made embroidery work experiences more fulfilling with wonderful results.